To celebrate the return of Lost Girl tonight, I'm in the mood for kick-ass screen women. With that, here's a breakdown of my top 10 bad-ass ladies of screen entertainment. Join me as we work our way through the best action heroines film, games and TV have to offer!
---
Buffy
The high school vampire slayer and focus of a film, popular Joss Whedon TV series and a host of spin-off comics, books and games, Buffy is a hero for the ages. Still one of the coolest vampire slayers ever.
Ellen Ripley
Aliens have nothing on a space freight operator with a bad case of parental anxiety and a giant, yellow mech suit. Ripley is one of the most hardened space heroes of all-time, and the focus of four Aliens movies.
Lara Croft
Toting breasts about as big as her 50.-calibre guns, Lara spawned a dozen games and more dirty and strange fanfic than is probably healthy. She was also portrayed by Angelina Jolie in a couple of mediocre films.
Foxy Brown
Blaxploitation star Pam Grier plays a kick-butt, no-nonsense action hero who goes after 'The Man' when her boyfriend is gunned down. Pam would go on to star in 'Jackie Brown' by Quentin Tarantino – a similar character.
Hit Girl
Foul-mouthed butt-kicker Hit Girl, played by Chloe Moretz, shot to fame after dishing out some serious action in the 2010 film Kick-Ass. The pint-sized hero not only has to deal with constant training from her father, but the pressures of childhood too.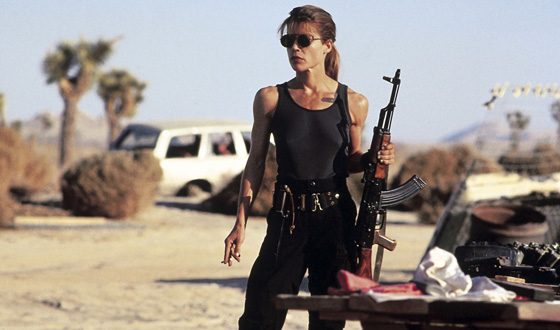 Sarah Connor
When she hit screens in Terminator, she was the victim. By the time T2 rolled around, Sarah Connor was nearly as chiselled as Arnie. She definitely channelled some kind of demon, because she was intimidating as heck in Terminator 2.
Leela
One eyed starship captain on Futurama, Leela has never let her monocular mutant heritage get in the way of her duty. Generally it's her on/off love affair with Fry that deals the most damage to her and her fleet of Planet Express crew members. Such is love.
Leeloo
The Fifth Element herself, Leeloo, is almost immediately a total hard-ass as soon as she is "reassembled" at the start of The Fifth Element. From there, she spends just about the whole movie kicking alien butt before saving the planet. Not bad.
Alice
The star of the Resident Evil film franchise, played by Milla Jovovich, has battled zombies – sure, but it's the mutant freaks that spawned since that have really tested her mettle. The films might stink, but she's bad ass.
The Bride
Uma Thurman and Quentin Tarantino came up with The Bride together, but it was Uma who really injected the strength (and vulnerability) to sell The Bride to audiences.