Greetings again dear readers!
As the writer's been doing more driving practice of late (I've only mounted the kerb 3 times!) he has a couple of observations he'd like to share with you.
1: Sydney drivers are a pack of jerks.
2: The more I drive the more grey hairs I find in my beard. Coincidence or conspiracy? Dun dun duun!
He also has to give a big shout out to the Benevolent Wifely Overlord, for an early Christmas present of a ticket to the Doctor Who Symphony Spectacular. Hearing This is Gallifrey was highly emotional (Not to mention eardrum shattering when David Tennant appeared on screen), but by the end of Amy's Song I was a wreck. To sum up, it was a fantastic night out, not just for the crowd's reaction when a Weeping Angel was first seen.
Right, it's our last installment for the year, so let's get cracking!
There's some more concept art from The Hobbit, while the actors who played the Dwarves put together a memorable present for director Peter Jackson: a Naked Hobbit calendar. I don't quite know how to describe what feeling reading those words filled me with, but it's a lot like reading The NT News Twitter feed, just with a lot less crocodiles.
There's a lot of new things in the world of Doctor Who this week, with a new prequel clip and trailer for the Christmas special, which will be getting a new theme and title sequence! To add to that, we'll also be getting a new TARDIS interior - not sure I like it, but I'm prepared to give it a shot. (I still love the Victorian one from the late 70's) We've a new clip from The Matt Smith Christmas Show, in which he interviews companion Jenna-Louise Coleman, Peter Jackson has been teasing about directing an episode again and Steven Moffat is still wrapping his head around how you'd make a Who movie.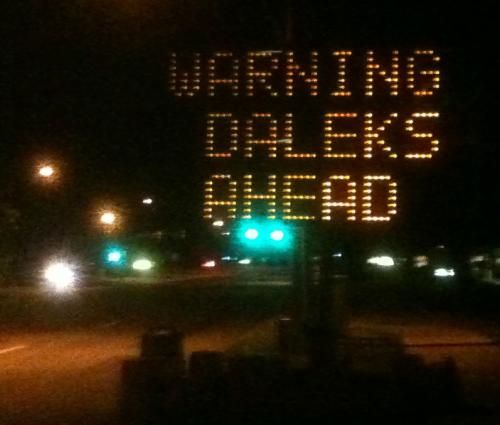 Now that's a warning sign that's worth paying attention to!
We've a new poster for Oz, the Great and Powerful showcasing one of the Witches, a fan made Walking Dead Christmas special and Black Milk (Makers of the R2-D2 swimsuit) will soon release more geek themed clothing. There's the logo from Mad Max: Fury Road along with the first look at Max himself, now played by Tom Hardy. There's a new video blog for Game of Thrones season 3, with a look at some new characters, and the show will soon have it's own beer, with Iron Throne Pale Ale being released next March. Meanwhile, artist Miguel Lokia has created House Banners in the style of the show for Houses such as Gaiman, Skywalker and Banner.
There's more developments on the SHIELD TV show, with the last of the principal cast being announced and a tentative airdate. Joss Whedon originally wanted to use both The Wasp and another villain (Who we can't name cause they might be used later down the line) in The Avengers, as he A: wasn't sure is Scarlett Johansson would be available and B: didn't think one villain would be enough. In his words, he had "four of the biggest, baddest…just the toughest guys out there – and I have one effete British character actor." Speaking of that, said effete actor, Tom Hiddleston, doesn't know if he'll return for the sequel.
There's a new picture from Iron Man 3, some pictures of the merchandise and Samuel L Jackson thinks a Nick Fury solo film would be interesting. Meanwhile, we have another entry in the list of the great unmade movies – in 1992 Quentin Tarantino wanted to make a Luke Cage movie, starring Laurence Fishburne, but instead he made Pulp Fiction. That could have been incredibly horrible, but it could have kick-started the Marvel films years earlier. Either way, that's an alternate universe I'd visit!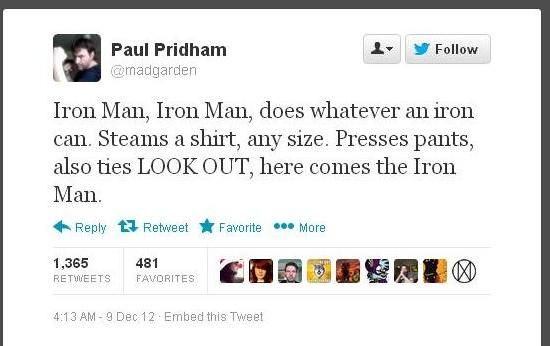 It's OK – I've got the song stuck in my head as well.
DC Comics have lost the rights to the characters Doc Savage, The Avengers and the Spirit while a script for Transformers 4 has leaked which Michael Bay has angrily denied is true, saying he's only 70 pages into the 120 page script. Director Joseph Kosinski has talked about Tron 3, Ruben Fleischer has chatted about his planned Spy Hunter movie and Ben Affleck might be up for directing Justice League. Bryan Singer will be executive producing a new Twilight Zone series, Ricky Gervais has confirmed he's the lead in the next Muppet movie and Michael Jai White will be in the new Mortal Kombat movie, but won't return to the web series.
Walking Dead producer Gale Ann Hurd is producing a live action Gaiking movie, based on a 1970's anime series, there's been a fresh set of chatter about Star Wars Episode 7, almost all of which was swiftly debunked. Arrow has cast James Callis, Fox are looking to turn comic Theory of Everything, about a scientist trying to save his wife from a parallel universe, into a TV series and NBC have announced a new game show, Hollywood Game Night, which sounds awfully similar to Wil Wheaton's web show Tabletop…
The week's biggest trailer is the new one for Star Trek Into Darkness, which is even more doomy-woomy and explody-wodey than the first trailer. Fun Fact: the studio apparently insisted it be in 3D or there'd be no movie. For a bit of fun, there's intro to the 90's X: Men cartoon done in stop motion. We've red band trailers for John Dies at the End and Seth Rogen's apocalypse comedy This is the End. There's another teaser for Stephen Chow's new version of Journey to the West, the first footage from the live action Gatchaman film and the first Bates Motel teaser.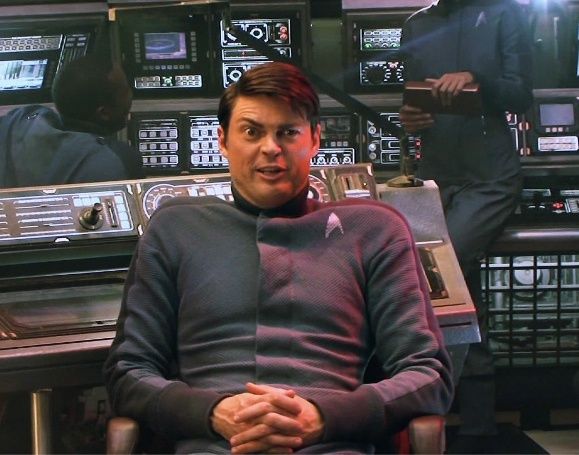 The first recorded case of "I'm a Doctor, not a…" joke overload.
Vin Diesel has announced a release date for the third Riddick film, the next Apes film won't have as much James Franco and Jamie Foxx has chatted about Electro in the Spider-Man sequel. There's banners advertising Monsters University, the first pictures from the Frankenweenie spin off and in a staggering display of lack of perspective, Marvel writer Dan Slott is getting death threats over an upcoming issue of Spider-Man. Now, I can't throw stones, especially given some of the things I've said about George Lucas over the years, but c'mon – it's just a comic book. If you don't like it, then stop reading. Simple as that.
There's only two words we can say about this next item: Great Scott! To explain it fully, in response to fan requests, Lego are releasing a De Lorean kit next year! To end up, we have George Takei reading from 50 Shades of Gray, Barack Obama has posed with a young Spider-Man and the mystery about the package sent to Indiana Jones was solved. The best part? The contents of the parcel now belong to a museum.
We're ending things up with a couple of Christmas related items for you, to show that we aren't all grumpy and horrible. There's Stan Lee reading The Night Before Christmas and Sir Christopher Lee singing heavy metal Christmas Carols. See the wondrous things we bring you?
Quote of the Week:
Rogue: You know, I remember when I was 13. Had me a boyfriend, so I kissed him. Poor boy was in a coma for three days. That was when I first realized that if I touched anybody, I'd absorb their strength right into me.
[sighs]
Rogue: Some "power," huh? That's when the boys stopped calling.
Beast: [Chuckles] Consider yourself fortunate. I had dandruff.
X: Men – the Animated Series
That's us for the year! I know we say this every year, but we're incredibly grateful to you for reading this. We hope each and every one of you have a fantastic Christmas and a wonderful New Year. Have no fear, we'll be back next year, on our continuing mission to keep you, my wonderful readers, informed, entertained and kept up to date on what's going on in the world of nerd. Thank you, each and everyone one of you.
Thanks,