Welcome again dear readers!
Apologies for the lack of an edition last week, but life got in the way a bit. Therefore, to make up for that we're bringing you a bumper double edition this week, a sort of Greatest Hits, showcasing the most prominent and/or weirdest news we've seen in the last fortnight.
We'd say we're getting all into the Christmas spirit, but that'd be a lie. We aren't all Scrooge though - this Dalek Christmas Tree is all manner of awesome, as are the people who synchronized Christmas lights to a Metallica medley and Slayer's Raining Blood. If that's not the spirit of Christmas, then I don't know what is.
We've six clips from The Hobbit, with wargs, goblins, Gollum and Elrond appearing. Peter Jackson continues to defend the decision to make three films and there's a fantastic Middle Earth map dress. You can check out the first picture of Legolas and the Tolkien estate has killed the 'mockbuster' Age of the Hobbits. There's a flow chart to help recognize the Dwarves by their beards and a clip of them singing Over the Misty Mountains Cold. The full version of that song had better be on the extended edition, that's all I'm saying.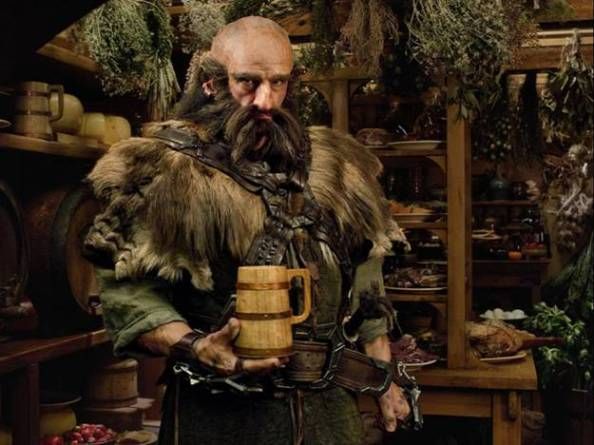 Yes, it's the last beer. Want to make something of it?
There's new trailers for Warm Bodies, Upstream Colour, The Croods and Storage 24 and a new production video for Game of Thrones season 3. We have the first teasers for Bates Motel, whose producer, Carlton Cuse, wants help in making the opening credits, a pair of TV spots for Despicable Me 2 and a new teaser for the Death Star PR web series, about the long suffering members of the Galactic Empire's propaganda department.
We've fresh trailers for The Lone Ranger (and some pictures of the Lego sets) and GI Joe: Retaliation, there's the first trailers for Man of Steel, After Earth and we finally have the first trailer for Pacific Rim (ROCKET POWERED PUNCHES = AWESOME), which also has a pair of new posters. It's director, Guillermo Del Toro, has already been hired to write a sequel to the film and has been talking about his next film, the ghost story Crimson Peak. He's also teased that At the Mountains of Madness could still happen. *Crosses fingers*
The first trailer for Star Trek Into Darkness has arrived along with a Japanese trailer that has some extra footage. There's a new picture from the film while Benedict Cumberbatch has only increased the speculation by promising he's not Khan. Alice Eve is said to be playing Carol Marcus, which is another connection to Khan, but I guess we're just going to have to suck it up and wait for the movie. *grumbles*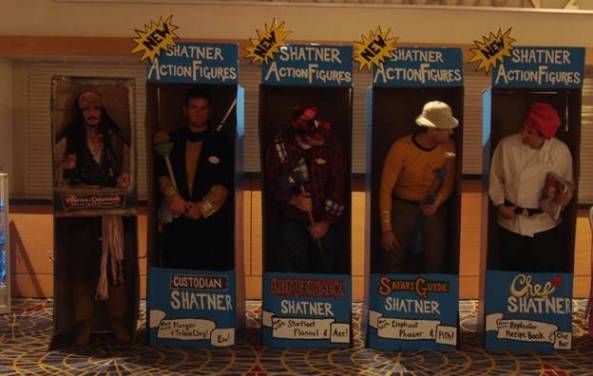 In stores now, for just $19.95!
Michael Caine has clairified the ending of The Dark Knight Rises, Dan Akroyd has said Ghostbusters 3 is getting ever closer (And he has plans for a fourth) and now Johnny Depp is said to be working on a Don Quixote movie. There's no word if this will affect Terry Gilliam's chances of getting his own version made, which if you recall was set to star Depp. (You can see how the first attempt went in the documentary Man of La Mancha. In short: everything that could go wrong did.)
Sir Ian McKellen has joined the cast of the Doctor Who Christmas special and you can hear him on the new trailer. There's a short clip from the special, a cryptic picture of the new TARDIS interior and it's been confirmed the show will return in April 2013, with Steven Moffatt busily about the episodes. You can buy an official TARDIS PC, eat some very tasty looking Who themed cupcakes and there's possibly the oddest TARDIS cosplay I've seen - an alpaca…
In further news, the BBC has confirmed a Doctor Who Anniversary special, alongside the drama about the show's creation, written by Mark Gatiss. Rumours are running rife about the makeup of the special with all sorts of 'All the Doctors will appear!' speculation. I'd just like it to be good – is that too much to ask? We also have an enormous pile of pictures from the Christmas Special along with news that the BBC are adapting Jonathon Strange and Mr Norrell for TV and making a one-off Jonathan Creek special. Meanwhile, for those who'd love to actually work on the show in the future, NIDA is running courses over the summer break on Write your own Who episode and Screen Acting: Doctor Who.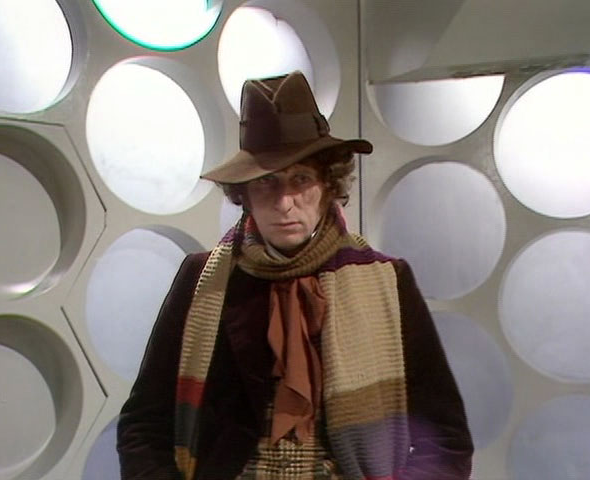 No, it's not the Daleks again – we're out of jelly babies…
Peter Jackson has added the Tintin sequel to his already Hobbit loaded schedule, you can buy a custom made Lego version of Serenity and watch the zombie movie that was shot in the Large Hadron Collider. The original Batmobile is for sale, Dennis Haysbert is replacing the late Michael Clarke Duncan in Sin City 2 and Gillian Anderson has joined the cast of Hannibal. Disney have ordered a script for a sequel to Alice in Wonderland, Garret Hedlund has confirmed he's in for the third Tron film, Eliza Dushku has joined the remake of The Saint and Transformers 4 appears to have cast its leads. WHAT ABOUT THE ROBOTS MICHAEL BAY?
Did you Know?
There were four female pilots that were cut from Return of the Jedi.
There's a new poster for The Wolverine, Martin Sheen has said he'll be appearing in The Amazing Spider-Man sequel, which has it's Harry Osborn and may have Morbius, the Living Vampire. Hugh Jackman has confirmed he'll be in X:Men: Days of Future Past, though the size of his part is unknown. We do have the first look at films script for you, along with word that Alan Cummings (Who played Nightcrawler in X: Men 2) is waiting for the call.
We've the very early word on the SHIELD pilot, which has it's showrunners. It also looks the show has caused another show, Weird Desk, which ABC ordered 13 episodes of just last week to be shelved. I guess that schedule ain't big enough for the both of them… There's un-used designs for Deadpool (From X: Men Origins: Wolverine), concept art for X: Men: First Class and a plethora of art from the Marvel movie universe. Lastly, we can't not tell you about The Hawkeye Initiative, which takes all those really cliché drawings of female characters and redraws them with Hawkeye in their place.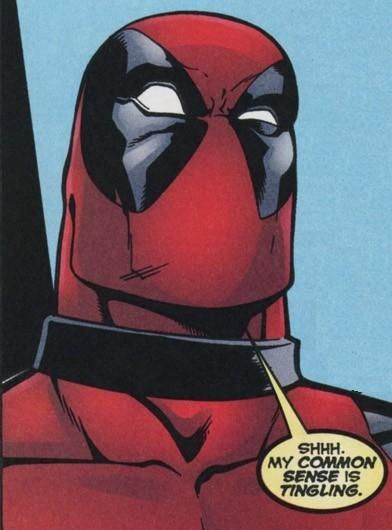 That's either really good, or really, really bad…
Stan Lee has yet another 'Let's turn people into heroes' project, being the web series Academy of Heroes. How it can be a superhero academy without any genetically modified insects or any stray radiation, but I'm pretty sure a show putting people through what created his heroes is all manner of illegal. More's the pity – that's a show I'd watch!
There's some more details of the CW's Wonder Woman show and Arrow has cast both Roy 'Speedy' Harper and Slade 'Deathstroke' Wilson. They're also planning a Hunger Games style show called The Hunt, where 12 teams of two will be dropped into the wilderness and have to survive for a month. I confidently predict that will end well.
There's what could be a massive Iron Man 3 spoiler and some new casting on the film, the Avengers sequel has a plot and what could be the villain of the Justice League movie has been leaked. The Fantastic Four reboot is scheduled for 2015, there's a new picture of Henry Cavill in his Superman duds and Samuel L Jackson will next play Nick Fury in Captain America: The Winter Soldier.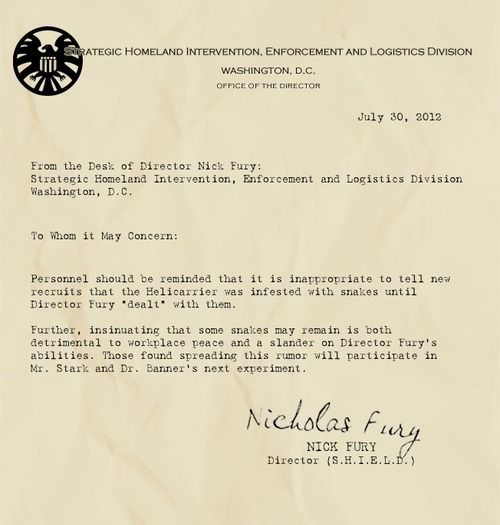 Snakes on a Plane 2: Snakes on the Helicarrier – coming soon!
We've new posters for Man of Steel, Star Trek Into Darkness, GI Joe: Retaliation, Monsters University and Jack the Giant Slayer, some plot details for the third Roger Rabbit book and some details for the sequel movie. The thought of the original film still gives me shivers – I saw it as a kid and haven't been able to watch it since.
There's the logo logo and the first concept art from the new Disney film, Frozen, the first picture from Enders Game and a look at Jeff Bridges and Julianne Moore as witch hunter and witch respectively in Seventh Son. There's a pile of Dark Knight concept art (Like I've always said – clowns are creepy) and a look at the Star Trek art book Federation: The First 150 Years.
Disney's purchase of Lucasfilm just got government approval, George Lucas has clarified how involved he'll be with any new films (In short: not much) and both Ewan McGregor and Samuel L Jackson would love to appear again. Meanwhile, there's some lovely looking Star Wars themed dresses and a group of archeologists are suing the makers of Indiana Jones and the Kingdom of the Crystal Skull, claiming the skull bears too close a resemblance to a skull discovered in Belize that was stolen and thus, the filmmakers are profiting from theft. I look forward to that being laughed out of court, though I understand if damages were awarded to anyone who watched the film. On that note, a mysterious package was sent to the University of Chicago this week, addressed to one Dr Henry Walton Jones Jr…
If that's not adorable, then you have no soul. NO. SOUL.
The Gaiman foundation has donated $60,000 to the Comic Book Legal Defense Fund, there's a pretty spiffy Dragonball Z fan film and the Highlander reboot (Still set to star Ryan Reynolds) is searching for a director again. You can learn how to stay chic after the apocalypse with Walking Dead fashion tips, there's some details on how the Defiance TV show will impact on the game and vice versa and a new Terminator movie might be back on. There's some early details from The Legend of Conan, there's a good chance of a sequel to Wreck it Ralph and Kevin Smith has said his last film as a director will be Clerks 3, with what was going to be his last film, the hockey comedy Hit Somebody, to now be a six part mini-series. Hey, it can't be any worse than Jay and Silent Bob Strike Back…
From the 'merchandising has gone too far' department, the Angry Birds movie is set to appear in 2016 and there's a Batman snuggie. Meanwhile, Back to the Future writer Bob Gale has withdrawn his endorsement of the Hoverboard replica, saying "I share your disappointment and you have my permission to put my photo on a dark board and throw sharp objects at it." That's… wow. Between you and me, I don't think he liked it. Things got stranger though - in what is I really hope is a piece of performance art, a woman has raised $1,235 dollars to marry a life size Edward Cullen cut out.
We had something of a milestone recently, with the discovery of the worst Star Wars fan in the world. To explain – a Star Wars fan has complained about members of the 501st appearing on an episode of Extreme Home Makeover, with several members of the Central Texas garrison helping out a female firefighter who'd lost her home in a fire. The 'fan' in question was claiming that this is "ruining the franchise by using it for trivial *bleep*" Yes, because people not actually affiliated with Lucasfilm giving their free time to work on a humanitarian cause is a bad thing.
Thankfully, we have some mighty heartwarming moments to help you deal with all the crazy. There's a mother who made her toddler an adorable 11th Doctor costume (Along with his wheelchair converted into the TARDIS!). Secondly, comes the story of a young boy who saved for two years to buy the Lego Emerald Night Train set, only to find it was discontinued. His mother searched through local toy stores and Amazon and he even wrote to Lego themselves, who apologized for the set being unavailable. The child thought that was it, until the post arrived two days before his birthday…
That's right, the package contained the coveted train set, along with a note thanking the boy for being such a big fan and commending him for saving for so long. Lego – you win. *wild applause*
Quote of the Week:
Egon Spengler: There's something very important I forgot to tell you.
Peter Venkman: What?
Spengler: Don't cross the streams.
Venkman: Why?
Spengler: It would be bad.
Venkman: I'm fuzzy on the whole good/bad thing. What do you mean, "bad"?
Spengler: Try to imagine all life as you know it stopping instantaneously and every molecule in your body exploding at the speed of light.
Ray Stantz: Total protonic reversal.
Venkman: Right. That's bad. Okay. All right. Important safety tip. Thanks, Egon.
Ghostbusters
Cheers,