Greetings dear readers!
First off, apologies for notinbeg with you the last couple of weeks. There's been technical issues beyond our control, but fear not, we have returned to guide, inform and entertain you all! The writer's long weekend was fantastic, if you ignore the case of Con-Flu he picked up. This has left him slightly disorientated, so if this newsletter's a bit loopier than normal, well, yeah… Normal service will resume as soon as possible. Moving on…
We begin his week with less than good news, that being word of the death of Michael O'Hare, best known in genre circles as Commander Jeffery Sinclair, the first commander of Babylon 5. O'Hare was a long time stage actor, who performed in the original stage version of A Few Good Men, in the role of Cnl Nathan Jessup, played by Jack Nicholson in the movie. Our condolences and heartfelt sympathies go to his family and friends. That marks the 4th member of the main cast to pass away (5 in you include Tim 'Zathras' Choate), leading creator J Michel Stracynzki to comment "I can only assume from all this that someone in the afterlife has begun pre-production on a Babylon 5 movie. I wonder who's writing the script?"
There's a gallery of replica maps and props from The Hobbit (I've wanted a copy of Thorin's map for years) and a two new posters, one best described as a collage of heroism, the other featuring the White Council. Furthermore, it's been confirmed there'll be an extended edition of the film out next year. Fashion conscious Cybertronians can transform themselves with Optimus Prime and Grimlock hoodies and America's Next Top Model has gone steampunk, proving there's no subculture that show can't taint.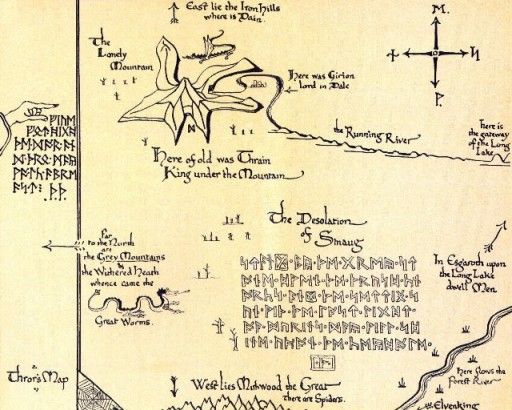 Can you smell that smell, the smell of adventure!
There's clips from Cloud Atlas and Sinister, along with the "I can't believe it's not Butter Swamp Thing!' short film Gloam. We also have a UK trailer for Wreck it Ralph, one for the new season of American Horror Story and new trailer for The Croods and Lords of Salem, which is directed by shock rocker Rob Zombie. To add to that, we have trailers for the Walking Dead TV show and video game, along with the first footage from Disney's Paperman. Meanwhile, Warner Brothers are restoring The Wizard of Oz. Sounds good right? Not really – they're also re-releasing it in 3D. Isn't there some way we can stop that sort of thing?
There's yet another deleted scene from Prometheus (I'm starting to suspect you could make another movie with them all) and footage of Ridley Scott scaring the crew old school style. Sir Terry Pratchett has set up a new production company to produce an adaption of his book Good Omens (Co-written with Neil Gaiman) and The Watch, the police show set in the city of Ankh Morpork on Discworld.
Tim Burton is expecting to be surprised by the Beetlejuice 2 script and Todd McFarlane has continued his habit of winning friends and influencing people by suing a friend of his who was claiming he was the inspiration for the character Spawn. Guillermo Del Toro's Hulk TV series is still waiting on a writer and Stan Lee has been recovering from pacemaker surgery, saying it was implanted to make him more like Tony Stark. On the small screen, character details for the SHIELD TV series are out and Marvel have announced a new direct to DVD film, Iron Man and Hulk: Heroes United.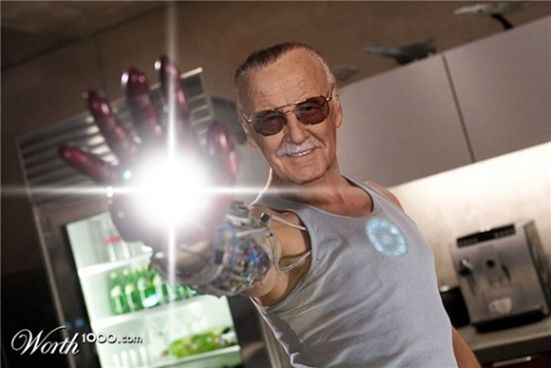 I AM IRON STAN!
The Wachowski brothers are working with Babylon 5 creator J Michael Stracynski on a new TV show while new post-apocalyptic show Revolution has been renewed for a full season. Mark Sheppard and Jim Beaver have talked about the new season of Supernatural, there's more speculation on who'll be the leading lady of Captain America: The Winter Soldier, Michael Rooker really wants to play Rocket Racoon in Guardians of the Galaxy and the world has come one step closer to Robocop, with word that the New Jersey police force are building remote controlled robotic police. There's almost no possibility of this ending well…
The first poster and trailer for The Lone Ranger have appeared, with my first reaction being "That movie cost a quarter of a billion dollars?" I understand these things aren't cheap to make, but that's a hell of a lot of coin for something that seems like it could have been done for a lot less. There's a plethora of things you can look at – there's the first picture of Captain Hook from Once Upon a Time, some Frankenweenie posters and the first look at Deadshot from Arrow. We've some more on set pics from Iron Man 3 and two picture galleries from Game of Thrones, from season 2 and season 3 with some spoilery details about season 3 of Thrones to further whet the appetite.
James Cameron is hiring asteroid miners, Nathan Fillion has taken up welding so he'll be useful when the zombie apocalypse hits and director's have signed on for both Dawn of the Planet of the Apes and the incredibly imaginatively titled The Amazing Spider-Man 2.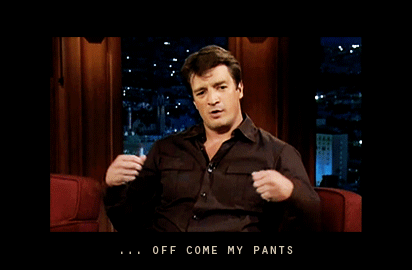 I have a very special set of skills, if you know what I mean…
Former Buffy actor Danny Strong (Who played evil nerd Jonathan) will be writing the final two Hunger Games films which will be adapted from the third book in the trilogy and following on the heels of Sir Patrick Stewart's announcement last week, Famke Janssen has teased her possible return to the X:Men franchise. Meanwhile, Noel Clarke (Mickey from Doctor Who) has been trying to get a number of superhero projects, including Black Panther, Black Lightning and Supergirl movies, off the ground to no luck.
There's an incredibly photoshopped poster for Breaking Dawn Part 2, we've some video of a baby T-Rex running through an alleyway (I'll never walk down a dark alley again!) and in the latest instalment of 'Japan, what?', there comes word of a restaurant chain that gives discounts if you're named after a character from the series Neon Genesis Evangelion. Those of you hurrying to change your names and book flights will have to do so quickly, as the promotion ends on November 30.
The Godzilla reboot is getting a rewrite, Hasbro are planning another group of toy based movies (Hungry Hungry Hippos: The Movie? You must be joking…) and a deleted scene from Lilo and Stitch has surfaced. Season 6 of True Blood will have the legendary Rutger Hauer in a recurring role and scientists have built a working AT-TE walker. Sure, it only has 4 legs instead of 6, but it's still damn awesome. Now all they have to do is make sure primitive species can't trip it up with logs and they'll be set!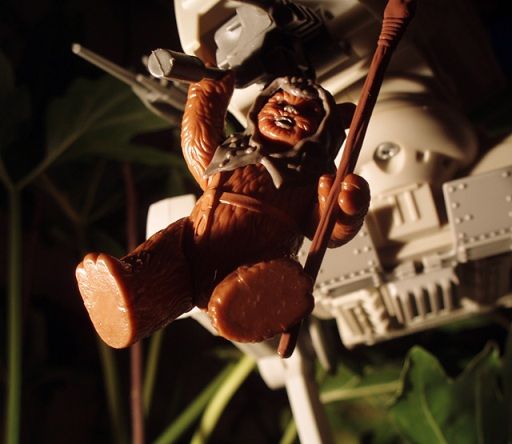 No-one's yet managed to translate the exact Ewokese for 'Yee-haa!'
James O'Barr is writing a new Crow mini-series, Bryan Fuller has said not to believe the rumours that Mockingbird (His Munsters reboot) has been cancelled while Adrianne Palicki has blamed studio politics for the cancellation of the Wonder Woman series she starred in. That or it missed the point of the character and wasn't very good? I can't say for certain, not having seen it, but it sure didn't sound like any Wonder Woman I know. To contrast that, the idea to have a gay character on Warehouse 13 was actually SyFy's idea.
We end this week in a political frame of mind with US Senate candidate Colleen Lachowicz being attacked for being a World of Warcraft player, the Mayor of Iceland's capital proving he can't get much more awesome by dressing as Obi-Wan Kenobi and Australian Federal MP George Christiansen really wants an episode of Doctor Who to be filmed here, launching a petition to help his cause. With New Zealand also in the running (Given Peter Jackson's recent interest in directing an episode), it's now a trans-Tasman fight for the TARDIS and nothing else matters, nothing, so long as we beat New Zealand!
Quote of the Week:
Mary Ann Cramer: Is it worth it? Should we just pull back? Forget the whole thing as a bad idea, and take care of our own problems, at home.
Jeffery Sinclair: No. We have to stay here. And there's a simple reason why. Ask ten different scientists about the environment, population control, genetics, and you'll get ten different answers, but there's one thing every scientist on the planet agrees on. Whether it happens in a hundred years or a thousand years or a million years, eventually our Sun will grow cold and go out. When that happens, it won't just take us. It'll take Marilyn Monroe, and Lao-Tzu, and Einstein, and Morobuto, and Buddy Holly, and Aristophanes…[and] all of this…all of this…was for nothing. Unless we go to the stars.
Babylon 5 – Infection
Cheers,