Greetings dear readers!
The writer's combining something he loves (Shooting people with Nerf guns) and something he hates (physical exercise) this weekend: he's playing Humans vs Zombies! His Sunday activity however is more one far more suited to his level of athletic ability, that being sitting at a table playing Dungeons and Dragons…
Anyhow, let's get to it – we've got a lot to cover!
The anticipation for San Diego Comic Con this weekend is reaching fever pitch! As always, there's a vast amount of things to look at and empty your wallet for! A massive Hobbit banner has been unveiled and there's some pictures of the official bags, while in a move designed to ease congestion (and cause controversy), the con has banned strollers from it's event rooms. SyFy have a Defiance themed cafe (Which looks pretty expensive), OmniCorp is offering a year's free police protection for donating your brain and spine and the Firefly reunion (Minus Jewel Staite who's booked at another con) is getting it's own TV special! The one and only Bruce Campbell will be signing autographs and a Bugatti spaceship has crashed into the San Diego Hard Rock Café.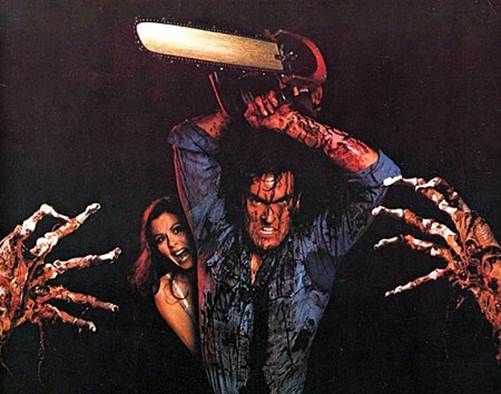 Fortunately, Bruce always keeps something handy to deal with over eager autograph hunters.
There's more attractions that you can poke a giant stick at, with numerous Batmobiles, a look at the trolls of The Hobbit, a Carrie banner, a new picture from Pacific Rim, the first look at the Iron Man 3 themed Marvel booth, an Evil Dead banner and some of the new Lego on show! Pulp heroes will team up thanks to Dynamite Comics while Legendary Comics have announced a several new projects, featuring the likes of Max Brooks and Mark Waid. Christopher Columbus will be producing a film based on the Creepy anthology comic and there's some good news from Warners, with them looking to add 'manufacture on demand' Blu-Rays to their archive store and releasing the original House of Wax on Blu-Ray 3D.
There's been plenty of things screened already, with the Lone Ranger teaser on show, along with a retro styled Frankenweenie trailer (During the panel Tim Burton made a fan cry). Footage from The Host was shown as was the first 7 minutes of Breaking Dawn Part 2. There's also a useful roundup of some of the new genre shows coming soon. Peter Jackson will be showing footage from The Hobbit, but in 24 frames per second 2D, the BBC are making a motion comic adaption of Peter Panzerfaust (Which tells the story of Peter Pan in World War 2) with a view to it becoming a TV series and there's a look at the Walking Dead zombie obstacle course.
There's been Disney and Prometheus cosplay, the Vertigo comics panel has revealed Neil Gaiman's writing a new Sandman series that'll be out next year and two of the guys behind the fan film Street Fighter: Legacy are now making a live action show that'll be an origin story. *sigh* Another one? Original BSG star Richard Hatch and remake series writer Jane Espenson believe Blood and Chrome is still on the cards at SyFy, as is Bryan Singer's BSG movie and actor Robin Thoresen has said she's not allowed to say if there'll be a 6th season of The Guild. Lastly, if you are lucky enough to be at the con, please, obey the warning signs.
We'll have more coverage next week, so stay tuned!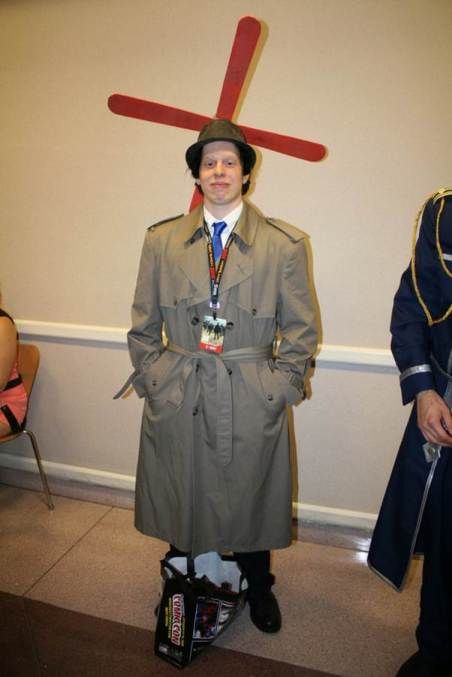 The use of Gadget copters to get past long toilet queues had been banned since the great incident of 87…
In non Comic Con news (Yes, there is some!) , we've a trailer for the Halo web series, a 13 minute Dark Knight Rises featurette and some incredible Star Wars themed facial hair. There's the first on set photo from The Smurfs 2 (Neil Patrick Harris, did you really need the work?), Jorge Garcia (Hurley from Lost) could be heading to Once Upon a Time and not only do we have a sneak peek from season 3 of The Walking Dead, there's also a teaser trailer for the FPS!
Did you Know?
There could have been a Dungeons and Dragons movie produced by James Cameron and directed by Stan Winston.
We've a trailer for Barry Sonnonfeld's Dinosaurs vs Aliens motion comic, there's yet another TV spot and trailer for The Dark Knight Rises, there's new posters for Pacific Rim and The Hobbit and a new trailer for Rise of the Guardians, a new clip from Total Recall (Which Kate Beckinsale almost had a cameo in instead of starring in) and you can read the story of how Superman co-creator Jerry Siegel put a curse on the Christopher Reeve film. Well, that's one way to explain how we got Superman IV: The Quest for Peace…
Arrow writer Marc Guggenheim has confirmed that was Deathstroke in the trailer along with a look at the music of the show, there's some very spoilery on set pictures from the latest Doctor Who season, the talk about Robin appearing in The Dark Knight Rises hasn't stopped and there's a clip from the new Sinbad show. It hasn't started filming yet, but the first viral advert for the Robocop remake is out and the Doozers (From Fraggle Rock) are set to get their own show. CBS Films has acquired the rights to video game Deus Ex, there's a new episode of Trailer Park Heroes (Starring Nathan Fillion, Alan Tudyk and Tricia Helfer) and William Shatner is exploring Star Trek fandom in his new doco Get a Life!
Dear Twilight fans, thank you for making our fans look normal. *love*
The toy's to movies trend continues with Stretch Armstrong now being directed by Breck (Sahara) Eisner, you can mount the head of the dragon Malificent on your wall and in what is a very welcome shock, casting details for The Wolverine have revealed that Japanese actors have been cast as Japanese characters, even the Silver Samurai!
Buck Rogers is returning to comics, there's a new trailer for the Game of Thrones MMO and a clip from Dredd. We've a trailer for the cyberpunk film The New Kind, Mads MIkkelsen has signed up for Hannibal and thus won't be available for Thor 2, there's a new clip from Arrow and with three more clips from The Dark Knight Rises being released, you've gotta wonder how much of the film is there left to see?
Man of Steel will be released in 2D and IMAX, (There's no word on a 3D conversion) there's a Y: The Last Man fan film and some more casting details for American Horror Story season 2. Falling Skies has been renewed for a third season and it's appears we won't see any DC Comics movies that aren't Batman and Superman for at least three years, which is a blow given this week Christopher Nolan ruled himself out of a Justice League film.
The Fantastic Four reboot has a director, while David Slade has left the Daredevil reboot. Fox will have to start shooting on that soon, or the rights revert back to Marvel/Disney! There's an Arkham City prequel on the way, focusing on Batman's first encounter with the Joker and Drew Goddard (Writer of Cabin in the Woods) is now rewriting the ending of World War Z. There's the premiere clip from Item 47 and Zachary Levi has confirmed he'll be playing Fandral the Dashing in Thor 2.
Who is this 'Errol Flynn' you speak of and why do you say I look like him?
Babylon 5 creator J Michael Straczynski has formed a new company, titled Studio JMS, to bring all his output under the one umbrella and he'll be partnering with Sam Raimi on a new Dracula TV series for the Starz channel. Also on that channel will be Incursion, a new show about a group of human soldiers fighting aliens in the far future. There's another Total Recall poster, you can watch the whole Legend of Korra behind the scenes feature, Channel 4 in the UK have commissioned a second season of the anthology series Black Mirror, the film rights to the graphic novel Joe Golem and the Drowning City, written by Mike Mignola and Christopher Golden, have been picked up and Attack the Block director Joe Cornish has signed to direct Rust.
Karl Urban has been very diplomatic about the Sylvester Stallone Judge Dredd film (Certainly more than I could be) and he might have revealed who Benedict Cumberbatch is playing in the Star Trek sequel. *wags finger* Naughty, naughty… Actor and stuntman Raw Leiba has met with Marvel about playing the villain in a Black Panther movie, the entire Dark Knight Rises soundtrack is online and we've the first footage from the final season of Spartacus.
Phillip Seymour Hoffman will be in Catching Fire (He's playing Plutarch Heavensbee), Dredd writer Alex Garland say's a US box office of about $50 million will green light a sequel and there's some more casting details for Game of Thrones season 3. Now, this next item hasn't been officially confirmed, but it's the sort of thing we can't ignore: it's been reported Tom Baker will return to Doctor Who for the 50th Anniversary special! We will definitely keep you updated on this.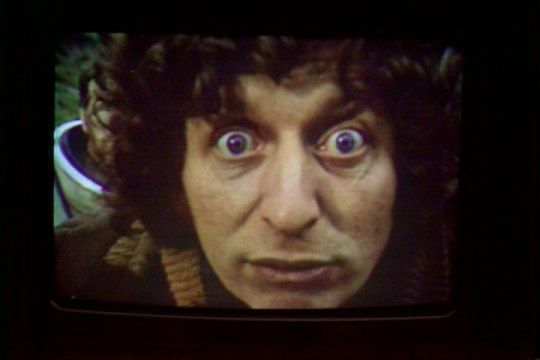 Tom Baker moments after his morning coffee…
There's the first clip of James Franco in Oz, The Great and Powerful and the first trailer for the film has swiftly followed! Dean Devlin wants to make sequels to both Independence Day and Stargate and Michael Fassbender has signed to star and co-produce in an Assassin's Creed film. Hmm. That might not be rubbish… We've some concept art from Elysium, Eli Roth is in talks to direct Harker, starring Russell Crowe and a movie adaption of video game God of War is in the works. Meanwhile, physicists at the University of Leicester have proven Batman's cape wouldn't actually let him glide, the bunch of fun spoiling smartypants.
There's a new trailer for the Indiana Jones Blu-Ray release and in a refreshing display of honesty, Nathan Fillion feels he isn't a big enough star to appear in an Avengers sequel. This month's Live in the Studio forum will cover Game of Thrones, a script for the new Ninja Turtles film has leaked, Etan Cohen (Who's CV includes Tropic Thunder and Men in Black 3) is now writing Ghostbusters 3 and it's official that Mockingjay (the final Hunger Games movie) will be split in two.
We haven't had a heartwarming story to end on the last couple of weeks, but this week, we've got a couple of doozies. Firstly, we have an update on young Max Page (The little Darth Vader from the Volkswagon advert) – he met the voice of Darth Vader, James Earl Jones, backstage at a performance of The Best Man (Which Jones is starring in). The two spent time talking about each other's careers, voice overs and theatre. In a word, awwwww.
Secondly, a young boy named Zachary had a wish, namely to meet Hellboy and become him. Ordinarily that'd be pretty tricky, but thanks to the Make a Wish foundation, the Spectral Motion make up studio and actor Ron Perlman, Zach got his wish. Perlman, in full Hellboy makeup, met Zach and his family at Spectral Motion last week and ordered a 'Hellboy sized' sampler of food for all, with the day culminating in Zach getting made up as Hellboy, horn stubs and all. You know, if not getting a third Hellboy film get's us this, I'm OK with that.
Quote of the Week:
(Delenn and Sheridan are in Sheridan's office, discussing the massive and mysterious artefact)
Delenn: May I assume that this has nothing to do with you wanting to be the first to unlock whatever secrets this thing brings with it?
John Sheridan: Me? When have you ever known me to have a personal agenda?
Delenn: John, whenever something comes into our proximity that has to do with the unknown, your eyes light up like two tiny suns. And do you know what words these two tiny lights spell out?
Sheridan: What?
Delenn: Mine! Mine, mine, mine, mine, mine, mine!
Sheridan: Oh, now that is a lie!
Delenn: Minbari do not lie.
Sheridan: Well then it is slander.
Delenn: To be slander, it must be false. That's two down.
Sheridan: Well, then it's…it's damned inconvenient.
Delenn: The truth always is.
(She kisses him and leaves; he turns on a monitor and looks at the artefact)
Sheridan: Besides…it is mine.
Babylon 5: Thirdspace
Remember,