Welcome again dear readers!
Nothing much has happened to the writer this week, with the tiny exception of his second wedding anniversary… He also proved just how horrifyingly cute he and his wife can be, as they managed to get each other the same gift! (The unisex version's out of stock before you say anything)
We start this week with DC Comics announcing they're bringing a well-known character out of the closet, with the original Green Lantern, Alan Scott being rumoured to be it. We can but hope it'll be done with the appropriate level of tact and not as a cheap gimmick. The reaction's been pretty positive, but sadly there's always an exception: bigot protest group One Million Moms (Who don't have anywhere near that number) are calling for a boycott of both Marvel and DC over the issue. (I'm hoping it fails as spectacularly as their boycott of Archie Comics did.)
Why boycott Marvel as well you ask? That would be because X:Man Northstar popped the question to his partner recently, with the wedding due next issue. Here's hoping it isn't invaded by super villains and that Stan Lee and Jack Kirby can get in! J
Amidst all this, there's been an event (hopefully) no-one can complain about. When 4 year old Anthony D'Allessandro refused to wear his hearing air, saying superheroes didn't wear them', his mother Christina wrote to Marvel asking if there were any. Marvel responded that Hawkeye's hearing had been destroyed but, realizing this wasn't enough, created a hearing impaired hero, naming the character after Anthony's hearing aid. Try and criticise that!
There's a new Arrow trailer (Hey, that's Paul Blackthorne!) and details of the Blu Ray and DVD of The Avengers. We've the first look at The Walking Dead's Michonne and Peter Weller will voice Batman in the animated version of The Dark Knight Returns (There's a few pictures from it here ), which will be a two parter.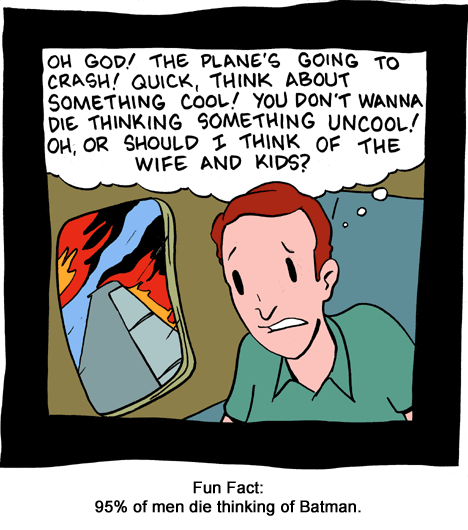 Batman does not tell jokes, yet jokes about Batman are consistently funny. Odd that.
Legendary action star Jackie Chan (Is there a bone that man hasn't broken?) has quit action movies. Fair enough, the guy's 58 after all. Oh wait, turns out he just won't be making as many of them and that was a mistranslation. All's well that ends well!
Bad news everybody! Creator and show runner Dan Harmon has been fired from Community. The reasons are vague and Harmon's statement didn't help things. Combined with the fact that Chris McKenna (The last of the original writers) is leaving as well means things don't look good. A memo to the cast about the situation has been leaked - we'll keep you updated.
There's been more bad news on that front, with Sanctuary being cancelled. Fans have already begun complaining about it, but creator and star Amanda Tapping was predictably classy, complete with a Douglas Adams reference! There's been some good news though, with the cancellation of Dog the Bounty Hunter. For those of you who've not seen the show, it's about a man best described as a life support system for a mullet.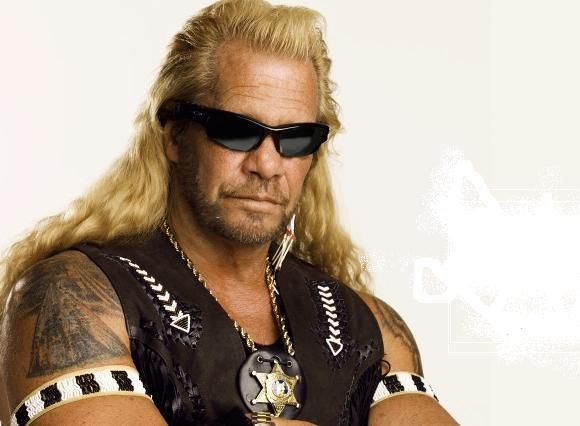 I suppose *sunglasses* every dog has his day…
Aliens: Colonial Marines has also been pushed back to 2013, but we've found a couple of things to tide you over. The Meat and Potato theatre in Utah is staging a puppet version of Aliens (If Hudson freaks out like Kermit that will be the best thing ever) and there's a free ebook telling the story of Alien, from the point of view of Jones the Cat.
We have the official synopsis for Pacific Rim, Noel Clarke has written a British superhero movie and Paramount have held GI Joe: Retaliation back 9 months, with the official reason being it's now being converted to 3D, which has been confirmed by The Rock himself. ENOUGH WITH THE 3D! Couldn't you just say 'We can't compete with The Avengers and want to release our movie when more than 3 people will see it?' I'd hate to be at Hasbro at the moment – the movie was due out in about 5 weeks…
Marvel may finally be moving ahead with Ant-Man (Can he please not be a jerk like the Ultimates version?), you can check out some of Frank Frazetta's Lord of the Rings illustrations and there's fan art of Nikola Tesla and HP Lovecraft as paranormal investigators. If there's some way to add Robert E Howard I'd consider it perfect.
Trust me, Ant-Man's the least strange thing that's has crawled out of Hulk's nose …
You can watch the new Doctor Who mini episode, which was written by an 11 year old for the Script to Screen competition the BBC ran earlier this year, Chris Hemsworth doesn't think the person we saw in the Avengers post credits scene will show up in Thor 2, though he hasn't seen the script yet, and from the "Yeah, that'll happen" department, DC Comics hope's Alan Moore will be open minded about Before Watchmen. And people call me an optimist…
There's a trailer for the new Sinbad series and just what did Karen Gillan steal from the TARDIS on her final day of shooting? The soundtrack for The Amazing Spider-Man has a few big spoilers, there's a new True Blood trailer and there's early plans for an Exorcist TV series. Edgar Wright's adaption of Kolchak: The Night Stalker has a writer, Mass Effect 3 is getting an extended ending and you can watch the speech Neil Gaiman gave to the Philadelphia University of the Arts.
There's a tiny detail about the Doctor Who Christmas Special and a more than a bit freaky promotion for Prometheus was set up in the Paris subway system. We've the first 10 minutes of Teen Wolf season 2, there's some more Avengers concept art, here and here, Damon Lindelof has finally explained the Lost finale and a puppet Eleventh Doctor has been having adventures in New York.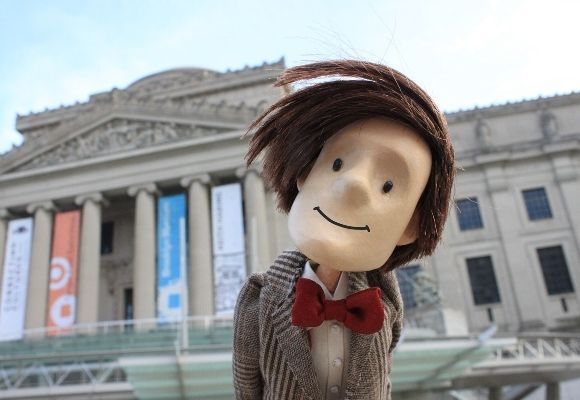 I'm a puppet now. Puppets are cool.
Here's something I'd be you didn't expect to read: a prequel to Hook, about Lost Boy Rufio, is on the way, with the actor who played him, Dante Basco, producing. If it's not called Bangarang something is very wrong… Disney have pulled the plug on a live action Snow White thanks to John Carter's under performance, Gary Oldman has joined the Robocop remake and an American judge has recommended banning the XBox 360.
There's some behind the scenes footage of Defiance, SyFy's new TV show/MMO cross over, 2 new Prometheus trailers and Ryan Reynolds has been linked to a remake of Highlander, which strikes me as being as bad an idea as an English language remake of The Killer, or Tom Cruise being part of a remake of The Magnificent Seven. Wait, those are true as well? *ticks box* That's another sign of the End Times…
The play test kit for the next edition of Dungeons and Dragons has been released, there's a preview of John Scalzi's new book, Redshirts, about the crew of a starship whose crew die in mysterious ways on away missions and we've a new picture of The Lizard from The Amazing Spider-Man. There's video talking about the monsters of the Doctor Who game The Eternity Clock and a researcher is claiming that exposure to young adult novels is teaching kids to swear. They didn't do that to me, unless you count all the swear words I learnt from dictionaries.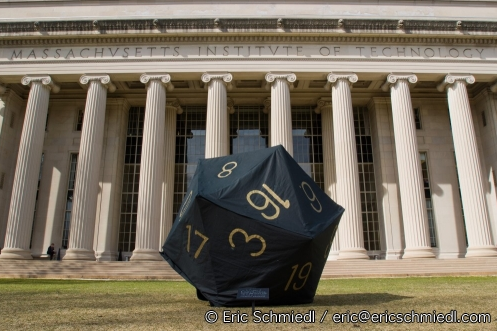 That's my kind of lawn ornament!
There's some more Iron Man 3 casting, a new red band trailer for Abraham Lincoln: Vampire Hunter and an amusing Grand Theft Auto modification: Grand Theft R2. We've a new Total Recall trailer and The Walking Dead will simulate a zombie apocalypse during Comic Con this year. Isn't that just the final day of con before everyone's had caffeine and/or bacon?
There's the first video from season 3 of The Walking Dead, JK Rowling has pleaded with fans to not buy owls as pets, but sponsor them at bird sanctuaries and Mads Mikkelson is in negotiations for a part in Thor 2 – there's no word on who he'll play, but rumour has it The Enchantress will be the villain thus making Skurge(AKA The Executioner) a likely choice.
Another viral video for Prometheus has surfaced, this one about Charlize Theron's character, there's the first clip from Total Recall, some new Dark Knight Rises posters and video from Superman vs the Elite. We've a trailer for the Marvel Heroes MMO and Marvel have also released a new line of superhero themed jewellery. While the Punisher gear is pretty tacky, the Thor earrings are awesome.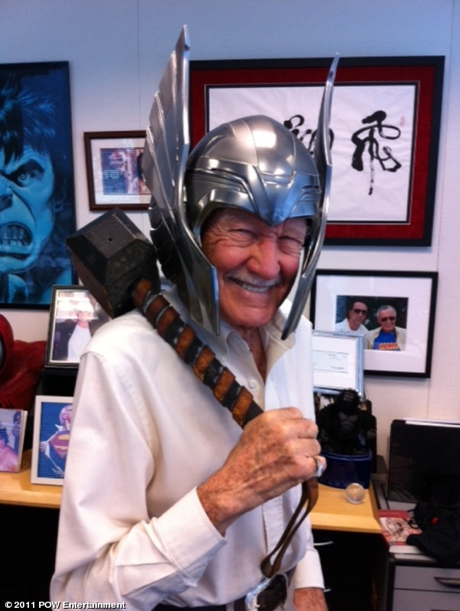 Bless you Stan Lee. Don't ever change.
Daniel Radcliffe has been linked to a version of Pinocchio that will be done in stop motion and directed by Guillermo Del Toro (I knew that would get your attention…) we've a trailer for the game 007 Legends: Moonraker and an update on Sherlock season 3. Indie rock band The National have recorded a version of The Rains of Castamere for the Game of Thrones season 2 soundtrack, there's the first trailer for the French film Holy Motors, about a man who lives multiple parallel lives and stars Kylie Minogue, and there's another plethora of Dark Knight Rises promotional ads.
We end this week continuing our tradition of finishing up on something lovely! Artist Ron Miller wanted to do something to celebrate his wife Judith's recent victory over cancer, but he decided to do something a little different. With both Ron and Judith being fans of pulp art, he created art of her as a pulp heroine battling giant robots! That's one of the most romantic things I've seen in a long time…
Quote of the Week:
This week's quote's in honour of the writer's anniversary, given the he feels it perfectly sums up his marriage.
(A giant robot is rampaging through the city)
Lucius: Honey?
Honey: What?
Lucius: Where's my super-suit?
Honey: What?!
Lucius: WHERE IS MY SUPER-SUIT?!
Honey: I, uh, put it away!
[A helicopter crashes outside the window]
Lucius: Where?!
Honey: Why do you need to know?!
Lucius: I need it!
Honey: Nuh-uh! Don't you think about runnin' off and doin' no derring-do! We've been plannin' this dinner for two months!
Lucius: The public is in danger!
Honey: My evening's in danger!
Lucius: YOU TELL ME WHERE MY SUIT IS, WOMAN! WE ARE TALKING ABOUT THE GREATER GOOD!
Honey: "Greater good"?! I am your wife! I'm the greatest good you are ever gonna get!
The Incredibles
Remember, The Shadow knows…