Welcome again dear readers!
It's confession time people, as I've something I'd like to get off my chest. I'm aware this could put me at odds with a lot of my readers, but I have to say it – I don't like The Big Bang Theory.
I'm not saying I hate the show, there's parts I've enjoyed and not just the parts with Wil Wheaton. It's just something I can only take in short doses – more than half an episode and I start to want to kill the characters. Perhaps it's an 'Everyone says this is awesome and therefore I must dislike it' reaction (I never said logic and I got along), or just not being able to forget it sprang from the same creative loins as Two and a Half Men, which isn't easy to forget let me tell you. It's probably just me being weird though.
So yeah, that's my bit out of the way… On with this week's news!
We have the first official picture from Doctor Who's Spain location shoot and the Doctor's next companion has been announced – actress Jenna-Louise Coleman (Who's had small parts in Captain America and Emmerdale) has the job! It's also been revealed that 6 episodes will air this year including the Christmas special, with 8 more for 2013. Amy and Rory Pond will depart in episode 5 and both the Daleks and the Weeping Angels will appear.
We've some new pictures of people looking serious in The Avengers, Jason Statham will pay to avoid green screen in his movies and it looks like Eddie Izzard will play Grandpa in The Munsters reboot. A certain redneck may return to The Walking Dead, and there's a new Game of Thrones trailer.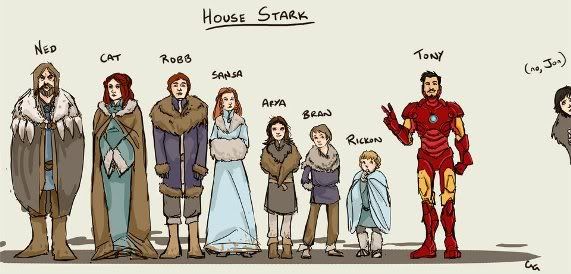 Jon Snow never got invited to the good parties. Sadly, cause cousin Tony throw's a hell of a party.
Last weekend saw Wondercon in Anaheim California and with it came the usual con-related shenanigans! There was cosplay, cosplay video and descriptions of the footage screened from Snow White and the Huntsman and Abraham Lincoln: Vampire Hunter. A new Spider-Man viral video emerged (The film will also hint at future villains) and there's a brave and awesome dad bonding with his daughter through Wonder Woman cosplay.
There's some of the ways that Alice stomps on the undead in the new Resident Evil film, which might be the last in the series which can only mean Paul WS Anderson has run out of ways to make Milla Jovovich look good in slow motion. There's a report on the Looper trailer (Joseph Gordon Leviit plays the young Bruce Willis!) that was screen, 5 minutes from Lock Out and the first look at the aliens of Battleship. You can watch the first footage from the Alcatraz finale and lastly, we've the Prometheus panel for you. *whew*
In the latest instalment of "Michael Bay, stop ruining my childhood!" comes this: Bay has been talking about the new Ninja Turtles film he's producing, saying the turtles 'are from an alien race'. This has caused explosions of hatred all over the internet with former Turtle voice actor Robbie Rist saying Bay is 'sodomizing the series.' Bay has said fans need to take a breath and that his team is working with one of the Turtles creators. Speaking of them, both Kevin Eastman and Peter Laird have made statements on the film, but neither has said if he's working on it. Me? All I'll say is this: Michael Bay, if you so much as breathe near Voltron, I will make it my life's work to acquire three things: a time machine, your parents address and a lifetime supply of contraceptives. Are we clear?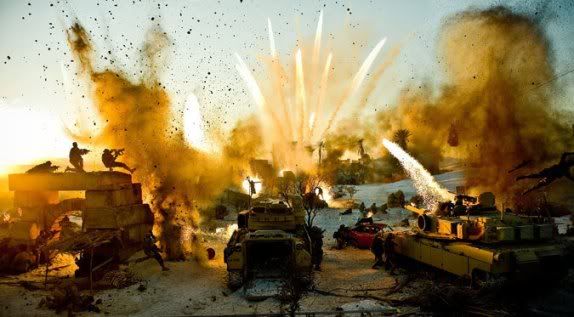 I remember the days of more script and less explosions. I miss those days.
We've seen a Batmobile drag race, it's been explained how the aliens in Battleship found us and there's the first clip from Wrath of the Titans. Warners have announced a 31 disc Harry Potter set and Netflix are trying to pick up The River even though ABC hasn't cancelled it yet. There's a new trailer for Avengers: Earth's Mightiest Heroes season 2, Ron Howard's company is looking to make a new version o f1984 and a fan with too much time on their hands has compiled every Itchy and Scratchy episode – all 48 minutes of them.
The latest Prometheus trailer has been released (There's a Q&A with Ridley Scott at that link as well), along with a new viral video and footage of Michael Fassbender and Charlize Theron answering questions. Furthermore, there's a UK trailer for the film, Damon Lindelof has dodged questions about it's relation to Alien and there's a collection of the Easter eggs from the trailer.
From the 'About damn time!' department comes the first trailer for Blood and Chrome, the Battlestar Galactica prequel web series. While the trailer looks shiny, the version of Led Zeppelin's Immigrant Song used made me want to stab myself in the ears with a blunt fork. Continuing their trend of snatching defeat from the jaws of victory only the pilot movie will air on the channel, with the status of the web series still unknown. Presumably it was canned so more reality shows will appear in place of something that it's audience would actually want…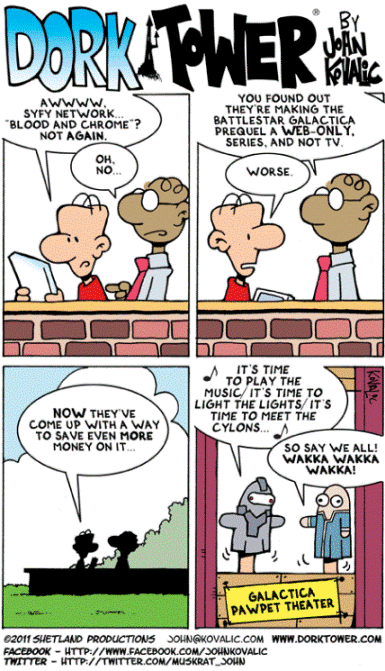 Puppets – is there anything they can't make better?
We've a clip from Camel Spiders, another trailer for Abraham Lincoln: Vampire Hunter and if you haven't been down to your local animal rescue shelter of late, you might have missed this poster: Have you seen this Direwolf? There's the first trailer for Sound of My Voice, the first picture of Oliver Queen in costume from Arrow, Jango and Boba Fett engaging in some father/son bonding and did you know Disney created a John Carter animation in 1957?
People it's serious time now! 27 year old Kevin Pratt is a massive geek, steampunk enthusiast and Browncoat– his first date with his wife was to see Serenity. Sadly Kevin has an incurable form of brain cancer and has one wish – he wants some of his ashes to be kept in a TARDIS urn. His wife wants this to happen and has appealed to the internet to help. Do you know anyone who can help with this? If so, please get in touch with them here.
The Muppets have a star on the Hollywood Walk of Fame, there's some pop art posters for Dark Shadows, eight seconds (Too much if you ask me) from Breaking Dawn Part 2 and some more casting news for The Walking Dead season 3. There's the first look at the cover of Dark Crystal Creation Myths Vol 2 and another Dark Shadows trailer, complete with a cameo I'm not worthy to speak about!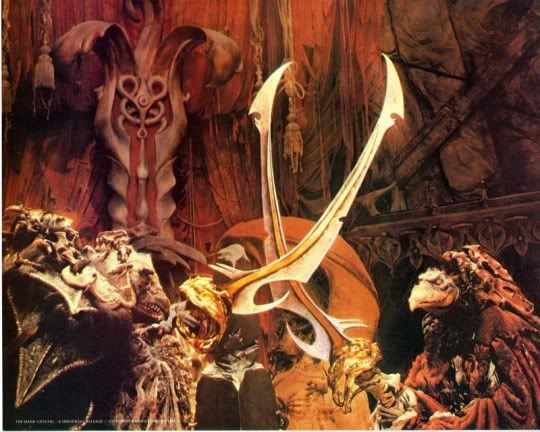 I'm almost 32 years old and I still can't watch that film with the lights off…
Sam Witwer has talked more about voicing Darth Maul, Felicia Day will appear in Supernatural (In an episode titled 'The Girl with the Dungeons and Dragons Tattoo') and the new trailer for Snow White and the Huntsman has emerged from the woods and is good enough to make me want to see a Kristen Stewart film, which is a hell of a compliment.
The Leprechaun franchise is to be rebooted, we've the first four minutes of Iron Sky and the first picture of Katee Sackhoff in Riddick 3. Jeff Bridges could appear in Tron 3, Grimm has been renewed for a second season and continuing the anniversary re-release cash in trend, Jurassic Park will get a 3D re-release for it's 20th anniversary.
There's the first trailer for The Host (As well as a couple of pictures) and Battleship has apparently changed how the US Navy responds to alien invasions. A group of high school students are building a Viper flight simulator, there's two new pictures from Prometheus and video of Captain America coming home. *snif* Sorry, there's just something in my eye…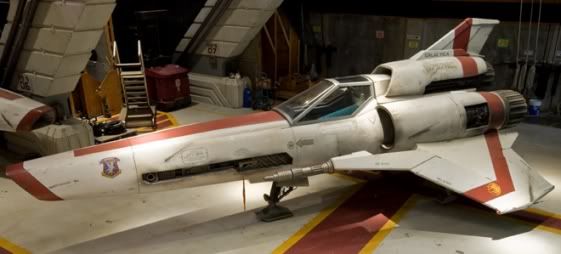 It's a fine looking ship, but let's face it – it's not as cool as an X:Wing.
The saga of The Hobbit pub has continued - it's emerged the Saul Zentz Company are offering terms – they'd grant a license so the pub could continue for $100 per annum. The pub's landlady was concerned it could be '$100 this year and $20,000 the next' but a pair of kindly gentleman (AKA Sir Ian McKellen and Stephen Fry) has said they'll pay the fee. That's one way to ensure free drinks for life…
Felicia Day and Wil Wheaton have joined forces! No, it's not to take over the world (Though I'm sure they could manage that), but for a new show, Tabletop, for Day's YouTube channel Geek and Sundry. The show is simple – people playing games. Such people include Eureka's Colin Ferguson, Mythbuster's Grant Imahara and the voice of Hermes Conrad (and many others) Phil Lamarr. I'll be tuning in come April 2nd – will you?
There's some Game of Thrones videos asking you to declare your allegiance to a House (Team Greyjoy for me – Damphair and Asha for the win!), scans of the art from X:Men #1, a new synopsis for The Dark Knight Rises, some more pictures from the set of Star Trek 2 and a launch trailer for Walking Dead: The Game.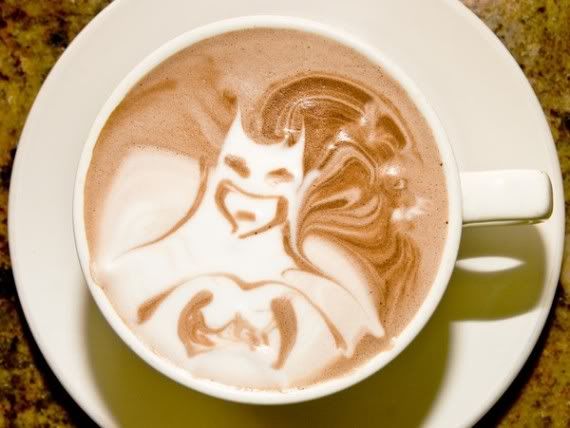 I am Vengeance. I am Night. I am decaffeinated with a hint of mocha!
We have what could be the first teaser poster for The Wolverine and the first set picture from Ender's Game. Legendary have optioned the script Slayer, about a young man who discovers his late father was a dragon slayer and has to take up the job and we've a trailer for Death of a Superhero.
There's some details of upcoming game Epic Mickey 2 with word that Frank Welker will voice Oswald the Lucky Rabbit, Bioware Chief Ray Muzyka has posted an open letter to fans about the Mass Effect 3 controversy (Which scammers are trying to fool people over) and that nagging sense of fear I've had all week had makes sense now thanks to Michael Winslow's update on the new Police Academy film.
We've the first trailer for Starship Troopers: Invasion and the first Super Best Friends Forever short – sadly there'll only be 5 of them. There's a fantastic painting of Weird Al Yankovic that will sadly only be available in LA on March 9, the first set pictures from Elementary, the American Sherlock knock off which Steven Moffatt isn't happy about and Anthony Head has joined the Percy Jackson sequel, replacing Pierce Brosnan in the role of Chiron.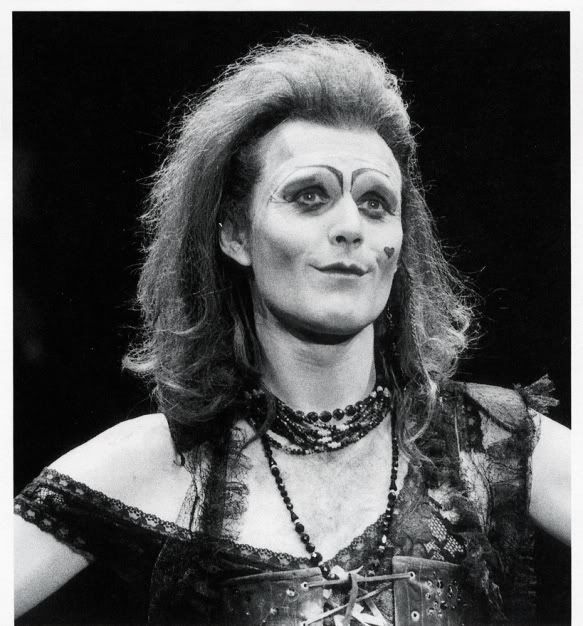 You can't see Rupert Giles the same way again can you?
Lastly, a group in the UK is offering possibly the ultimate Bucks Night experience - Zombie Boot Camp!Players are trained within an inch of their lives (In 30 minutes), armed with airsoft guns and let loose to blast the zombie hordes. Anyone looking at running it in Australia? Please?
Quote of the Week:
Pizza Delivery Guy: Uh, pizza delivery?
Dracula: Ah, you have brought a repast. Excellent. Continue to be of such service, and your life will be spared.
Pizza Delivery Guy: Uh-huh. That'll be $15.50.
Dracula: Tell me…
Pizza Delivery Guy: Yeah?
Dracula: Is there… garlic on this pizza?
Pizza Delivery Guy: I don't know. Did you order garlic?
Dracula: No!
Pizza Delivery Guy: Then no. Look, mister, I've got four other deliveries to make. You want to just pay me the money so I can go?
Dracula: Of course. Yes. But I have a coupon.
Supernatural – Monster Movie
Remember, The Shadow knows...