Greetings dear readers!
It's been a busy week for the Shadow, with him madly working on his Eyecon game (Sessions are filling quickly – register now!). It's wonderful getting to watch Errol Flynn movies and call it research…
Enough prattling from me, we've got a lot of news to cover!
The big news this week is Fox cancelling Terra Nova, thus ending several months of speculation about the show's fate. Word is it's being shopped around to other networks (With streaming service Netflix the front runner), but given the expense of the show I wouldn't hold your breath waiting.
It's chances of a second season weren't good, given sagging ratings, an exorbitant cost and the fact that television science fiction these days has a lifespan comparable to an Australian Idol contestant's career. (Yes, I'm aware Guy Sebastian still has one, but how anyone can sustain a career with music that aggressively bland is beyond me.) Now, I'm aware you're expecting more Fox bashing from me, but I have to give them credit for trying the show. Yes, Fox cancels genre shows more often than I change my socks, but they also commission them in the first place, which has to count for something right?
There's a pair of clips from The Hunger Games, here and here and The Capitol has it's own website. AMC might have accidently spoiled a death in The Walking Dead and a TV show character may appear in the comic. Zachary Quinto and Jessica Lange will return as new characters in season 2 of American Horror Story and a collection of rare pictures from the set of the original Star Trek have surfaced.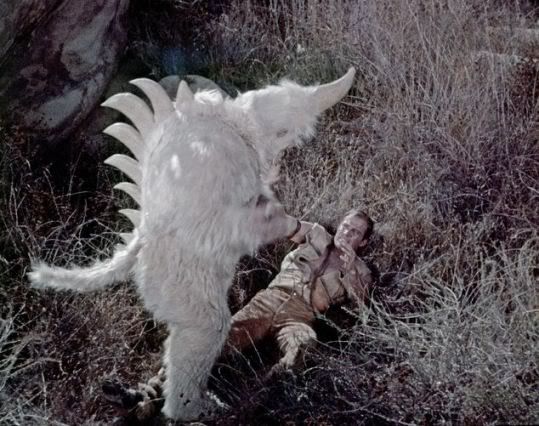 Down boy down! Good dog, bear, albino, unicorn… thing!
There's another Game of Thrones trailer, the new Robocop has been confirmed and when Optimus Prime tells you to go to space, you go to space! There's something about Peter Cullen's voice that makes me trust whatever he says – I can't help it. Ryan Reynolds is still trying to get Deadpool made, though he's not confident about another Green Lantern movie. Maybe next time they won't CG the costume… *mutters*
There's a trailer for the film Atomic Robo (About a robot invented by Nikola Tesla) which is seeking funds to complete the film, some more footage of the SHIELD Helicarrier and thanks to the court documents from the lawsuit being released, we now know just how much money Todd MacFarlane owes Neil Gaiman. Funds are being raised for a full length Hunger Games fan film and plans for season 3 of Sherlock have been revealed. Spoiler alert!
It's been a sad week for Star Wars fans, with the death of legendary artist Ralph McQuarrie. McQuarrie was a concept artist and illustrator who worked on dozens of film and TV projects in his career, but is best known for his pioneering work on the original Star Wars trilogy, imbuing it with a dirty and lived in feeling different to much of the sci fi at the time.
Even after he retired in the mid 90's, he was still in demand – he was offered a designer role on the prequel trilogy, but turned it down owing to ill health. Numerous un-used designs of his have been used in The Clone Wars animated series and his work has been displayed in exhibitions world over. MacQuarrie died on March 3, at the age of 82. He is survived by his wife Joan.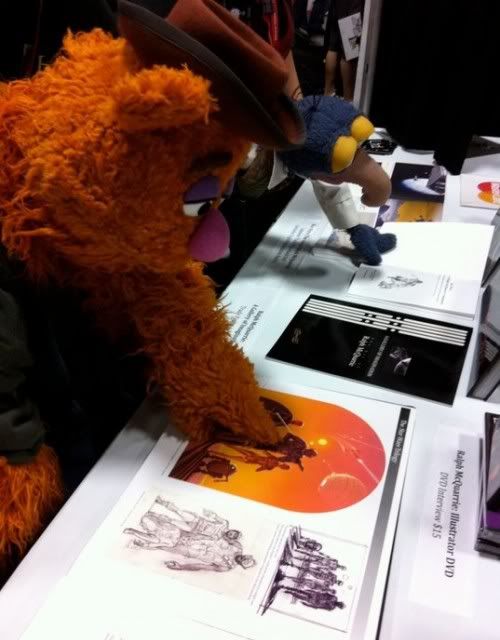 Goodbye Ralph. Your works inspired more people than you could know.
Cooking blog Crackers on the Couch have recently finished a souperhero week, there's the first pictures of Maria Hill in The Avengers, Walt Disney World have closed an attraction about bad eating habits for a retooling and there's follow up to the article about why Batman should kill the Joker.
There's a faintly brain melting Disney/Game of Thrones mash up, the intro to the 80's TMNT cartoon has been redone in stop motion and we've some pictures from the new series as well! There's 10 minutes from John Carter, another collection of pictures from Dark Shadows and you'll have more than enough incentive to exercise with the app Zombie Run!
A new Sim City game has been announced (If there's no way to unleash Godzilla on your city, I'm not buying it), there's the first picture of The Lone Ranger and Tonto and fans of Nikita had better start watching or there won't be a third series. Fringe has hired another Australian actress, there's the first clip from Lockout and Sam Witwer has tried to teach proper lightsaber technique to the hosts of The Today Show.

An elegant weapon, for a more civilised day. Also, the COOLEST WEAPON EVER.
For those in the property market, Dick Clark's Flintstone style home is for sale and we've a look at an abandoned Tennessee prison that's perfect for all your post-apocalyptic housing needs. There's more lawsuits over Spider-Man: Turn off the Dark and fresh from costing the Death Star, a group of academics have calculated the rough cost of hiring the TARDIS for a year.
BBC America have ordered 2 new sci fi series - Wired, about a world inhabited by synthetic organisms and The Dead Beat, a paranormal crime series about two policeman, one living, the other dead. Meanwhile, in the latest instalment of 'This will not end well', the Brazilian police have recruited Batman in an effort to lower the crime rate.
Respected university MIT is offering an official Certificate in Piracy, which is the most awesome uni course I've ever heard of, and I once did a short course on supernatural monsters and the occult! They aren't the only ones – Michigan State University has a new course called 'Surviving the Coming Zombie Apocalypse.' There's no word if rival schools have started training Ninjas, but it's only a matter of time…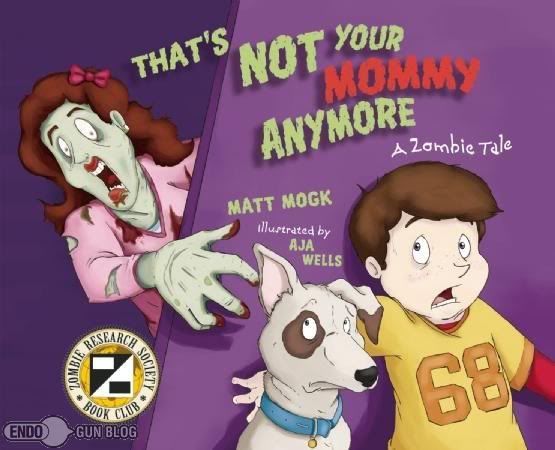 It's never too early to teach them about zombies!
It's time to be trailer-riffic! We have a new one for Men in Black 3, the first look at Paranorman, a Japanese one for Brave and a fresh spot for Cabin in the Woods, while the Muppets parody trailer's haven't stopped. And in franchises we thought had stopped years ago, there's one for Ice Age 4: Continental Drift. Are they trying to outnumber the Land Before Time films or is it a tax loophole like what Uwe Boll used to have?
There's a new Community trailer, Max Landis is set to write Chronicle 2 and Halloween 3D has been put back from the original October release date. Handy that, given production hadn't started and there was no script or director. Not that those things have stopped other people (Transformers 2, I'm looking at you…), but it's nice to see that someone's taken the sensible option.
Mad Science! has proved it's alive and well, with video of dead frogs dancing thanks to well-timed jolts of electricity. I've no idea the reason why this was done, other than they can't do this sort of thing on humans. Michael Bay's Ouija board movie is back on, with 95 per cent less budget, there's a look behind the scenes of Jurassic Park's dinosaurs and there's a video detailing 35 years of 2000AD.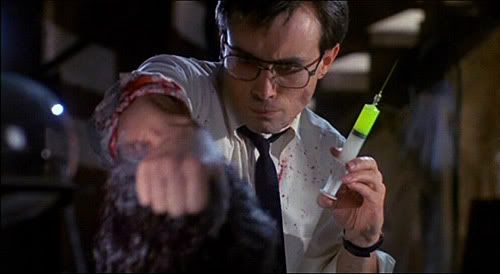 What is it with mad scientists and things that glow green?
We have some art from Before Watchmen, a new Man of Steel synopsis and some more clips from the Ultimate Spider-Man cartoon. You can check out some gorgeous posters for the Star Wars: Identities exhibit that's opening soon in Canada, a new scene from Avatar: The Legend of Korra and previews for the latest Munchkin expansion Munchkin 8: Half Horse - Will Travel.
We've some more pictures from Dark Shadows, the TARDIS console from the Doctor Who TV movie was restored for the recent Gallifrey One convention, the scale model of Hogwarts used in the Harry Potter films has been revealed and Jason Segel has confirmed he won't return for a second Muppets film.
There's a revealing interview with Jake Lloyd about how The Phantom Menace ended his acting career. I can't help but have sympathy for the guy, given the incredible amount of abuse he must have taken over the years. Sure, he wasn't the finest actor, but he was 8 – can you imagine how you would have delivered that dialogue at 8?
Why couldn't they have made that movie instead?
There's been some sad news in the world of Doctor Who, with the deaths of actors Denniss Chinnery and Phillip Madoc. Chinnery was best known for his role as Kaled scientist Gharman in Genesis of the Daleks, while Madoc was celebrated for his turns as the War Lord in The War Games and Mahendri Solon in The Brain of Morbius, as well as his unforgettable appearance as a German U-Boat captain in Dad's Army. 4th Doctor Tom Baker has paid tribute to Madoc, having long said that Morbius being one of his favourite stories. Both men will be missed.
There's a rundown on 6 new genre pilots that are filming, Danny Boyle is adapting the book Sharp Teeth for the screen and there's an update for the Evil Dead remake, which is soon to shoot in New Zealand. The voice of Ahsoka Tano from The Clone Wars, Ashley Eckstein, has dressed as her for a convention, we've details for an auction of props from Captain America and Mattel's Hoverboard won't actually hover, but will sound like it is. If it doesn't hover, you aren't getting a red cent out of me.
There's more Doctor Who casting details and in even better news, Ben Browder will be appearing this season! Etan Cohen, writer of Tropic Thunder, has signed to direct Boy Scouts vs Zombies, there's unconfirmed talk of Fringe getting a fifth season and you can buy Nathan Fillion's arm! OK, so it's only the steampunk arm he wore in a Castle episode, but it kind of counts…
We can't think of a caption, we just couldn't wait to use the picture.
We've found a German Avengers trailer that has some new footage (And a partial translation!) and the storybook adaption has leaked – spoilers! There's casting news on the Primeval spin off along with word that Spider-Man villain Venom may get his own spin off.
There's some new posters for Men in Black 3, Keanu Reeves has said the Bill and Ted 3 script is ready, there's the first look at Halo 4, a new teaser for Bioshock: Infinite and a flat out terrifying Avatar baby doll is for sale. Remember the controversial issue of Life with Archie we talked about last week? It's now completely sold out and is going for $50 and higher on Ebay. In other news that might upset right wing conservatives, there's the option for your Mass Effect 3 character to be gay or lesbian.
There's a new picture from Prometheus, the Avengers trailer has been recreated with 60's animation and actor Topher Grace has given a private screening of his cut down version of the Star Wars prequels, which condense the three films into a sleek 85 minutes. I'd be curious to see that if it leaked… *hint, hint*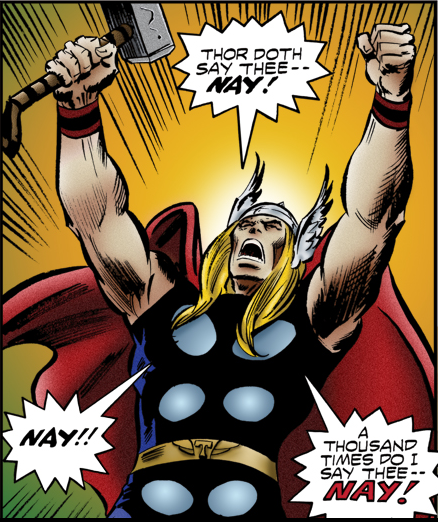 It could just be me, but I think he says nay… You?
We end this week with the latest instalment of the segment 'That's impossibly adorable', with the Stark children singing the Game of Thrones theme and a story about a 3 year old girl who taught her father about superheroes. Awwww.
Quote of the Week:
Sister of Karn: You have but a little time left. Will you waste it prattling nonsense, or confess your guilt?
The Doctor: What do you mean, I have but a little time left?
Sister of Karn: Before you die.
The Doctor: But I'm only seven hundred and forty-nine. Life doesn't begin until seven hundred and fif-
Sister of Karn: At the next sun, that is agreed.
The Doctor: Not by me, it isn't. I haven't even been consulted!
Doctor Who – The Brain of Morbius
Remember, The Shadow knows...