Welcome gentle readers!
The writer's been at his standard level of grumpy this week, but there's been news that's had him air guitaring for joy – not only are his beloved Iron Maiden are touring the world again, it's another 'We're only playing the old stuff' tour! Australia dates haven't been announced, but he lives in hope. In barely less important news, Eyecon 2012's new website is up! Registration's not open yet, but we'll let you know as soon as we do!
Right, enough of my prattling and on with the news!
People doing stupid and dangerous things and calling it sport has reached a new height, with Ultimate Tazer Ball, which is soccer crossed with basketball with the players carrying low powered tazers. What can we say, but shocking... Positively shocking… The Avengers board game may have spilt the beans on the film's villains, SyFy are adapting the film Legion as a TV series and enlisted Eureka producer Jamie Paglia for the show Bob from Corporate.
We've proof that the Galactic Empire was all the fault of Jar Jar Binks and Simon Pegg feels that The Phantom Menace destroyed everything cool about Star Wars. My views have softened on the film over the years – with the passage of time it's no longer quite the boot to the groin it was on first viewing. Things like the Neimoidian's accents and Jar Jar Binks are still painful to watch, but Liam Neeson's incredible skill at keeping his dignity intact no matter what rubbish he's speaking helps lift the film above the sewer the script emerged from.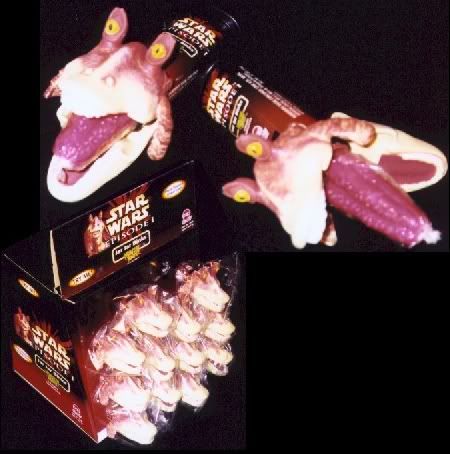 Yeah, they're real. And they're spectacular…
We've an international trailer for Prometheus, Kristin Kreuk (Lana Lang from Smallville) has been cast in the CW's Beauty and the Beast show and executives at Marvel Comics caused a storm when they sued Ghost Rider creator Gary Friedrich over his seeking royalties from the Ghost Rider films.
There's not only been the first footage but the first trailer for Abraham Lincoln: Vampire Hunter that was swiftly followed by an international trailer that features extra footage. Tom Hardy has talked about Bane's voice and there's footage of Daniel Radclifffe reading Harry Potter slash-fic. If you don't know that term, ignorance is bliss.
We've a trailer for the pre-apocalypse film Seeking a Friend for the End of the World starring Steve Carell and Keira Knightley, the worlds of Doctor Who and Star Trek will meet in comic form, with the 11th Doctor turning up on Captain Picard's Enterprise, Russel Crowe has been linked to a Dracula film and Joss Whedon has talked about Cabin in the Woods.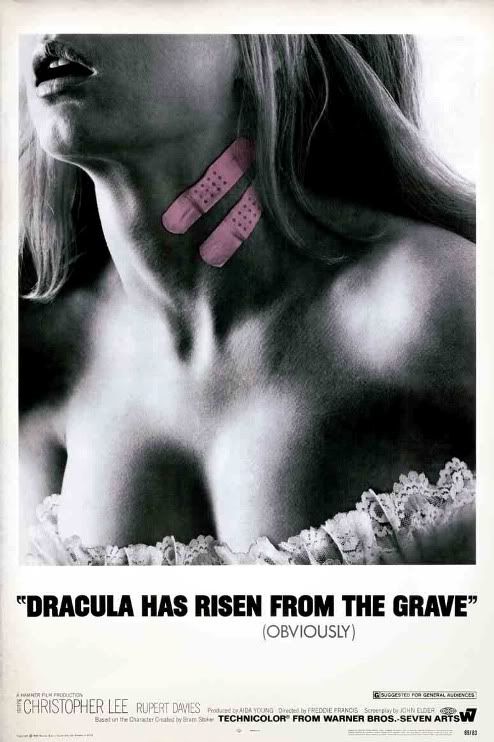 Hammer Horror posters: They don't make them like they used to…
There's an internet petition to have Weird Al Yankovic at next year's Super Bowl as the half time entertainment (Please do 'Dare to be Stupid') and Mattel are making possibly the ultimate movie prop (That isn't a lightsaber): a hoverboard. Sadly they don't actually hover, but close enough eh?
Disney have released a mother load of pictures from John Carter, but there's also data saying it's on track to flop. Mel Gibson has said he won't have a cameo in Mad Max: Fury Road, there's a war of words between Walking Dead creators Robert Kirkman and Tony Moore and a trailer for the film Beyond the Black Rainbow that looks freaking bizarre to say the least.
Given the Walking Dead's return, there's an article asking when is it OK to kill a zombie? There's a look at upcoming Lego superhero figures (Deadpool!) and Hasbro have announced a Bruticus figure as part of the Fall of Cybertron merchandise. You know, my birthday's coming up soon…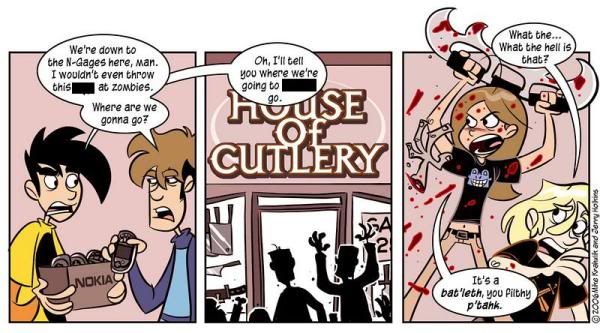 Is it wrong of me to want a daughter who turns out like that?
The talk around Ghostbusters 3 has gotten stranger - not only has Dan Akroyd denied the reports of Bill Murray's script shredding (It was from The National Enquirer to be fair…), but he's suggested that the role of Peter Venkman could be recast. Promising that Rick Moranis will be involved is a good thing, but recasting Venkman is tantamount to heresy. As far as I'm concerned they should stop while they're ahead - I'm sure we all remember the last time Dan Akroyd made a belated sequel to a much loved film…
There's Game of Thrones Valentines (Hodor!), the producers of the Space: 1999 reboot have said it won't be dark and gritty and we've been saddened to learn of the death of actor Nicol Williamson, best known for playing Merlin in John Boorman's Excalibur. Williamson died at the age of 75 after a two year battle with esophegal cancer.
There's a look at the upcoming film The Europa Report starring Sharlto Copley, Cyclops and Jean Grey could be in the X: Men: First Class sequel and Steven Spielberg won't be directing Tintin 2 – that'll be up to someone called Peter Jackson, whoever that is.
Stop laughing, this could actually happen!
The movie adaption of The Boys has been canned, there's a spoilery clip from Dredd and Kermit the Frog has confirmed another Muppet movie (Though he was being threatened by Miss Piggy at the time…). Mark Gatiss may be writing a drama about the creation of Doctor Who and Laurence Fishburne is in talks to appear in a post Ice Age cannibal movie.
Guillermo Del Toro is to direct a Beauty and the Beast movie (Why couldn't he be doing Mountains of Madness?), Pauly Perrette (Abby from NCIS) will voice Lois Lane in the animated film Superman vs The Elite (I hope that's a working title…) and writer Mark Waid wasn't invited to the premiere of Justice League: Doom. After all, he only wrote the comic the movie was based on, so I can't see why he'd be invited. You?
The American Sherlock has found it's lead (And the BBC aren't happy about it), Gareth Roberts adaption of the never completed Doctor Who story Shada will soon hit shelves, there's a poster for an untitled Renny Harlin movie and Marion Zimmer Bradley's Darkover series is set to be a TV show.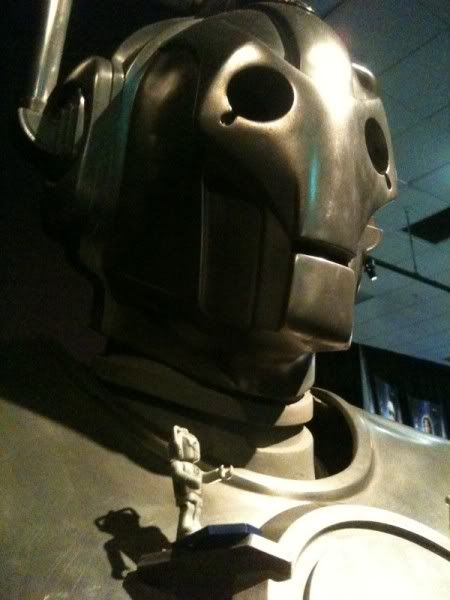 And I shall call him… Mini Me...
Disney have released an introduction to John Carter (Mighty comprehensive, seeing as it's a minute and a half…), NBC has ordered 13 episodes of a TV show about Hannibal Lecter and there's a look at the Dune film that never was, which sounds like Zardoz mixed with a truckload of Iggy Pop strength hallucinogens.
Matt Smith has teased about both the monsters and casting of the next season of Doctor Who and there's still no word on Terra Nova's future, but we do have a look at how the cancellation of House could affect it's chances. There's more talk about a sequel to Beetlejuice and another behind the scenes for Game of Thrones, this one about the filming in Iceland.
One of the FX techs has talked about the opening sequence to The Avengers, there's trailers for Syndicate, Max Payne 3 and Far Cry 3 and please don't get excited early, but a bill calling for an R18+ rating on video games has been introduced in the Australian parliament! I'll keep you posted. There's the short film Cost of Living, featuring Brandon Routh, some artwork from Before Watchmen while Watchmen writer Alan Moore is grateful for the fan rage over the project.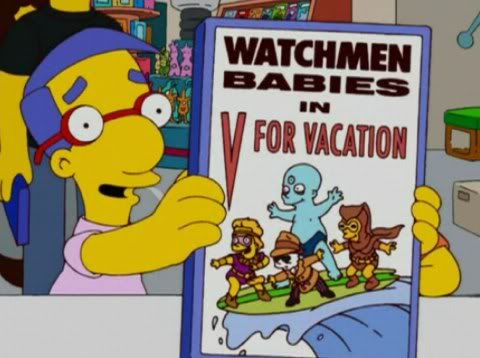 I'd read that. I'd never be feel clean again, but I'd read it.
It appears that Vampire Diaries author LJ Smith has been fired from the book series by Harper Collins. Smith created the world and characters, but Collins owns both the project and copyright, saying that Smith's moving away from what they considered the core of the series being the reason for her firing. Just because it's legal doesn't mean it isn't dodgy…
There's a very 80's PSA from Swamp Thing and if you've got $50 million spare and always wanted to experience weightlessness, well, this rollercoaster is for you. For the impatient among you, we have the first 7 minutes of new show Awake and in some pretty bad news, NASA has had it's budget slashed.
In this week's instalment of 'Signs of the Apocalypse', Michael Bay has said he'll direct a fourth Transformers film. Word has it the film will be a partial reboot (As in it won't have any characters from the first three) and feature less comedy and more action, which would fit with the talk of Jason Statham being linked to it from several weeks ago…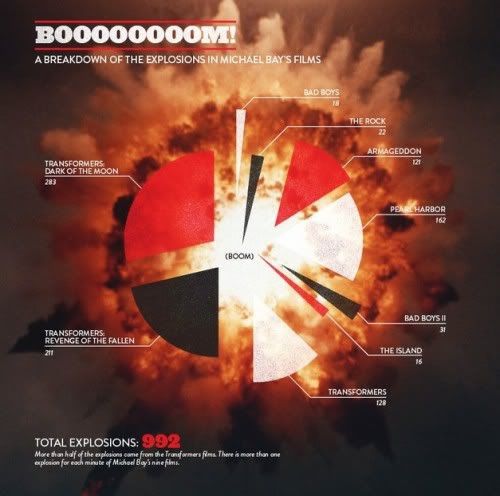 By that count, his next film should be nothing but explosions…
There's the final posters for Wrath of the Titans and John Carter, the first picture of Jaden (Son of Will) Smith from M Night's After Earth and in international trailer for The Amazing Spider-Man. We've some new clips from John Carter, an update on all things Ninja Turtle (The live action film has a director and there's some pictures from the new cartoon) and a poster for the 'mythical beings are defenders of us all' film Rise of the Guardians.
Assassin's Creed 3 is coming in October, we've another Mass Effect 3 trailer and some pictures from the Waking Dead video game. There's to be new Teen Titans animated shorts, Arrow has cast Black Canary (She and Green Arrow being long time on/off's) and there's not only two Cabin Fever origins movies in the works but a third Snow White film.
We'll end this week with two awesome things: George RR Martin reading nursery rhymes and Apollo 17 astronauts singing on the moon. Ain't life grand?
Quote of the Week:
(Ray is wearing an improved proton pack. Egon is fixng it.)
Egon: This might be a little dangerous.
Ray: Great. Danger is our life.
Egon: Let's start at a fifty-percent capacity. That could keep any burning or tissue damage to a minimum.
Peter: Hey, if you're gonna burn any tissue, do it to the new kid. You can't use Ray. Our mortage is in his name.
Ray: I guess he's right. What's your name again, kid?
Peter: No names, Ray. I do not want to get too attached to this kid. You know, just in case. You want to remember what happened to the last guy?
Ghostbusters: The Video Game
Remember, the Shadow knows...