Welcome dear readers!
The Shadow has returned from his holiday, covered in mosquito bites and cranky that owing to the weather he didn't get to use my new hammock. He's hoping for better weather this weekend…
Right, now we've got a lot to cover this week, so you might want to grab a drink and a bite to eat beforehand. Are you sitting comfortably? Then let's begin…
We've an action packed new trailer for The Avengers (They can build a suit that can fly but not zipper's that will stay up?) and new spots for GI Joe 2, John Carter and Battleship, which also has a video game adaption on the way. So, a video game based on the movie, based on the board game. This is getting like the jokes about a novelisation of the Lord of the Rings films…
There's a new Amazing Spider-Man trailer that looks fantastic (Peter actually cracks a joke) and an indescribably terrible trailer for The Phantom Menace 3D. I feel the same way about that spot as I do those KFC 'Fresh Test' commercials, in that I take great joy from knowing that everyone involved in them will someday die. Now, I appreciate that may sound a little harsh, but I felt it necessary to fully convey my disdain. I wouldn't want you to get the wrong impression.
No, it's not just another bug hunt, it's a new trailer for Aliens: Colonial Marines! Ah, the beep of the motion tracker… That ranks right up there in the list of sounds that make me want to run screaming into the night, along with "Are you my Mummy?", the Shadow vessel scream from Babylon 5 and sentences from my wife that start with "Don't freak out about this, but…"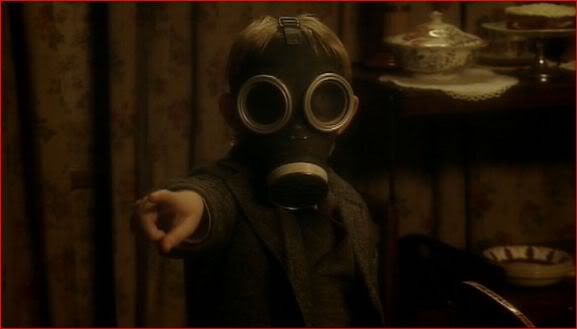 If you'll excuse me, I need to get behind the nearest sofa and cower in fear. Bye!
There's talk of a Back to the Future stage show, the adaption of Paradise Lost starring Bradley Cooper has been cancelled (He was due to spend 3 months in Oz while shooting) and Kevin Smith has revealed why he didn't write one of the Watchmen prequel comics that were announced this week.
From the 'How the hell did I miss this?' files come's two extraordinary things! First, Tim Minchin performing the Doctor Who theme, on a keytar while wearing a Prince Charles mask. No, I'm not kidding – it has to be seen to be believed. Secondly, we have footage of the a cappella group Novis doing a sci fi theme tune medley. It's not Van Canto, but it's pretty damned awesome.
Will Smith and Russel Crowe are helping to get an adaption of the novel Winters Tale to the screen, Eric Idle has blasted talk of a Python reunion and the Green Arrow TV show has cast Oliver Queen! (That's Green Arrow's civilian identity, for those who don't read comics) I, for one, am really hoping they keep his distinctive facial hair.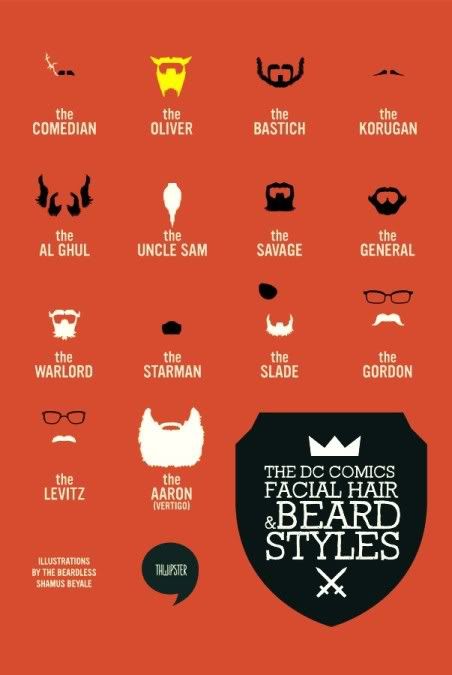 Beards are awesome. What, you were expecting something more?
We've a spoilery look at the 'sizzle reel' for Amazing Spider-Man and George Lucas has said Han always shot first. There's a webchat with Alan Moore where he announced new League of Extraordinary Gentleman books, we've some storyboards from Riddick 3 and Sigourney Weaver has read drafts of Avatar 2 and 3 and said she'll appear in both films.
Ridley Scott has talked about sequels to Prometheus and Blade Runner, we've seen an adorable live action Cloudy with a Chance of Meatballs short and Smallville will continue in comic book form. Billy Connolly is playing Dain Ironfoot in The Hobbit, there's the complete history of Doctor Who in 10 minutes and not only is there word of a Short Circuit remake, there's plans to make it a franchise. In a word? DISASSEMBLE.
There's a slightly meaner (And funnier) trailer for The Phantom Menace 3D, new pictures from Game of Thrones S2 and Katherine Heigl is in talks to appear in a puppet noir film. Post apocalyptic web series The Silent City will be filming in abandoned New York locations and for a mere $13,000 US you can buy your own fibreglass Mastodon!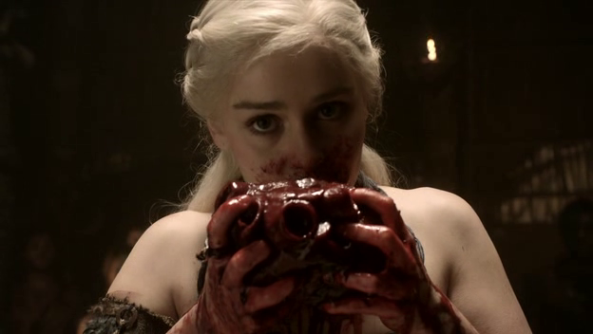 Dothraki after dinner mints were an acquired taste…
Fan's of 70's sci fi rejoice! Space 1999 is being remade, only now it'll be called Space 2099. There's no word so far on the tone of the show, but given the original started with the moon being knocked out of orbit by a nuclear explosion and stranding the inhabitants of Moonbase Alpha there's plenty of chance to screw it up with excess grittiness and general misery. Battlestar Galactica seasons 3 and 4, I'm looking at you…
Those rumours of Harrison Ford in the Blade Runner sequel have been debunked and Russel Crowe has responded to the talk of him in the Robocop remake. (He said no) Steven Moffat is busily setting up the next season of Doctor Who (For which two writers have been confirmed) and talk of a new Star Trek TV show Is circulating again.
Q: What do you do when you have twin girls, one of whom loves butterflies and the other Superman, who both want to decorate their bedroom? A: This. That's an awesome act of parenting and anyone who disagrees deserves a punch in the face.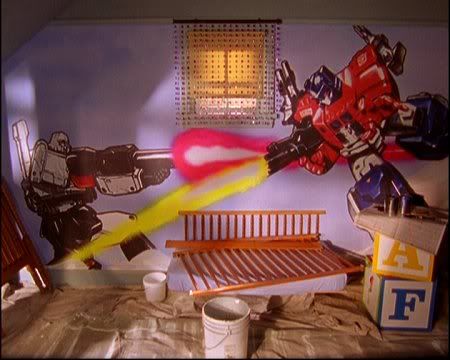 Like it or not, my children are getting rooms decorated like that. Like it or not.
This week's oddest item is a trailer for Osombie, about an undead Osama Bin Laden and his zombie army. They're currently seeking funds to make it a full length picture – I'm not sure if that's very good, or very bad… Speaking of zombies, this week saw the death of Bill Hinzman, better known as the first zombie to appear in the original Night of the Living Dead.
McG has admitted that the ending to Terminator Salvation could have been better (That's in the running for understatement of the year!) and the eternal battle between Star Wars and Star Trek has continued, with an action figure battle on the Graham Norton Show between Liam Neeson and Patrick Stewart, or more accurately, their action figures.
There's an educational video explaining the Death and Return of Superman that features Elijah Wood, a stop motion short with Lego Captain America fighting Lego Nazis, Tokyo is building a Gundam theme park (Japan, never change) and there's a new trailer for Game of Thrones season 2 .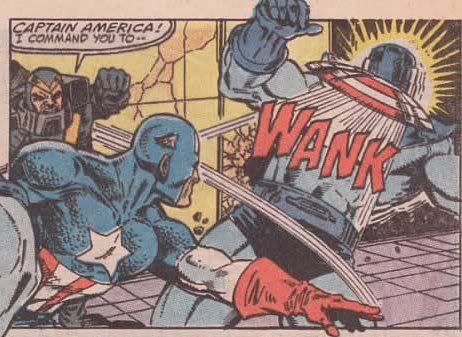 I'm sure it meant something different back then, but it's still funny!
We've new pictures from Dredd, Men in Black 3, Prometheus and Amazing Spider-Man along with incredibly heartwarming news that Matt Smith proposed to his girlfriend at the Doctor Who Experience this week! OK, so it wasn't the Matt Smith, but that doesn't make it any less heartwarming. (She said yes by the way)
There's a French trailer for GI Joe 2, the prelude to The Avengers has kicked off with the comic Fury's Big Week, new pictures from Wreck it Ralph, John Carter and Abraham Lincoln: Vampire Hunter, new posters for The Pirates and Wrath of the Titans and clips from The Secret World of Arriety. *whew*
Are you in or can you get to Sydney this weekend, have a superhero outfit and want to help charity? Then you'll want to be at the Day of Heroes on Sunday, an attempt to break the world record for most people in superhero costumes, with proceeds going to the Sydney Children's Hospital.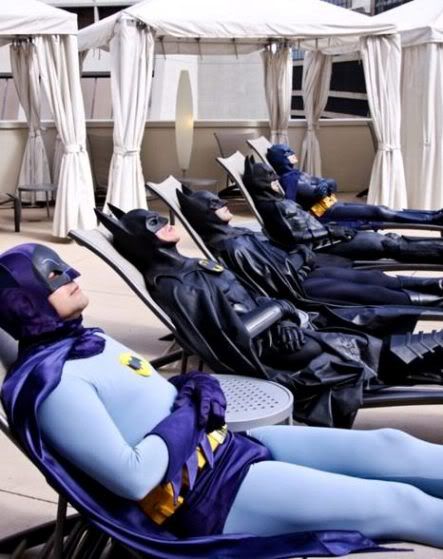 There was an accident with a dimensional transporter and a travel agent…
Mark Millar has been talking to Mark Hamill and the producer of a Worzel Gummidge film want's Russel Brand to star. Alex Kingston has teased her return to Doctor Who, Bear McCreary talks about the physics of sci fi theme songs (Is there nothing that man can't do?) and there's video of Judge Dredd as a 1970's children show. He is the Law, of the playground!
That Jetsons movie we've feared may happen, Kit Harrington (Jon Snow from Game of Thrones) is in talks to join the cast of paranormal thriller The Seventh Son, there's the cast and setting details for the next season of American Horror Story and the start of filming on The Lone Ranger has been delayed so Johnny Depp can deal with some issues.
We've the first full trailer for Iron Sky, which has Nazis from the moon against a USA led by a Sarah Palin look alike, a release date for the Star Wars Kinect video game, an amusing trailer for the Spanish romantic alien invasion comedy Extraterrestre and John Christopher (author of the Tripods series) has died at the age of 89.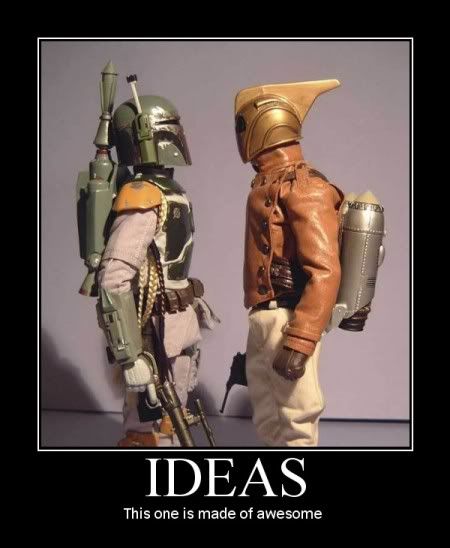 I'm so keen for that I'm already there.
SyFy have renewed Face Off (With LeVar Burton to guest judge) and Being Human but are still dragging their feet on renewing Sanctuary, while fans of Terra Nova have begun sending plastic dinosaurs to Fox in support of the show.
The manga Gyo, about a flatulent cyborg zombie shark is set to become a movie, Clive Barker has woken up from a coma caused by a visit to his dentist, The Wolverine has a release date and Google Maps has lost Atlantis again. Nice going there…
We've new trailers for Chronicle and The Hunger Games and both a new picture and synopsis for Riddick 3. The Evil Dead remake has it's Ash, movie make up guru Tom Savini really wants to appear in The Walking Dead and the Munsters reboot will be called Mockingbird Lane.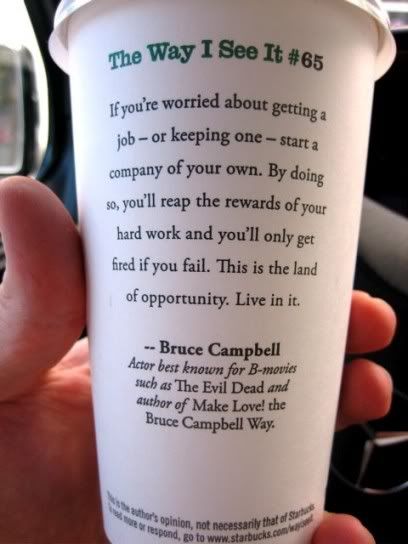 Are you going to disagree with Bruce Campbell?
Lastly, if you're a fan of the card game Munchkin (And who isn't?) and are missing some of the expansions, you've better buy them quick, as some are going out of print soon.
Quote of the Week:
Annie: Maybe he's had a blow to the head.
George: I'm sorry?
Annie: Happened to my Nan. She got hit in the head by a radio controlled plane at a county fair. From that moment - obsessed with pygmy goats.
George: There wasn't a single bit of that sentence I understood.
Being Human UK – episode 2