Greetings dear readers!
The Shadow's been busy this week, what with his submitting a game for Eyecon 2012, which he's very much looking forward to. He's also looking forward to a holiday, but more about that later.
Right, no waffling and straight to the news!
There's instructions on how to make your own Cyclops visor and the Torchwood/Star Trek crossover you always wanted happened in 1994, when John Barrowman interviewed William Shatner. There's the final poster for The Hunger Games, actress Jenny Agutter has revealed a surprising cameo in The Avengers (Spoilers…), Julie Taymor is trying to block the release of a warts and all documentary about Spider Man: turn off the Dark and an English man has to demolish his Star Trek man-cave.
We've some Hellboy/Charlie Brown mash-up art, the fan project Star Wars Uncut (The first movie in 15 second chunks) has been released, a (very dedicated) man has attempted to map every Middle Earth Family Tree and for a nominal fee, your child can star in a bootleg Gundam film!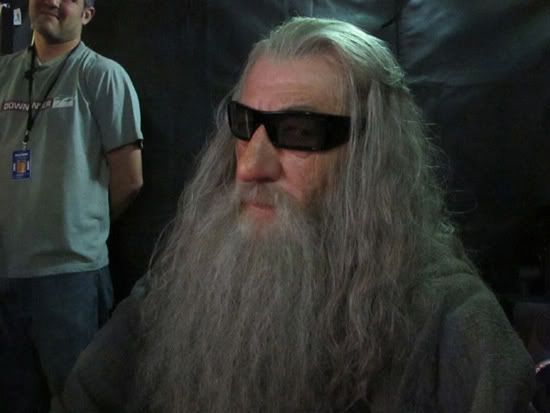 Do not meddle in the affairs of wizards, or mock their taste in sunglasses…
The TV rights to Tad Williams book series Otherland have been picked up have been picked up and 7th Doctor Sylvester McCoy has revealed how he'd like to return for the show's 50th anniversary. Snooki, of all people, has weighed in on the Wolverine vs Jean Grey argument, Firefly's story editor has told of the moment he knew the show was doomed and JJ Abram's Jack the Giant Killer has been pushed back to 2013.
For a wonderful example of 70's craziness, there's pictures of Angie Bowie (Then wife of David) dressed as Wonder Woman and Black Widow for possible TV shows. There's the full text of Douglas Adams letter to Disney, where he vented his frustrations at the lack of progress on the Hitchhiker's Guide movie, a preview of a steampunk Cthulhu Mythos Transformers crossover (No, I'm not joking) and the first poster for Kevin Smith's new TV series Comic Book Men.
Eve Myles has teased about a possible Torchwood movie and Matt Smith has dropped more confusing hints as to how long he'll stay in Doctor Who. Stan Lee has given his seal of approval to Andrew Garfield, there's a new TV spot for John Carter and a 3D poster for The Avengers. Andy Serkis has talked about his work on The Hobbit and the producer's of BBC's Sherlock may sue the American version that's in development. Hey, best of luck to them.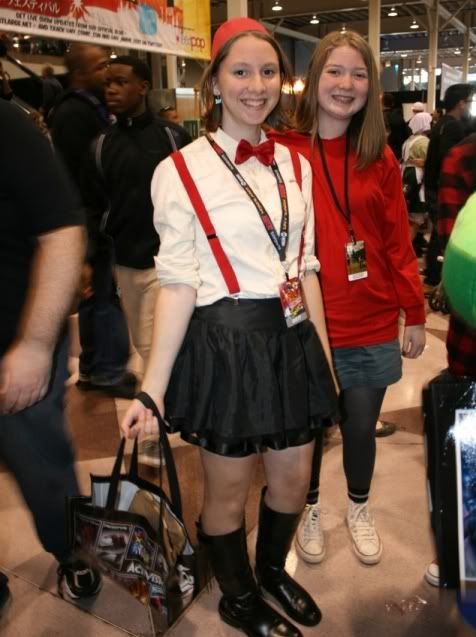 I'm a girl now. Girls are cool.
We've the casting breakdown from the Green Arrow pilot, now called simply Arrow, Deadpool: The Musical, which speaks for itself and a look at the new webcomic called Boldly Gone, about a Starfleet captain living in the shadow of James T Kirk.
Q: Have you ever wished to be recruited by the Star League to face Xur and the Ko-Dan armada? Well, that may never happen, but there's a free fan-made Last Starfighter video game that should ease the pain.
Portland may become the nerd capital of the US, with a BPRD Training Camp setting up shop there. On the curriculum is such event's as wilderness survival, self defence, hand to hand combat and investigating local haunted areas, which to us sounds pretty sweet. Sadly it's for people between the ages of 9 and 17. What about us 31 year olds?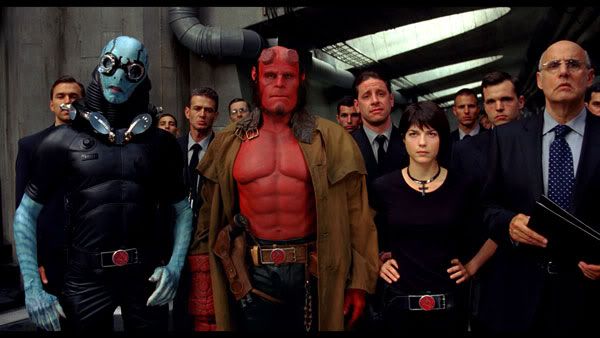 Defending the Earth from horrors beyond the stars since 1994!
Comic artist Neal Adams is trying to get Marvel Comics to acknowledge Jack Kirby's rights as a creator for comics he worked on, there's two pilots for Beauty and the Beast shows in the works, a featurette on the crazy costuming in Mirror, Mirror and a charming little short about anti robot prejudice.
There's an inspiring little story about a nerd grandma (She's 70 and her 72 year old husband runs their WoW Guild), the remake of The Crow has resolved the legal issues and Neal McDonough may have let slip about a Nick Fury movie Marvel is planning.
Judge Dredd creator John Wagner talked about the new movie, Aardman Animations have combined with DC Comics, there's an Indiana Jones style engagement ring and Zack Snyder has gone further into Superman canon, casting Lana Lang in Man of Steel.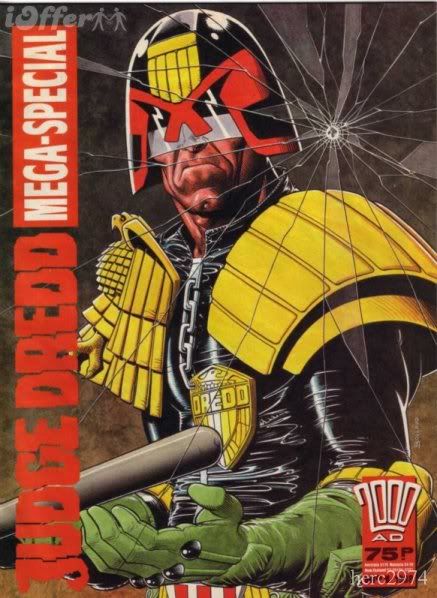 A man so awesome Anthrax wrote a song about him!
There's some more rumours about the villains of The Avengers, Steven Moffat felt horribly guilty at leaving Tin Tin for Doctor Who, Alex Winter has the latest news on Bill and Ted 3 and a new poster for Prometheus has been released. There's a short showing how Return of the Jedi should have ended and the first video of the new Doctor Who game, The Eternity Clock. The remake of The Evil Dead has lost it's star, there's the first look at John Dies At The End and would you buy a car that kills sparkly vampires? I know I would!
We've some pictures from the fashion line inspired by The Hunger Games and a transcript of a chat between Gene Simmons and Stan Lee. The Avengers merchandise machine is ramping up, Game of Thrones season 2 will be fast tracked to Australia and gay sci fi comedy Outland has a premiere date.
Some of the surviving members of Monty Python are uniting with Robin Williams to voice roles in a new sci fi farce that'll combine CG and live action. Terry Gilliam, John Cleese and Michael Palin are signed, and producers are working on Eric Idle. This could be tricky, considering the recent war of words he's had with Cleese, but hope springs eternal.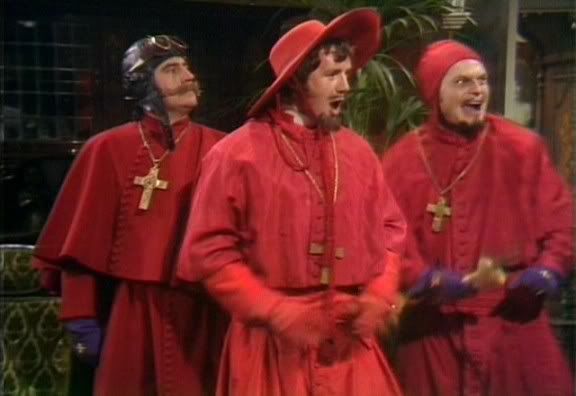 I certainly wasn't expecting that!
Nicolas Winding (director of Drive) has revealed he was turned down from directing a Doctor Who last year, there's a fan made opening credit sequence for The Dark Knight Rises and the prologue for Wastelander, about a post-apocalypse panda .
Warners have cancelled the Elfquest movie, saying they didn't want to complete with The Hobbit, there's details of both the toys and cologne of The Avengers and it turns out Liam Neeson was on the set of The Dark Knight Rises, but not for very long.
We've a new trailer for Lockout, a round up what we know about the Space Jockeys in Promethus and there's still plans for a Captain Marvel movie. Australian project The Bunyip Movie (I assume that's a working title) is seeking funding and Matthew Broderick has reprised his most famous role…
Quote of the Week:
Ace: It's true isn't it. This is the house I told you about.
Doctor: You were thirteen. You climbed over the wall for a dare.
Ace: That's your surprise isn't it? Bringing me back here.
Doctor: Remind me what it was that you sensed when you entered this deserted house. An aura of intense evil?
Ace: Don't you have things you hate?
Doctor: I can't stand burnt toast. I loath bus stations. Terrible places. Full of lost luggage and lost souls.
Ace: I told you I never wanted to come back here again.
Doctor: And then there's unrequited love. And tyranny. And cruelty.
Ace: Too right!
Doctor: We all have a universe of our own terrors to face.
Ace: I face mine on my own terms.
Doctor Who – Ghost Light
Thank you as always for reading! I'm on holiday next week (Woo!) so we'll see you in a fortnight. We'll be tweeting during our time off though, so you won't be completely rid of me!
Remember, the Shadow knows...