Greetings dear readers!
This week, the Shadow has spent a lot of his time grumbling about the weather not making up it's mind. Outside than, prompted in part by the DVD commentary for his Doctor Who episode (The Doctor's Wife), he's finally read Neil Gaiman's American Gods. It's a hell of a read - I'm glad I did. I'm looking at reading Neverwhere next – any thoughts or suggestions?
Onto this week's news then!
There's a new synopsis for Resident Evil 5, a prequel video for Being Human UK season 4 and in this week's most stunning revelation (For me at least), there was another actress cast as Sarah Jane Smith before Elisabeth Sladen. The story was that star Jon Pertwee, who preferred his Doctor to be a protective father figure, felt that things weren't working in rehearsal and prevailed on producer Barry Letts to recast. Sladen knew the name of the actress she replaced, but never mentioned it, not wanting to be unfair to her. If that's not class, then I don't know what is.
There's a new trailer for The Wicker Tree (The spiritual sequel to the cult film The Wicker Man), for the historically accurate electricity fiend there's plans to build an eighteenth century taser, you can read medical reports on three cases of zombie fever and we're going to have to wait four more years until we see Avatar 2.
Alarm bells are ringing with word a rewrite of Thor 2 has been ordered (And Jaime Alexander has hinted at a romance with Thor in the film), there's a couple of very spoilery images from Prometheus and the Scottish government wants to keep comics away from the lads mags on newsagent shelves.
If you invent a working tricorder you can win $7 million dollars, there's a look at Renly Baratheon's armour and there's a 'Sweded' version of The Hobbit trailer. There's some pictures of the new Batsuit, the next Pirates film is being rewritten, there's a roundup of African science friction movies on the way in the wake of District 9 and Ninja Turtle beanies are for sale. I'd have killed for one of those when I was 8. KILLED.
You think Hugo Weaving would like $5 for every time he's been asked to say that?
Star Trek IV could have seen Spock's baby said Robin Curtis, who played Saavik in the film, Hansel & Gretel: Witch Hunters has been pushed back to 2013, there's some casting news from Man of Steel and we've three new pictures from The Avengers.
There's an interview with Rick McCallum about the live action Star Wars series (Titled Star Wars: Underworld), the first picture from zombie romance film Warm Bodies and Elisabeth Banks has responded to a fan who was hoping she won't ruin the Hunger Games movie. Twitter's a bit of a double edged sword – I love being able to follow Bruce Campbell, but learning Adam Baldwin's politics are to the right of Genghis Khan makes me not like him as much.
We have the first trailer for Silent House, a not for the squeamish trailer for the Dutch zombie film Zombibi and a never released adaption of The Hobbit from the mid 60's has surfaced, that's all of 12 minutes long and had to be made in a month to keep the rights. There's more clips from Underworld Awakening, concept art of the Avengers jet and if Kanye West's Tweeting is read correctly, he's the Creative Director for a live action Jetson's movie.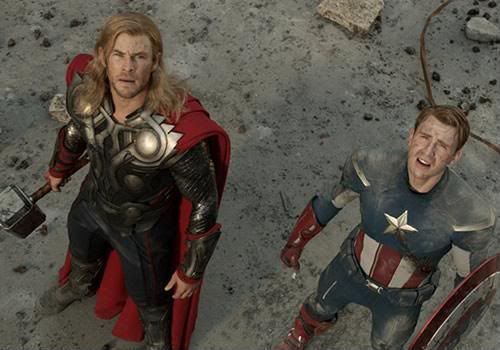 "What do you know, Banner does go commando. Looks like Stark owes me $10."
For those of you who love Dungeons, Dragons and the combining there of, we've some interesting news for you! Wizards of the Coast are rebooting the game for a Fifth Edition and want the input of players. This strikes me as a wise move, given the love it or hate it reaction 4th Edition inspired. I'd like to add that I'd be very happy if gamers could wait till the books are out before grumbling about them. Please?
There's more rumour of a classic series monster returning to Doctor Who and Fox have released the commercial they've made to try to get Andy Serkis nominated for as Oscar. NBC has ordered numerous pilot's including robot help drama Beautiful People and The Munsters remake while Fox is losing money on Fringe and still hasn't confirmed a second season of Terra Nova.
Karen Gillan has talked about her impending departure from Doctor Who (There's already talk of a possible new companion) and there's some spoilery details about Benedict Cumberbatch's roles (Yes, two of them) in The Hobbit. We've some promotional art that Frank Frazetta drew for Battlestar Galactica and the cars of Mad Max: Fury Road have departed for Namibia.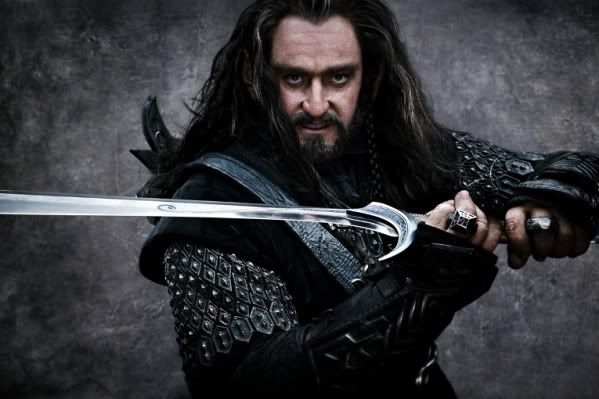 Say 'Hi Ho' again, I dare you. I double dare you!
There's a fantastic (and very nerdy) rebuttal to a complaint about Anakin Skywalker toys being marketed to children, William Shatner has rejected George Takei's offer of peace, Sam Worthington has admitted that his performance stank in Clash of the Titans and Riddick 3 has a new cast member: Katee Sackhoff.
There's preview video of Erica Durance dressed as Wonder Woman, Frank Darabont has revealed the Walking Dead storyline we never got to see and if you've ever swooned over David Bowie in tight trousers (Let's face it, who hasn't at one point or another…), there's a prequel comic for Labyrinth in the works detailing the history of the Goblin King.
Sweet Christmas! The upcoming Ultimate Spider-Man cartoon will feature the Hero for Hire himself, Luke Cage. You can buy Alien chopsticks (That I wouldn't want anywhere near my mouth), DC Comics have cancelled and replaced 6 titles from the new '52' range and there's to be a massive shindig to celebrate what would have been Douglas Adam's 60th birthday.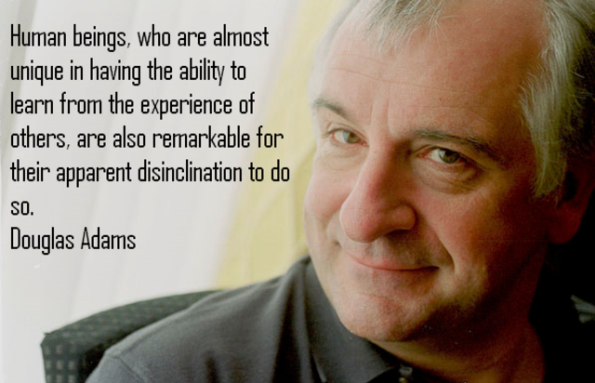 Now there was a man who truly knew where his towel was.
San Diego Comic Con co-founder Richard Alf has died at 59, there's another picture of Johnny Depp from Dark Shadows and it's director, Tim Burton, is still keen for another Beetlejuice movie. We've a behind the scenes look at the women of Spartacus, Steven Spielberg has talked about his plans for Robopocalypse and there's a picture of some fantastic parking from the set of Man of Steel.
In a clear sign that humanity should be cleansed from the Earth with fire and sword so the animals can take over again, New Line is going ahead with a Police Academy remake. They've already found a director. This from the studio that gave us the Lord of the Rings movies… *shakes head*
You can watch a Spanish fan film about two stormtroopers in love, Alan Moore has met Occupy London demonstrators, we've found some concept art from a cancelled Superman video game and former Cuban leader Fidel Castro has said 90% of Americans would vote for a robot in the upcoming presidential polls. Hey, I'd vote for that in a heartbeat!
"Freedom is the right of all sentient beings."
There's a cute short film about a French superhero who just wants to be loved, a trailer for the Facebook game Avengers: Alliance, a new clip from the Blade anime and details of the pilot script for The Magicians.
Matthew Vaughn and Jane Goldman are unlikely to return for Kick Ass 2, there's a 50 page excerpt from the upcoming Darth Plagueis novel and this video explains how Molly Quinn (Alexis in Castle) is so awesome. You know, I'd always suspected…
Quote of the Week:
Mitchell: We can't just dip our toe! We have to dive into the churn of humanity. Laugh with them, listen to their stories.
George: About Vin Diesel?
Mitchell: A... remarkable man, I'm starting to realize...
Being Human UK – Series 1, Episode 2
Remember, the Shadow knows…