Greetings dear readers!
That's right, we're back for another year of us, the bad tempered and fiercely bearded writer, keeping you, my wonderful, gorgeous and intelligent readers, informed of what's going on in the world of nerddom!
We enjoyed our break, finally managing to catch up on a lot of shows we should have watched, like the second half of this year's Doctor Who. There was a moment in the finale that I knew was coming (The mention of a Classic Who character to be precise) that still hit me like a ton of bricks wrapped round another ton of bricks. I haven't cried that much at a TV show since the Babylon 5 finale... If you've seen that, you'll understand.
…
Yes, I cry at TV shows. Is there a problem?
We begin the year with some un-used footage from The Dark Knight that surfaced while both Warners and IMAX have denied remixing the Dark Knight Rises prologue to make Bane's voice more audible. There's a Russian Avengers trailer, the first picture of Jemaine Clement in Men in Black 3 and 2 new pictures from The Amazing Spider-Man, one of which shows that Peter Parker has excellent taste in music.
There's the first bit of casting news from the Evil Dead remake, a TV spot for Ghost Rider: Spirit of Vengeance and the fate of Terra Nova is still undecided. Noel Clarke and Benedict Cumberbatch have joined the Star Trek sequel and ABC has picked up a Roland Emmerich pilot. Hooray.
There's a fan made Mass Effect Monopoly, Brad Anderson has replaced Joel Schumacher as director of The Hive and the long out of print Blade Runner sketchbook is now online. If you complain about TV censorship here, it's worse in India – playing True Blood with no blood is kinda impressive, in a warped way.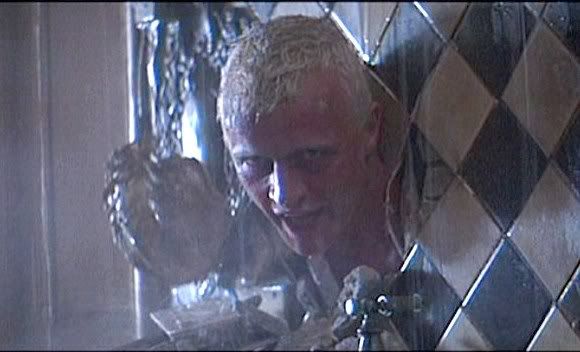 Heeeeere's Roy!
A trailer for a Naked Gun video game has leaked, 10th Doctor David Tennant has married Who co-star Georgia Moffet (Daughter of Fifth Doctor Peter Davison) and in something that's given us hope for humanity, there's footage of a young girl righteously ranting about gender marketing.
There's fan art of Batman as if drawn by Dr Suess (Did you know he drew WW2 propaganda for the US? It's utterly mind bending) and a fan with a little too much free time has put Raiders of the Lost Ark mirror imaged against Saturday morning serials. It's an interesting watch, especially given how closely they match up.
The worlds of cinema and swordplay are in mourning with the death of legendary sword master Bob Anderson. Anderson had a long association with the blade, winning fencing competitions during his time with the Royal Marines in the 1940s and started his career in film serving as fight choreographer and stunt double on the 1952 film The Master of Ballantrae, where he accidentally stabbed Errol Flynn. Anderson is best known for his work on The Princess Bride (The Duel on the Cliffs is perfect) and the Lord of the Rings films (He returned for The Hobbit) and doubled David Prowse during the lightsaber duels in The Empire Strikes Back and Return of the Jedi. He was originally uncredited, but Mark Hamill revealed the truth in a 1983 interview, saying "Bob worked so bloody hard that he deserves some recognition." Anderson died early New Years Day. He was 89.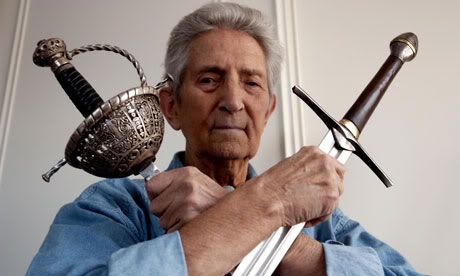 'He had studied his Agrippa.'
We've some more info about NBC's android liberation show, Beautiful People, new pictures from The Hunger Games, footage of John Barrowman singing TV show themes and Marvel Comics have proved the X:Men aren't human, in order to save on import taxes.
There's good news with word that a planned Firefly/Serenity MMO may not be dead and even better news with the news that the American Akira is on hold until $25 million has been cut from the budget. Hooray for bean counters! We've seen an odd Star Wars themed promotion for a French burger chain, clips and a trailer for The Walking Dead season 2 and Lego Batman 2: DC Super Heroes will be released in the US summer, so our winter seems the best bet.
Sir Christopher Lee's Christmas message has talked about The Hobbit, which he hopes he lives to see (He's 90 in March after all) and a massive filming model of the good ship Serenity has been found. Thankfully there's isn't a dead possum inside it like the Nostromo model…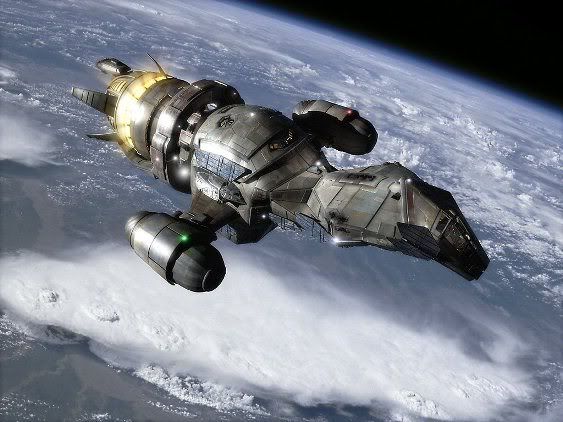 "Ship like this, be with you till the day you die."
There's been sad news with the death of pre-eminent Robert E Howard scholar Glenn Lord and David E Kelley is getting more use from the Wonder Woman costume from the unsuccessful pilot – it'll turn up in his show Harry's Law, worn by Erica Durance who played Lois Lane in Smallville. Confused yet?
Did You Know?
Jack Kirby helped rescue 6 US diplomats from Iran in 1980. You couldn't make this stuff up if you tried…
In shades of Snow Crash, a Chinese group has turned a former Soviet aircraft carrier into a floating luxury hotel, the Wachowski brothers want Natalie Portman for their new movie, Jupiter Ascending and Paranormal Activity 4 has been confirmed.
There's Battlestar Galatica as a 90's computer RPG, the remake of Carrie has a director (sigh), a picture of the time machine from upcoming film Looper and an interview with Adam Richard (Writer and star of Outland,) which actually has interested in the show. The man says his favorite Doctor Who's were written by Robert Holmes which makes him OK in my book.
Quote of the Week:
Bob Anderson: "It's a pity really, that we couldn't fight with rapiers today rather than guns. It's a pity that gunpowder was invented in my mind, because we would probably still be fighting with rapiers, and I'd be good at it!"
rom the documentary Reclaiming the Blade
Remember, the Shadow knows...