Greetings dear readers!
The writer's been busy this week preparing himself for Macquarie Con this weekend! It won't be the same though, as owing to events beyond our control his wife won't be able to attend. Her presence will be sorely missed, as will her superlative gaming skill. We expect to be bringing home a lot less trophies this year...
We start this week with some bad news - SyFy have announced the movie Jersey Shore Shark Attack, to air in 2012. The bad news? It's not 90 minutes of the Jersey Shore cast being attacked by sharks. That's probably for the best though – I don't think all that fake tan and hair gel would be healthy for the sharks…
Steven Moffat has cleared up some of the confusion about the proposed Doctor Who movie, there's the first picture of Perseus from Wrath of the Titans and word a reboot of Starship Troopers is on the way. I'll be interested to see how they take it, whether they'll be closer to the book or be a remake of the first film, which is shining proof of my theory that no movie containing Michael Ironside (Or Clancy Brown for that matter) can be all bad. What do you think readers?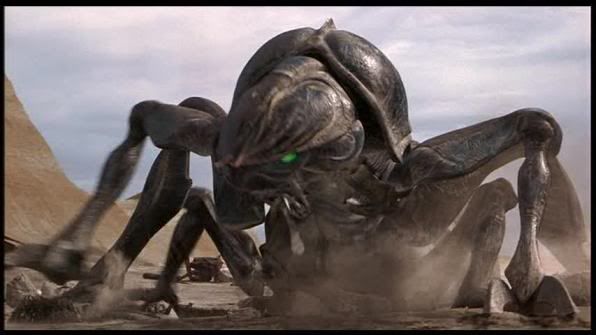 We're gonna need a bigger can of bug spray...
We've some clips from the How to Train Your Dragon mini sequels and the opening credits to Avatar: The Legend of Korra. For this week's video game crossover, there's Saturday Morning Skyrim! (Yes, it's from the person behind Saturday Morning Watchmen, which should say something...)
We've pictures of some of the drafts for the Star Trek opening monologue, the first picture from Hansel and Gretel: Witch Hunters and Helena Bonham Carter is worried about how to sell Dark Shadows to an audience. There's a look at a stage version of The Exorcist, new Daredevil, Fantastic Four and X: Men: First Class films have been confirmed and Steven Spielberg has talked about Indiana Jones 4 and 5.
We've the first trailer for Luc Besson's new space prison break movie, Lockout, for the Game of Thrones fans there's a massive map of Westeros and we're saddened to hear of the death of Jerry Robinson, creator of the Joker and long time advocate for comic writer's rights.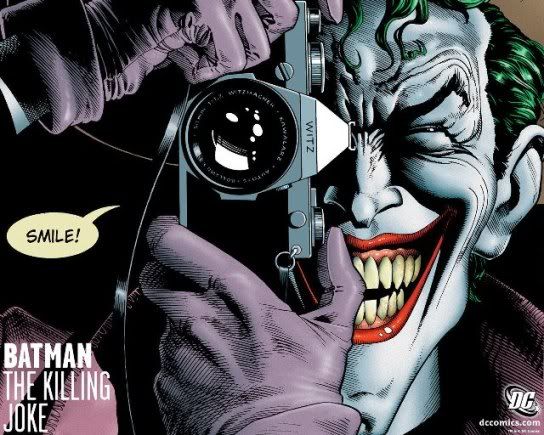 Smile for the birdie!
For lovers of robot dogs there's word of a possible second series of K9 and Bear McCreary has given even more proof of his level of awesome, playing 'Prelude to War' on the accordion. Watch it – it's fantastic. There's also some art of what a BSG animated series could look like.
There's 9 new Sherlock Holmes clips (Will any of the movie be left?), Johnny Depp has recorded a Christmas song, drawing the ire of conservatives in the process and Castiel (Or at least the actor Misha Collins) will return to Supernatural.
We've another look at the Book of Sith and Glee will have a very furry guest star soon - Chewbacca. Yes, they're doing their own version of the infamous Holiday Special which I'm sure George Lucas and all involved would like to forget...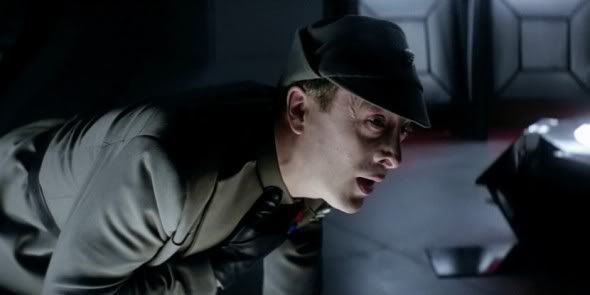 Worst sore throat. EVER.
Benicio Del Toro has left Star Trek 2 but they may already have a new villain, those pesky Khan rumours just won't go away and John Cho (Hikara Sulu) isn't sure he's in the film, as he hasn't read the script yet. What we do know for certain though, is that Peter 'Robocop' Weller has joined the cast, though there's not much detail on his role.
There's a push to get Andy Serkis nominated for an Oscar for his work on Rise of the Apes and a third season of Game of Thrones has been confirmed by actor Charles Dance. WARNING: There's a massive spoiler in the article. Look ONLY if you've read the books or don't care knowing what happens in the future.
In this week's 'Watching that dropped my IQ 50 points' section there's footage of the Fox Business Channel calling the new Muppet movie leftist propaganda. I defy anyone to watch that without wanting to smash their head into something... As an antidote, here's a song from the film!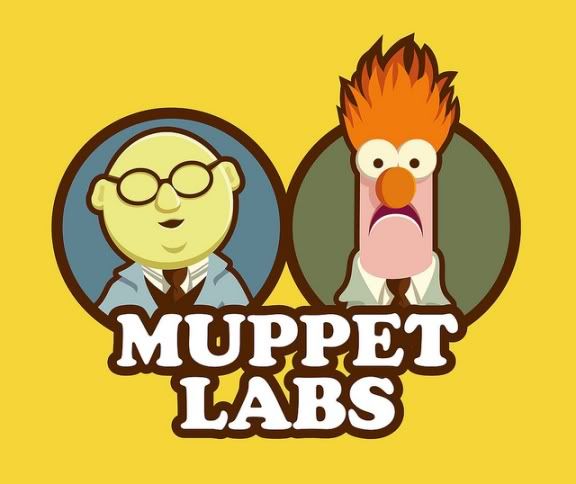 Protecting you from the heartbreak of Gorilla invasion since 1976!
The viral campaign for The Dark Knight Rises has started (I'm sure there's a cream for that) and more has already emerged. We've some new pictures from Battleship and an extensive chart detailing the Stargate SG-1 timeline.
There's the prequel teaser for the Doctor Who Christmas Special, footage of the cast singing a Christmas carol and Andrew Stanton is already working on John Carter sequels. Speaking of that, there's three new banners for the film and Stanton has talked about why the movie's title changed, saying 'boys wouldn't go to a movie with "Princess" in the title, and because no girl would go see John Carter of Mars.' Hmmm. I disagree, but I'm odd like that.
Thor 2 needs a director again with Patty Jenkins leaving the project and Michael Bay is rumoured to be in negotiations for a fourth Transformers film. What do we have to do to stop this?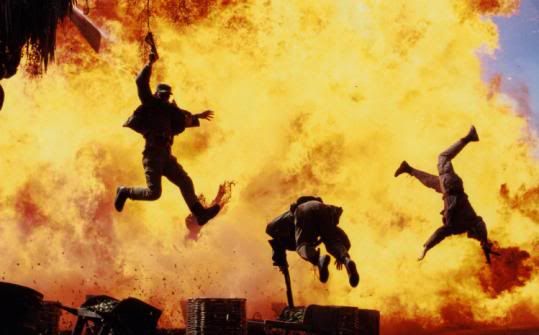 You call it hell. Michael Bay calls it a Sunday afternoon barbecue.
If you have an iOS device you can play Dredd vs Zombies, the Evil Dead remake will be shooting in New Zealand next March and Morgan Spurlock's documentary about Comic-Con has been picked up for distribution. There's no word on a local release, but we'll keep you posted.
We've new trailers for The Darkest Hour and Snow White: A Deadly Summer and word that Danny Elfman won't be scoring The Hunger Games. Lastly, thanks to generous donations, SETI are back watching the skies! I applaud this, because it means I still have a chance to do this to them next April Fool's Day...
Quote of the Week:
Ace Levy: Sir, I don't understand. What good's a knife in a nuke fight? All you have to do is press a button, sir.
Career Sergeant Zim: Put your hand on that wall, trooper.
[Ace hesitates]
PUT YOUR HAND ON THAT WALL!
[Zim throws a knife and hits Ace's hand, pinning it to the wall]
The enemy cannot press a button... if you have disabled his hand.
[Zim pulls the knife out] Medic!

Starship Troopers
Remember, the Shadow knows and will tweet about it!