Welcome dear readers!
We're back with another week of what's hot in the world of geekdom, powered as always by adrenaline, sleeplessness and vast quantities of Milo and chocolate milk. Seriously, if they stop making that stuff my system
will shut down
, it's that reliant on the stuff... Anyhow, enough about me!
We begin this week with word of upcoming video game
Lego Batman 2: DC Super Heroes
(SQUEE!) and that BBC R&D is preparing something that will terrify children and household pets quicker than ever before: a radio control Dalek that
interacts with the signal
from your TV, sort of like a genocidal version of the talking Shane Warne dolls from the VB adverts a few years back. I can't wait to buy one to torment small children with it!
The third
Riddick
film has
entered production
following money troubles, Gary Busey has talked
about his part
in
Piranha 3DD
, the Dr Suess
Call of Cthulhu
has more pages
and there's a doll I'd happily buy for a daughter of mine:
Zombie Attack Barbie!
Vin Diesel plays D&D. The writer plays D&D. See the link here?
A fund raising campaign has kicked off for a
Jack Kirby Museum
in New York, Mexico City now holds the
Zombie Walk world record
with almost 10,000 of the living dead marching recently, there's a new trailer for
Alcatraz
(JJ Abram's new TV show) and director Terry Gilliam has
trashed Transformers 3
.
We've some new pictures of The Lizard (From
The Amazing Spider-Man
) have emerged, namely of the
concept art
and the
Pez dispenser
. Writer Peter David has written what he calls the
Fan/Pro Bill of Rights
detailing convention etiquette and word has it that
Law and Order: SVU's
Chris Meloni is up for a
role in True Blood
.
There's 2 new
Men In Black 3 posters
and a lovely picture of
Tintin and his Tauntaun
, Kenneth Branagh is keen to
direct another Marvel movie
and we've pictures of a sanity (and tastebud) shattering
Necronomicon cake
!
Bound in human flesh, inked in blood, flavoured in chocolate!
There's
more pictures
from the
Doctor Who Christmas Special
, warning signs from
The Darkest Hour
and Guillermo Del Toro has
talked about both
Pacific Rim
and the
Hulk
TV series he wants to work on.
The war of words between Carrie Fisher and William Shatner
has continued
, with Leonard Nimoy now
joining in
. I see two solutions to this: either they get a room and get it over with or Thunderdome – either way the pay per view will make millions!
It appears
The Hunger Games
movie has killed any chance for an
English language Battle Royale remake
movie, Bryan Singer is set to direct
The Munsters pilot
and Ray Bradbury has finally allowed
Farenheit 451
to be
published digitally
. We've some new pictures from
Underworld Awakening
and
The Hobbit
, there's hints of a
Flight of the Concords movie
and the birthing scene in
Breaking Dawn
has been
giving people seizures
.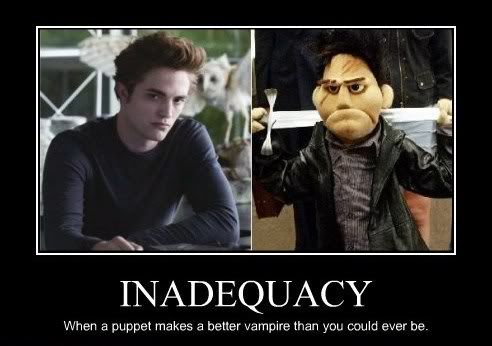 "They're looking at the wee little puppet man!"
There's some adorable footage of some of the
Doctor Who
cast
reading bedtime stories
on kid's channel CBeebies and there's an interesting rumour from HBO that they want to shoot
season 3 and 4 of Game of Thrones
(AKA the two volume
Storm of Swords
) back to back. Makes sense, as there's no way in hell you could cram that book into a 10 episode season.
Did you hear what sounded like a million geeks wailing in horror this week? That was probably steam-punkers discovering that Justin Beiber dressed like them
in his latest video
, a cover of 'Santa Claus is Coming to Town.' What prompted this I've no idea, but it reminded me of my
completely rational
hatred for people who wear band shirts as fashion statements rather than love of the band. If you can't name the first four Ramones albums in order*, you have
no right
to wear that shirt as far as I'm concerned. I'm a little hardline on that sort of thing...
*
Ramones
,
Leave Home
,
Rocket to Russia
and
Road to Ruin
by the way.
For lovers of all things Martian (You know who you are…), there's more
preview pictures
from
John Carter
, followed by a
sneak peek
on
Good Morning America
of all places (Check out the people in the background – is that nuts or what?) followed by the *drum roll*
full trailer!
Looks shiny, and the Led Zeppelin doesn't hurt either.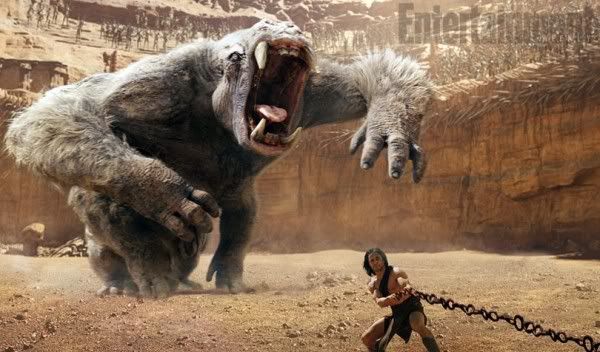 That thing's gonna need the mother of all pooper scoopers...
Vintage interviews promoting
The Empire Strikes Back
have turned up, with Mark Hamill talking about possible prequel movies, JJ Abrams has created a
new female character
for
Star Trek 2
, casting British actress Alice Eve in the role and there's pictures of the
DVD/Blu-Ray art
for
Game of Thrones
, which is set to be released in April, a month or so before season 2 airs in the US.
HURRY UP!
Comics fans, your worst fears have come to pass:
Watchmen 2: Electric Boogaloo
(No, it won't actually be called that) is happening. Dave Gibbons is reportedly involved, but Alan Moore is staying right away, for obvious reasons. Nicholas Cage's copy of
Action Comics #1
(The debut of Superman) has
sold for over 2 million dollars
and David Yates has said they're
looking for a writer
for the
Doctor Who
film, saying that's 'more important than casting.' That's a very calm and reasonable approach, which means
TORCHES AND PITCHFORKS EVERYONE!
There's hi-res pictures from
hi-res Prometheus
, a new poster for
Cabin in the Woods
and reliable word that Harlan Ellison has now
dropped his lawsuit
against the film
In Time
after watching it. The writer's of the new
MacGyver
comic are
looking for an artist
and writer Steven Busti is
suing Universal and Dreamworks
claiming copyright infringement over
Cowboys and Aliens
.
"It took us 5 years and 3 super computers to MacGyver a solution..."
There's word that the next season of
Doctor Who
might be
filming in Australia
but don't hold your breath as Steven Moffat has said
there'll be a wait
for it. Something tells me I'll have to be out of the country if they do – I don't think my wife will let me be in the same time zone as Karen Gillan...
George Miller has hinted that there could be
three more Mad Max movies
, Neil Gaiman has said he'll voice Alfred in the
Bluntman and Chronic cartoon
after being asked by Kevin Smith and Australian hang gliders have worked out a way to
surf on clouds
. Eh,
it's been done
.
Lastly, don't forget:
Macquarie Con
is next weekend!
BE THERE!
Quote of the Week:
Ash:
"All right, you primitive screw-heads, listen up! See this? This... is my boomstick! – (continuing nonchalantly) - It's a twelve-gauge, double-barreled Remington. S-Mart's top of the line. You can find this in the sporting goods department. That's right, this sweet baby was made in Grand Rapids, Michigan. Retails for about $109.95. It's got a walnut stock, cobalt-blue steel, and a hair trigger. That's right... shop smart: shop S-Mart... You got that?"
Evil Dead 3 – Army of Darkness
Remember, the Shadow knows
and is Tweeting
about it!