Welcome again dear readers!
It's been a week for the impossible and improbable, given that the writer is thinking it's time for a hair cut. It has been over 18 months since his last one after all... Just a trim mind you, nothing fancy but enough so he doesn't keep catching it between his back and his desk chair. His hair it's a long standing source of pride for the writer, given it's length and the compliments it gets. There's not many people who's hair he's jealous of, though Metallica's Robert Trujillo is pretty high up on the list!
We start this week with the first full trailer for
The Hunger Games
,
Torchwood's
Eve Myles feel's it would be
inappropriate to cross over
with
Doctor Who
, given the show's adult themes while former
Who
companion Freema Agyeman is
more than willing
to return to the show. Given the way her last appearance on the show ended I'd assume she'd be calling for the writer's head on a pike like I was…
Game of Thrones
star Peter Dinklage recently said he didn't like fantasy novels, owing to the
treatment of Dwarves
in them, Russell Tovey has
left Being Human UK
, Carrie Fisher has
returned fire
at William Shatner over his comments about
Star Wars
and while word of a
Lego movie
should make me happy, it'll be part animated and part live action. Harrumph.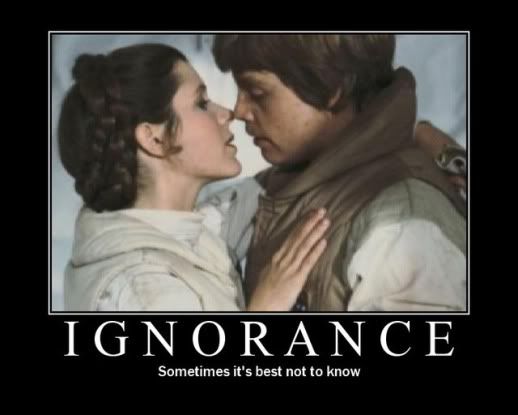 If 'somehow you've always known' then what sort of relatives do you have lady? Wait, don't answer that!
There's some phenomenal
Muppets/Lord of the Rings
cross over fan art, sequels are seemingly already planned for
The Hunger Games
and
Man of Steel
and the movie of
Ender's Game
has
it's Ender
. Clear winner of the strangest thing we've seen this week is a trailer for the film
2016
, a micro budget production from Ghana that seems to combine
Alien
,
The Terminator
and
Predator
with a massive dose of 'What the hell did I just see?'. If someone can get me a copy I'll make it worth your while…
*winks*
There's been big news among
Doctor Who
fans, with word
Harry Potter
director David Yates is
planning a movie
, saying it will 'need a radical transformation' and 'won't be connected to the television show'. Yeah, that sounds like a fine plan… It's been
denied
by parts of the BBC, current Who supremo Steven Moffat has
spoken out
on Twitter, while Simon Pegg has commented
very forcefully
on who should play the Doctor.
Speaking of that: if you say Johnny Depp should play the Doctor, I say you
should die alone in a windowless cell
. I think Depp is a fine actor but I've had it with people saying he's perfect for every single role that comes along. More importantly, the Doctor is British (OK, Gallifreyan, but work with me here) and should remain so, no matter how many extra bums on seats a foreign actor could bring in.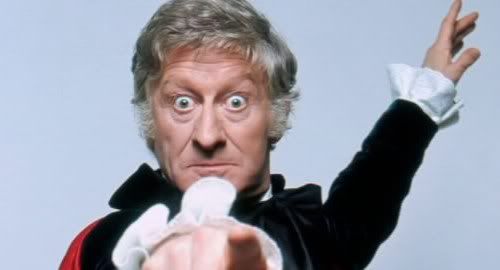 I'd make a 'pull my finger' joke but that'd be lazy wouldn't it?
Comic writer Frank Miller has made a rather odd statement condemning the
Occupy Wall Street
movement, for which the men in the white coats will hopefully come to take him away, a trailer for the television show
Yamato 2199
had me singing the original's theme (DON'T JUDGE ME!) and there's details of a shelved Alan Moore project that would have
destroyed the DC universe
. Oh, like that doesn't happen every other week…
Bryan Singer's
Battlestar Galactica
remake will
follow the original series
, which has me torn – I have a lot of love for his work thanks to the first two
X:Men
films but A: the last time he rebooted a franchise (
Superman Returns
) it didn't work so well and B: the original
Battlestar
, really? There's the hope he'll use the basic idea and put his own slant on it, but I still want Starbuck to be a gay Latino to see Dirk Benedict's
head explode again
. Still, if it fall's over he won't be scratching around for something to do - there's rumour he and Leonardo DiCaprio are working on a
Six Million Dollar Man revival
.
From the 'Why can't I buy one now?' files comes a home-made
TARDIS fridge
, there's the finale to the
Dragon Age: Redemption web series
, concept art for the now cancelled
Crow remake
and some adorable video of how Jason Segel and Kermit the Frog persuaded Amy Adams to
appear in The Muppets
. Lucasfilm have registered some
odd domain names
(It's all a bit secret squirrel if you ask me),
X:Men
writer Chris Claremont has
donated his archives
to Columbia University and there's a shiny new trailer for
Star Trek: The Next Generation's
Blu-Ray release
.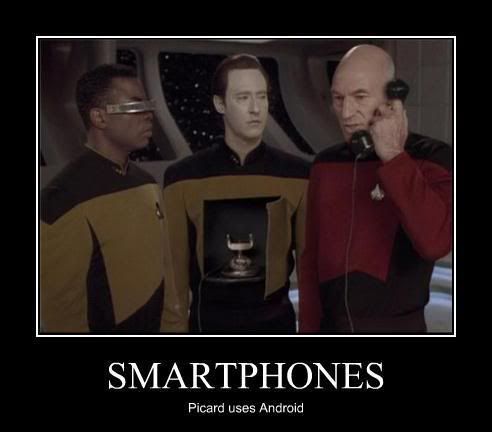 Ba-dum tish!
There's the first part of a fantastic
making of documentary
about
Raiders of the Lost Ark
, Marvel have confirmed their new TV show
AKA Jessica Jones
will take place in the same world as the Marvel films and there's the first glimpses of both the
Doctor Who
Christmas Special
and the
bonus scenes
on the season 6 DVD's.
There's a trailer for UK comedy
Pulp
and righteous footage of Michael J Fox
playing Johnny Be Goode
at a Parkinson's Disease benefit. Sadly the video doesn't show the second Fox sneaking around the lighting rig.  Animal rights group PETA have continued their reputation for being
utter nutters
by
attacking Super Mario
for his raccoon headgear, but later claimed it
was a joke
to draw attention. Ah, you wacky folks…
Apology time! The story we reported last week about Harlan Ellison winning his lawsuit against
In Time
? It's not true and you can
blame Wikipedia
for it! The lawsuit is still alive, we repeat, still alive. We fact check as much as we can, but we're a one man operation. Moving right along, have you ever wanted to be
Doctor Who's
brand manager? Well,
the job's open!
Shooting
has wrapped
on
The Dark Knight Rises
, a trailer for
The Hobbit
is said to be
due in December
and the
Star Trek
sequel has been
delayed till 2013
. In the name of Blackboard,
HURRY UP!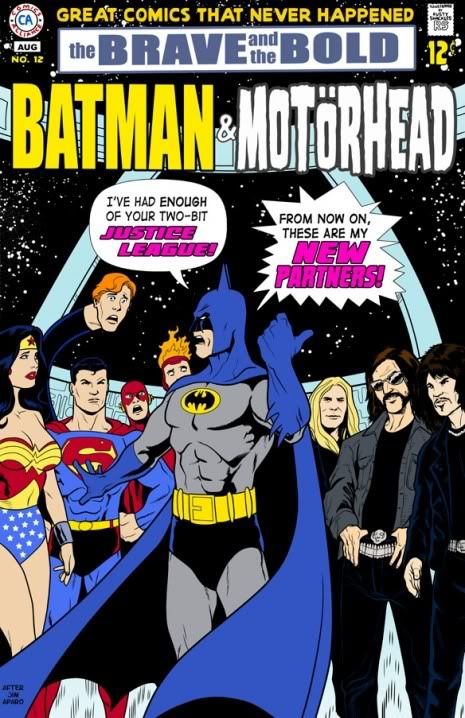 Batman wishes he was half as awesome as Lemmy!
AMC have greenlit a pilot for a
UFO series
titled
Thunderstruck
(AC/DC had better be on the soundtrack…) with David Eick (
Battlestar Galactica
) executive producing, NBC are working on a drama called
Beautiful People
, about families of service robots who begin to wake up (Did anyone else think Kryten when they heard that?) and the stream of remakes has continued, with
The Munsters
next on the line.
There's the first trailer for the other Snow White picture, titled
Mirror Mirror
(Foul – I didn't see a single goatee!), one for Pixar's latest,
Brave
(A shining example of how I want any daughters of mine to behave) and something good has come from sparkly vampires, with
Twilight themed Muppets posters
.
Lastly, comedian Peter Kay
regrets appearing
in the
Doctor Who
episode
Love and Monsters
. I regret watching it, so I guess we're even.
Quote of the Week:
The Doctor:
(about what is in the Pandorica)
There was a goblin, or a trickster, or a warrior... A nameless, terrible thing, soaked in the blood of a billion galaxies. The most feared being in all the cosmos. And nothing could stop it, or hold it, or reason with it. One day it would just drop out of the sky and tear down your world.
Amy:
How did it end up in there?
The Doctor:
You know fairy tales. A good wizard tricked it.
River:
(to Amy)
I hate good wizards in fairy tales; they always turn out to be
him
.
Doctor Who – The Pandorica Opens
That's all for this week, but don't forget
I'm on Twitter!
Remember, the Shadow knows…