Greetings dear readers!
There's an interesting mix of news this week, seasoned with several new movies and a sprinkling of TV shows, lightly pan fried in the regular mix of random weirdness with just a pinch of Batman to taste.
…
I'm sorry, I don't know what came over me there. I mean, it can't be all the
Motorhead
I'm listening to as I write this. Can it? Let's move on!
The biggest news this week is Joss Whedon finding time to
make another movie
an adaption of
Much Ado About Nothing
featuring such Whedon regulars as Nathan Fillion, Amy Acker and Sean Maher. Fillion first
tweeted
about it, with pictures of shooting
emerging this week
. There's still no word on a distributor or release date, but we'll keep you posted.
Secondly comes one of the stranger auctions we've ever heard of, for some of Superman creator
Jerry Seigel's hair
. I wonder if there's a clause saying the winner has to try to clone him from his DNA…
From the '5 episodes if they're lucky' file, Fox are planning a
Punisher TV series
that has Frank Castle as a cop by day and the vigilante The Punisher by night. Nice going Fox, you take a concept as simple as the Punisher's (Criminals killed his family, he kills criminals) and mess with it.
*sigh*
Still, I'll be interested to see what take they go with, whether it's the dark and violent one man war on crime or the guy who uses shotguns
that fire swords
to fight the Hulk.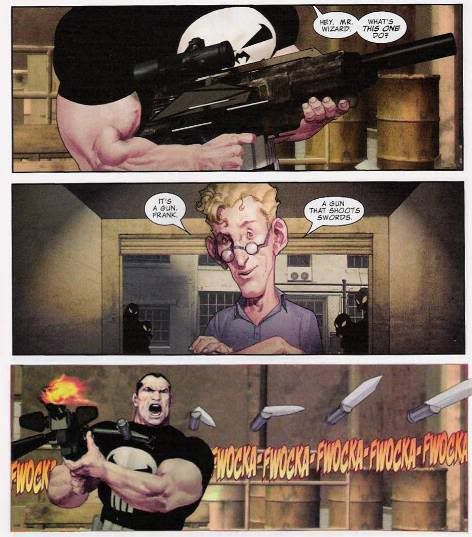 What? You thought I was joking?
Captain America 2
will be set in
modern times
and you can read the CDC's
zombie preparedness comic
. Popular Twitter feed
Death Star PR
will soon become a
web series
, Rhys Ifans has shown what voice he'll use
for the Lizard
in
Amazing Spider-Man
, there's
Duck Hunt The Movie
(That accursed dog!) and some interesting
Uncharted 3 promos
, with Harrison Ford playing the game.
Men's Fitness
writer Jordan Burchette has proven himself an
elitist jerk
with several articles mocking costumers at recent sci fi conventions. Yes, not everyone who costumes has the body of the person they're dressing as, but the fact they're willing to try is OK in my book. I wonder if he'd have been as willing to poke fun at them in person – is it wrong I want to see this guy meet Sailor Bubba? (If you don't know that name, Google Image Search at your own risk…)
AMC have confirmed a third season of
The Walking Dead
and
Doctor Who
fans are nervous after Matt Smith hinted he might
do one more year
as the Doctor and then leave.
*Cue speculation about the next Doctor being either A: black or B: female.*
"Oh bother" said Pooh, "I forgot to reverse the polarity of the honey flow."
Bradley Cooper has signed up to star in
The Man from UNCLE
and Teller (Of
Penn and Teller
) wants to make a stage version of
The Exorcist
. Plans are afoot for an
Assassin's Creed movie
and the long awaited
Sin City 2
could be
shooting next year
. I'll file that under 'believe it when I see it'.
In the ever growing category of things that make me giggle like a 10 year old comes a new trailer for
The Pirates! In an Adventure with Scientists
and in another case of 'Japan, what the hell?' comes word that artists are turning dead rats
into Pokemon
. Just when you think the world can't get any stranger…
Do you remember the young lad who dressed as Robocop last Halloween? Well, his father made him a new costume this year –
The Rocketeer!
That's one of the most adorable things I've ever seen – has somebody shown this to Joe Johnston and Billy Cambell?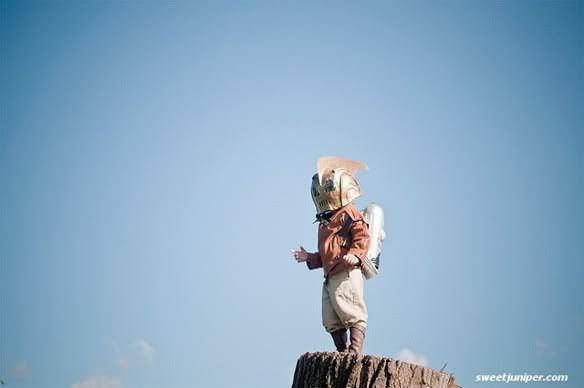 Up, up and away!
The first pictures of Scarlett Johansson in
Under the Skin
have been seen and that utterly bizarre Taiwanese news agency has done it's own version of
The Avengers trailer
which defies any attempts at description.
Noted thespians Metallica are working on a
3D feature film
, Fifth Doctor Peter Davison isn't expecting any
previous Doctor's to return
for the 50th Anniversary of the show and the grand tradition of British shows ending before they suck has continued, with word of
no more IT Crowd
.
A group of enterprising maniacs have built the
Batsuit from Arkham Asylum
and we have to mention that
Arkham City
has one of the greatest things in the history of video gaming:
batman punching a shark
. There's never a can of Shark Repellent Bay-Spray when you need one…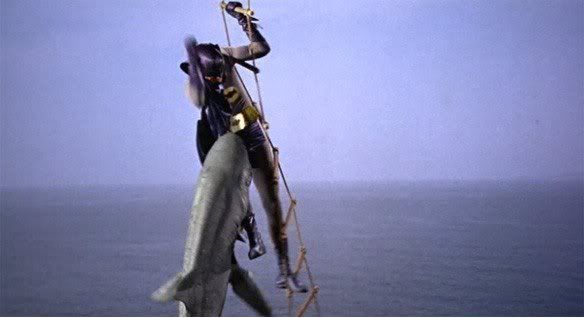 Is it wrong I want to see Christian Bale's Batman try this?
The live action version of
Akira
may have been whitewashed, but at least they're trying to
cast good actors
. Can't argue with casting Gary Oldman – if you do he'll find out where you live... In brighter news, there's what's said to be the
final Muppets parody trailer!
The Honor Harrington books have
been optioned
for a movie deal and there's news on both the
Beetlejuice sequel
and
Evil Dead remake
.
Robot Chicken
will parody
Green Lantern
and there's an English dubbed trailer for Studi Ghibli's latest film,
The Secret World of Arriety
.
First there was talk that budget cuts could
save The Dark Tower
adaption with better news following –the TV series will
be on HBO!
We've a trailer for
The Phantom Menace 3D
,
Kick Ass 2
might be replaced by
Hit Girl: the Movie
and Ben Affleck is set to direct a
remake of The Stand
.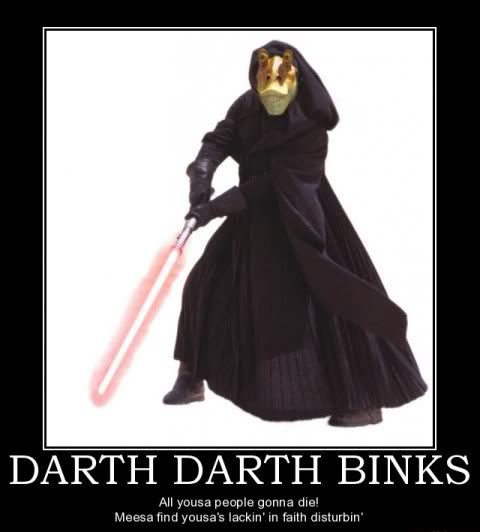 Look on the bright side, it couldn't have made the film any worse...
It's fan art time! There's a massive picture of
The Batcave
with Bats fighting his enemies in every room and an
amazing team up
of GI Joe and The Rocketeer fighting Cobra and Godzilla.
Joss Whedon
did his own stunts
directing
The Avengers
and there's a trailer for
11-11-11
, yet another date based apocalypse movie. We've a French teaser for the
Metal Hurlant Chronicles
, the TV adaption of the anthology comic book
Heavy Metal
. There's an unrelated film adaption on the way as well, being produced by Robert Rodriguez.
SyFy have announced another reality show,
Monster Man
, about special effects man Cleve Hall and his family, there's a new
Breaking Dawn clip
and a Henry Cavill double with
pictures from Man of Steel
and a new
clip from Immortals
. We also have the
earth shattering
news that the
Star Trek
sequel
won't be called Star Trek 2
. I may faint.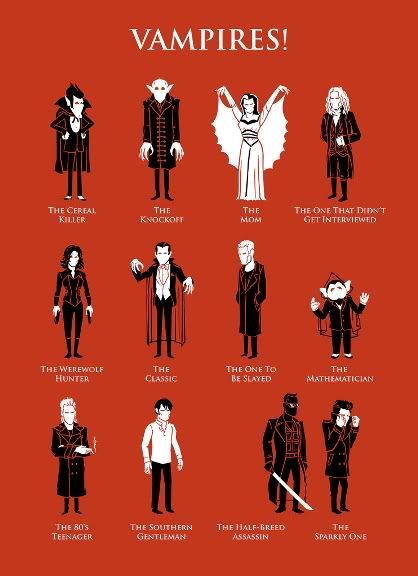 Ah, the children of the night, what bad movies they make...
It's been confirmed that the first 6 minutes of
The Dark Knight Rises
will
screen in Imax cinemas
in December, but there's two catches. It's screening before
Mission Impossible: Ghost Protocol
and only in 70mm Imax cinemas. Course, I'm sure it'll be on YouTube within 30 seconds after the first screening...
Brad Bird has once again said he's not doing a second
Incredibles
film until he comes up
with a good story
and there's a picture of
Simon Pegg
in his new film
A Fantastic Fear of Everything
. We have the first pictures from Tim Burton's
Frankenweenie
and answer the question of what if
action heroes had sonic screwdrivers?
The world of cinema has good news, with word that Eddie Murphy may have
stopped making family films
and Steven Spielberg has
spoken candidly
about
Indiana Jones 4
, saying he argued with George Lucas over the MacGuffin being alien.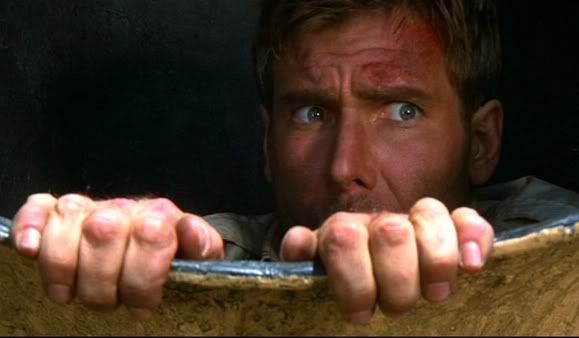 Tell Steven I'll come out of hiding if George takes the aliens out of the script, OK?
There's some new
Hunger Games posters
, Roland Emmerich wants to
Independence Day 2 and 3
but Fox are nervous owing to Will Smith wanting several truckloads of money and shock rock legend Alice Cooper will cameo in
Dark Shadows
. Say it with me on 3... 1, 2, 3...
"We're not worthy, we're not worthy!"
Quote of the Week:
"Star Wars
is adolescent nonsense;
Close Encounters
is obscurantist drivel;
Star Trek
can turn your brains to puree of bat guano; and
the greatest science fiction series of all time is Doctor Who! And I'll take you all on, one-by-one or all in a bunch to back it up!"
Harlan Ellison
Thanks for reading! One last quick plug - I've recently
started Tweeting
, so if you'd like to read more of my semi legible ranting interspersed with geek news, then follow me!
And remember, the Shadow knows...