Greetings dear readers!
The Shadow has escaped the hell of house hunting and entered the hell of packing and moving. Talk about from the frying pan into the fire... That's all we'll say about that!
In any case, on with the news!
The premiere of season 2 of
The Walking Dead
rated through the roof
and zombie movie godfather George Romero has revealed he
turned down an offer
to direct some of the show in favour of his own project.
Mark Hamill has retired from
voicing the Joker
, though he's dropped hints he'd love to record an audio book of
The Killing Joke
. Two things to add to that: there's a
shadow puppet
version of the story and Hamill was captured saying Heath Ledger's Joker's
most iconic line
. It's worth watching solely for the audience reaction...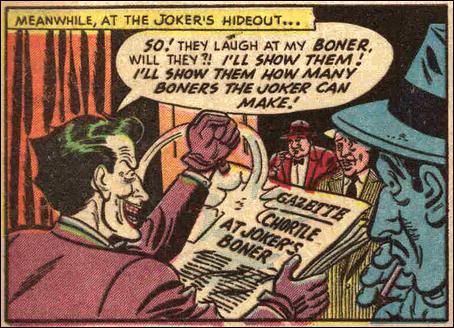 Yes, that word meant something different back then...
This weekend will see the third annual
Doomsday Film Festival and Symposium
in New York. The festival was begun when the curators realized they hadn't seen
The Road Warrior
(AKA
Mad Max 2
) and to rectify that deserved a festival. Good thinking!
The
Twilight Zone
movie has a
new director
, we have the video for nerdcore artist MC Frontalot's new song
Critical Hit
and there's pictures that prove that
1930's Disney cosplay
was high grade nightmare fuel.
With a stirring statement
Heroes
and
Star Trek
star Zachary Quinto
has come out
. As with
Firefly
star Sean Maher's recent announcement, we wish him all the best and hope any homophobes who protest this have their teeth kicked in.
It's that part of the day when we go all New York Comic Con, all the time! There was, as always, cosplayers, with galleries seen
here
and
here
- the whole gender swapped heroes thing seems to be really popular at the moment. We've details of the panels for
The Avengers
,
The Walking Dead
,
Ghost Rider: Spirit of Vengeance
and
Batman: Arkham City
. DC are said to be contemplating a
Watchmen sequel
, there was talk of a
Doctor Strange
movie and Marvel teased both a
flame filled return
and
their TV plans
, which include the Hulk and Luke Cage. There was footage from
Total Recall
and
Oddities
screened and a gorgeous
dancing marriage proposal
! Congrats to the happy couple!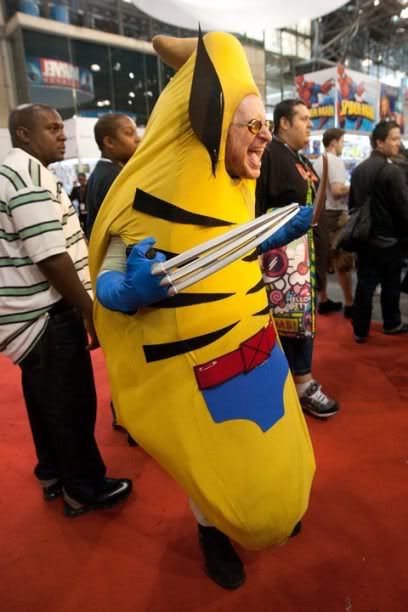 For when Logan eats a banana, an amazing transformation occurs…
We know have more trailers and clips than you can poke a very large stick at. Get comfy.
We start with the first trailer for
The Con of Wrath
, about a legendary
Trek
convention in 82 that almost collapsed, a teaser for
Alcatraz
, some clips from
In Time
and
Breaking Dawn
, new trailers for
The Woman in Black
and
Sherlock Holmes: A Game of Shadows
and some new footage from
Bag of Bones
. Who'd want to Pierce Brosnan?
Moving into schlock horror territory, there's trailers for
Piranha 3DD
,
Hostel Part 3
(It's straight to DVD and Eli Roth isn't involved),
Mansquito
and from the 'things you didn't think existed' category, did you know there's a
Scorpion King 3
?
There's new trailers for
The Adventures of Tintin
and the 'teens with powers' movie
Chronicle
, a look at the making of documentary
When Harry Left Hogwarts
(That will appear on the
Potter
Blu-Rays) and a 'Sweded' version of
The Avengers
.
Let's look at comic books now! There's a deleted scene from
Captain America
, footage from the upcoming
Green Lantern animated series
and the first clip from
Ghost Rider: Spirit of Vengeance
, a trailer for season 2 of
Avengers: Earth's Mightiest Heroes
, the final trailer for
Batman: Arkham City
and the first look at
Justice League: Doom
.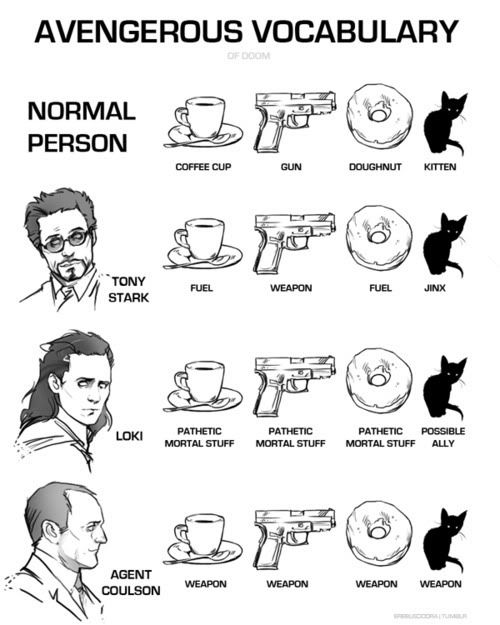 Agent Coulson Fact: He doesn't play rock paper scissors. He plays coffee gun donut kitten
Moving right along, there's plans for US remakes of both
Attack the Block
and
Misfits
, the remake of
The Crow
has
lost another director
and River Phoenix's final film will
finally be released
.
Darth Maul on
The Clone Wars
will be
voiced by Sam Witwer
, better known as the Secret Apprentice in The
Force Unleashed
games, his work in
Battlestar
and
Being Human
and his frequent appearances on the
Order 66
podcast. Seriously, the guy's a screaming mad
Star Wars
fan and isn't shy about it.
George RR Martin won't start writing
The Winds of Winter
in January
with 100 pages (That was held over from
A Dance with Dragons
) already written in between working on a coffee table about the history of Westeros, Bill Murray's lack of interest appears to have
killed off Ghostbusters 3
, there's
new Dragon Age comics
that aren't as dumb as previous books (Long story) and a fan has built his own version of the
power loader from Aliens
.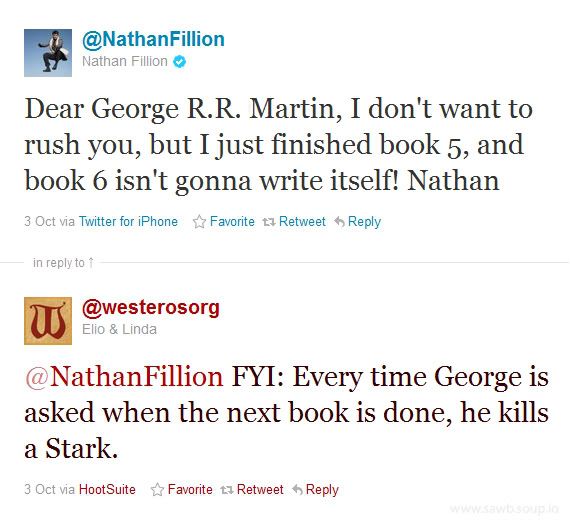 And George is a man of his word...
The long awaited/feared live action version of
Akira
has the green light
. Sadly, it appears to be Americanized, with the location moving to 'New Manhattan' and producer's wanting
Garret Hedlund
to star. Bah, bah I say!
The Wachowski brothers are set on making
another sci fi film
, you can watch the entire pilot for
Once Upon a Time
and there's video of the only way that
Back to the Future's
ending could have
been more awesome
.
There's a curious short film titled
Zombie in a Penguin suit
, an
Italian Star Wars fan film
that's a cut above the usual and Salman Rushdie has called
Game of Thrones
'well produced trash'
. Meanwhile Bryan Singer's
remake of Excalibur
is dead, with word he'll be moving on to his remake of
Battlestar Galactica
, which
has a writer
.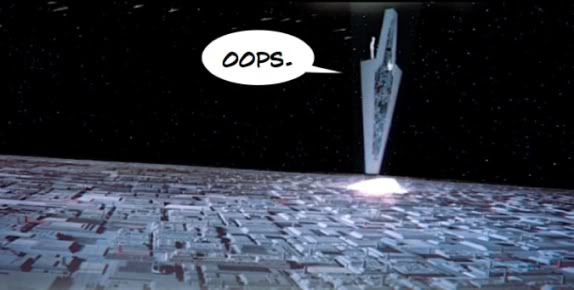 Should have turned left at Albuquerque!
It's a 3 story, 1 link paragraph! Plans are afoot for two more
Transformers
films shot back to back (Jason Statham's name has been mentioned, but Michael Bay has denied any involvement), JJ Abram's Bad Robot productions is working on a
Micronauts
movie and we may get a
Zombieland
TV show instead of another movie – more details are
here
Mark Millar is again
auctioning off naming rights
in his upcoming book
The Secret Service
, to raise money for the St Bartholomew's Primary School Pantomime Fund that he set up. There's some
promotional art
for
The Amazing Spider-Man
, Gary Kurtz (Producer of
Star Wars
and
The Empire Strikes Back
)
didn't like
the
Star Wars
prequels either and the cast of
The Thing
don't like the prequel
.
The Walking Dead
has it's first spin off –
The Walken Dead
. There'll be a
fourth Starship Troopers movie
, which will be a CG release – at this stage it'll be straight to DVD, but there's hope for a cinematic release. And now for something completely different: William Shatner singing
Bohemian Rhapsody
.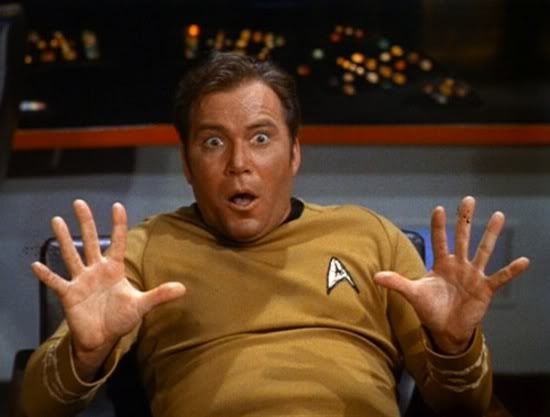 Thunderbolt and lightning, very very frightening me!
Milla Jovovich has tweeted the first picture of
Ada Wong
from
Resident Evil 5
, Sean Bean is still
keen to return
to
Game of Thrones
and in a clear case of spending lots on SFX and not enough on props, the guns used in
Terra Nova
can be found at
your local toy store
. I own one of those…
Here's something that's mighty high up on the list of things you don't want to find in the cupboard –
a Skeksis!
I really can't blame that guy for running away – that noise they make scares the hell out of me to this day. There's something about the combination of adorable and sanity blasting horror that shows up a lot in that era... And there's nothing unmanly with never being able to watch
Who Framed Roger Rabbit
ever again.
NOTHING. AT. ALL
.
Lastly, to end of a beautiful note – earlier this year die hard Superman fan Mike Meyer (Who's mentally disabled and survives on part time work and Social Security) had a large chunk of his collection stolen by a man who'd befriended him under false pretenses. Comic's fans rallied to his cause and organized a drive to replace the lost merchandise, almost doubling the size of Meyer's original collection. Thankfully the thief was tracked down and the collection returned and news has come to us this week that Meyer's donated the surplus items to his
local children's hospital
, in a gesture worthy of his hero.
Quote of the Week:
Captain America:
Hawkeye!
Longbow:
A fine compliment, Yeoman America - and one richly deserved, if I say't myself! But you know as well as I, the name's Longbow. And it's a name these twain'll well remember - for they're the horse-thieves who've plagued the guard's livery -
Captain America:
(
placing a hand over Longbow's mouth to prevent him from shouting
)Captain. Not Yeoman.
Captain.
And you're Hawkeye.
Remember.
Longbow:
Y'mn... wht n hvns nm r yu...
Captain America: Remember.
Narrator:
And such is the force of that piercing blue gaze that the archer's eyes, too, shift and change before it -
Hawkeye:
Aw,
man!
Not another alternate reality! Not
again!
Avengers – Volume 3, Issue 2
Remember, the Shadow knows...