Welcome again dear readers,
We start this week with a question for you: is it wrong I want cloaks to come back in fashion? After all, they're warm in winter, stylish in summer, keep the rain off your head and when they billow in high wind it's the closest any of us will ever get to being Batman. How can you not want to wear one?
Now, onto the news!
There's been a bunch more pictures of Catwoman on set of
The Dark Knight Rises
,
here
and and
here
, Michelle Rodriguez will return in
Resident Evil 5
and the remake of
Red Dawn
actually
has a release date!
We've some new
clips from Real Steel
and
Firefly
star Sean Maher has
come out
. All of us here wish him, his partner and their children well and we hope any homophobes unhappy about this get their teeth kicked in. Meanwhile Alan Tudyk (Who played Wash in
Firefly
) has said that if the show premiered today, the
internet would keep it going
. That's hopelessly optimistic, but I like that in a person.
It's now time for the all zombie, all the time section! The movie rights to video game
Dead Island
have been snapped up
, there's a new
Walking Dead season 2 trailer
, the cast of the show have talked about
Frank Darabont's departure
and AMC will launch a series of
tie in webisodes
in early October. Meanwhile, researchers at Oxford University have created a
zombie outbreak map of the world
.
Eagerly anticipated MMO
Star Wars: The Old Republic
has a launch date
and we can't not mention an awesome piece of Star Wars related parenting: Anthony Herrera took his two young children hiking in Redwood National Park where the Endor scenes in
Return of the Jedi
where shot. His daughter, knowing this, was saddened not to find one of the little fuzzballs, so her father
photoshopped them into pictures
from the trip, telling his children he could see something in the photographs.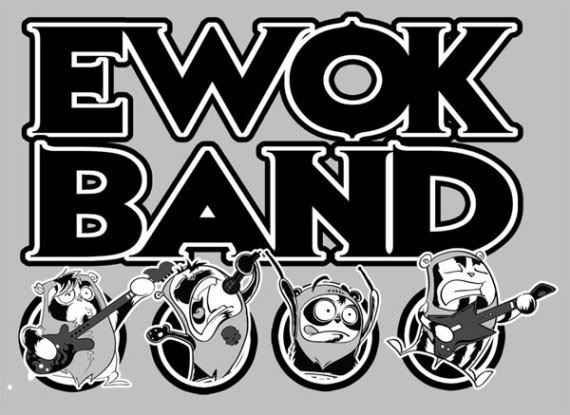 "Ah toe meet toe peechee keene, G'noop dock fling oh ah!" *screaming guitar solo*
There's a trailer for
Chuck's final season
, pictures of a fan made
Princess Bride Monopoly
and footage of Frodo and Merry
having a punch up
. The success of web series
Mortal Kombat: Legacy
has led to
a movie deal
for director Kevin Tanchareon, but it'll be based on a new story and none of the web series cast will return.
Julia Ormond has
left Man of Steel
(Where she was due to play Lara Vor-Man, Superman's mother), being replaced by Israeli actress Ayelet Zurer, James Marsden
wants to appear
in
True Blood
and Karl Urban may be reprising his role in
Riddick 3
. There's the first teaser (I can't call it a trailer, it's barely 15 seconds) for
Game of Thrones season 2
and
Thrones
creator George RR Martin isn't happy about the proposed
Beauty and the Beast remake
.
We've got new art from
Immortals
, spoilery details about
American Horror Story
and 700 people gathered in California recently for a three day
Mad Max festival
, with mock fights, boomerang throwing contests and one attendee even bringing Dinki-Di dog food... Sounds like a post apocalyptic fun and it was intended that way, with one of the organisers responding "We say, it's
The Road Warrior
, not
The Road
.' No one wants to spend three days in a Cormac McCarthy novel."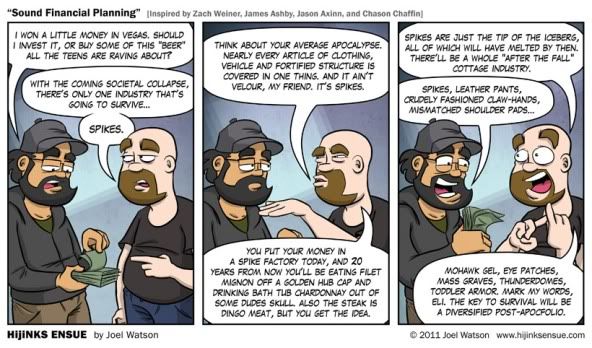 Excuse me, I have Judas Priest on the phone. They'd like their stage clothes back please...
We've some fantastically retro
Captain America concept art
and a new gallery of pictures from
The Avengers
, with Mark Ruffalo's Bruce Banner
rocking
the Blue Steel look. There's another couple of pictures from
Dark Shadows
, the first trailer for
John Dies at the End
and a
viral clip
for fantasy novel
Wildwood
, starring Rainn Wilson. Nintendo DS game
Alien Infestation
will have a hidden section allowing you to recreate
Bishop's knife game
and we've a new trailer for
Assassins Creed: Revelation
.
Warner Brothers is trying to get Brad Pitt to star in alien fighting time loop movie
All you Need is Kill
, there' s a new
Doctor Who mini-series
that'll be on the full season DVD and Blu-Ray box sets and new plot details for
Prometheus
have emerged while writer Damon Lindelof has dropped
even more hints
about the film. There's a clip from
The Howling Reborn
, Fox is set to adapt the Isaac Asimov story
The Caves of Steel
and a new trailer for
Paranormal Activity 3
is out.
DC Comics have found themselves in something of a pickle of late. Their recent relaunch has caused some controversy, with several characters being 'sexed up', among them Starfire. Author Michele Lee's young daughter has long been a fan of Starfire through the
Teen Titans
cartoon series and was most eloquent when her
mother asked what she thought
of the redesign. DC
responded on Twitter
and really, could have done better. Yes, the comic in question is rated for teens and no, the young girl only looked at the pictures, but that's not the point. And staying on topic, if you still think comics are solely for boys the blogs
Girls Love Superheroes
and
DC Women Kicking Ass
should shake that.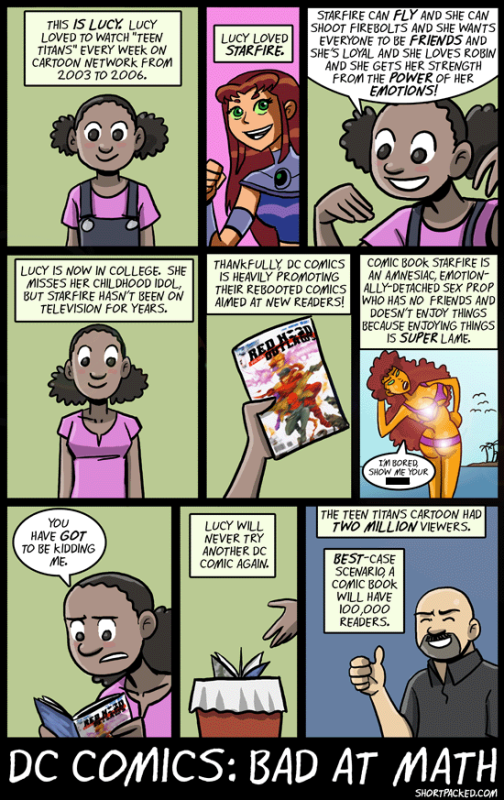 Comics everybody!
From the 'this doesn't happen every day you know' files, Batman walked into a
Christchurch police station
this week, demanding to know who'd used the Bat-Signal. After a brief conversation the caped crusader (Who was being filmed by an accomplice – presumably Robin) fled the scene. Police have refused to confirm or deny that the Joker was behind the prank.
There's a trailer for new comic book
Orchid
, written by Rage Against the Machine's Tom Morello and Washington State Park was the location for a massive
Jedi vs Sith showdown
with over a thousand lightsaber wielding combatants hacking away at each other. Unconfirmed reports place the number of replacement limbs needed in the hundreds...
There's a
casting call
for the
Ender's Game
movie, the first look at
Being Human US season 2
and Marvel are releasing an important Spider-Man collection –
The PSA's
.
Star Trek: The Next Generation
is
coming to Blu-Ray
and William Shatner has
attacked George Takei
in his new book, apparently for not inviting him to his wedding. FYI:
Don't
read the comments…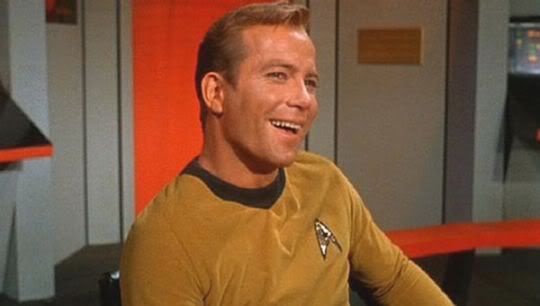 I'm sorry, I can't hear you over the sound of how awesome I am.
There's a Russian poster for
The Thing
and EA have resurrected the cyberpunk corporate warfare video game series
Syndicate
– I was wondering why I had the urge to wear a black trenchcoat and mirror shades... Next month's Live in the Studio forum at the Australian Centre for the Moving Image in Melbourne will
be about Star Trek
and in a cost cutting frenzy, the BBC have cancelled
Doctor Who Confidential
.
Lastly, there's some news that could make some people very happy: Chris Carter (Creator of
The X Files
and
Millennium
) is looking to
return to television
. We'll keep you posted on any developments.
Now it's time for another look at what will be hitting shelves soon, in a segment we're choosing to call
SHUT UP AND TAKE MY MONEY!
All release dates are taken from
Ezy DVD
and are current at the time of writing. Unless noted are releases are for DVD only.
October:
The Big Bang Theory
Season 4 – October 5th
Doctor Who: Day of the Daleks
– October 5th
Thor
DVD/Blu-Ray – October 6th
Castle
Season 3 – October 12th
X:Men: First Class
DVD/Blu-Ray – October 19th
Star Wars: The Clone Wars
Season 3 - October 19th
V
Season 2 – October 26th
Fringe
Season 3 DVD/Blu-Ray – October 26th
Pirates of the Caribbean: On Stranger Tides
– DVD/Blu-Ray – October 26th
November:
Supernatural
Season 6 DVD/Blu-Ray – November 2nd
Transformers: Dark of the Moon
- DVD/Blu-Ray- November 9th
Harry Potter and the Deathly Hallows Part 2
- DVD/Blu-Ray –November 16th
Super 8
- DVD/Blu-Ray – November 17th
Stargate Universe
(Seasons 1 and 2) - DVD/Blu-Ray – November 23rd
Stargate Universe
Season 2 – November 23rd
December:
Green Lantern
(Cinematic and Extended Cut versions) - DVD/Blu-Ray – December 7th
Quote of the Week:
Bilbo Bagshot:
I was like you once. Blonde hair. Scraggly little beard. Childlike ears. Full of beans and spunk. I let my principles get in the way of things. I punched a bloke in the face once for saying
Hawk the Slayer
was rubbish.
Tim:
Good for you.
Bilbo Bagshot:
Yeah, thanks. But that's not the point, Tim. The point is I was defending the fantasy genre with terminal intensity, when what I should have said was "Dad, you're right - but let's give
Krull
a try, and we'll discuss it later."
The Phantom Menace
was eighteen
months
ago, Tim!
Tim:
I know Bilbo, but... it still hurts, you know? I mean, that kid wanted a Jar Jar doll!
Bilbo:
Kids
like
Jar Jar!
Tim:
Why?
Bilbo Bagshot:
What about the Ewoks eh? They were
rubbish
! You don't complain about them!
Tim:
Yeah but Jar Jar Binks makes the Ewoks look like...
*bleeping*
... Shaft!
Spaced - Changed
And that's me for the week... We hope you enjoy the long weekend – I'll be spending mine playing games at
Sydcon
where I hope to see many of you! I hope you all have fun and I'll talk to you next week.
And remember, the Shadow knows...