Greetings dear readers,
This week finds the writer in much the same state as last week. We'd say we're surprised, but let's be honest – my immune system goes to pieces so fast people get hit by the shrapnel.
Now, we know that last weekend saw the San Diego Comic Con and we'll be covering that a bit later. We'll begin with the news that
wasn't
from Comic Con.
First off, there's something I never thought would happen:
Harrison Ford was reunited with Chewbacca
. Just watch it, you'll thank me. Secondly, there's a tiny teaser for
The Avengers
, that starts with the final scene from
Captain America
. Spoilers etc… In unrelated news, George Lucas has
lost a lawsuit
against prop designer Andrew Ainsworth, who designed the original Stormtrooper armour and has been selling replicas.
Brent Spiner was
very confused
when confronted by fans at Texas Comic-Con recently, the
Wonder Woman pilot
has found its way online and Ohio drivers will soon have
Superman on their license plates
. There's some new
Hunger Games pictures
, a
Harry Potter
themed wedding
and Marvel has
won it's lawsuit
against the Jack Kirby estate. There's a shiny new Batman fan film,
The Last Laugh
and author Paul Sammon has posted a four part history of the
80's Conan films
.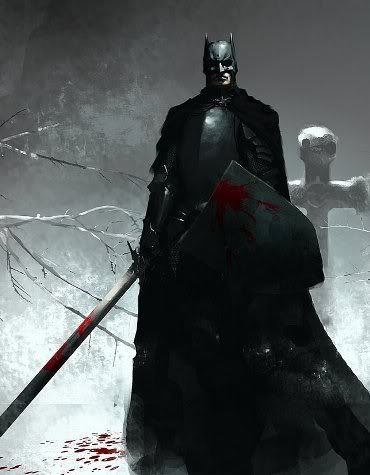 There has always been and always shall be, a Batman
The Wolverine
has a villain
, Tyra Banks talks up her
new fantasy novel
and there's plans for a
Scanners TV show
. There's more
pictures from Dredd
(I like the armour) and Chris Judge has been
cast in The Dark Knight Rises
, which leaves us with two questions: who's he playing and will they say 'Indeed?'
There's more
Stargate: Extinction
, Frank Darabont has
left The Walking Dead
and the original opening for
Superman Returns
has hit the internet. That cost 10 million dollars… There's a red band trailer for
Tucker and Dale vs Evil
(Hey, that's Alan Tudyk!),
Star Trek 2
won't be
shooting till January
and Robert Zemeckis may direct
Here There Be Monsters
. I'm just hoping he doesn't use that creepy motion capture he loves…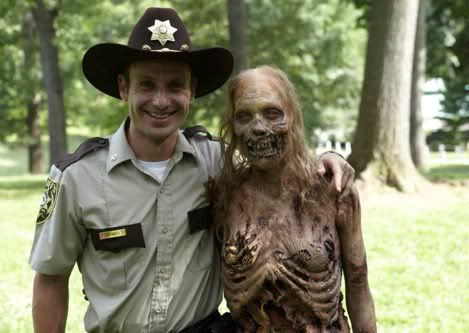 Awwww, ain't that sweet.
HBO has promised it
won't cancel Game of Thrones early
and a fan has made the
show's characters in Lego
, there's the first official stills from
Ghost Rider: Spirit of Vengeance
and a poster of the
real Captain America
.
We've some new posters for
Breaking Dawn
and
The Muppets
, audio tapes from
Batman: Arkham City
have surfaced and there's plans for
Tales from the Crypt
to return to TV!
Doctor Who
has
a UK return date
, Marvel Studios has the rights to
Blade and The Punisher
again, while Marvel Comics has launched a new rewards scheme for retailers:
Destroy 50 DC comics
and get a variant Marvel cover. Stay classy there…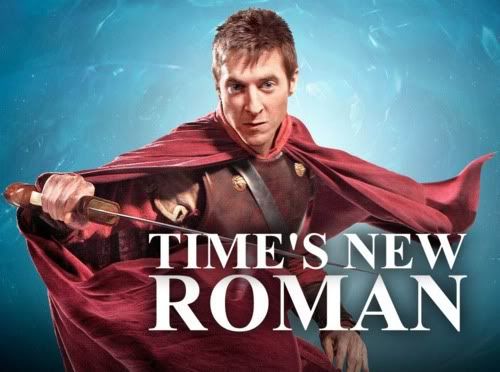 "Well, I died, and turned into a Roman. It's very distracting."
Lastly, there's the first trailer for the movie
Battleship
, based on the board game. Before you ask, no, the line
"You sunk my battleship"
isn't in the trailer. If Liam Neeson doesn't say it in the film backlit by an explosion just before he punches something, then I ain't going.
Now once again we come to the annual nerdvana that is the San Diego Comic Con. 150,000 people crammed into the San Diego Convention Center and all talking about nerd stuff. It's more geek than you can poke a stick at, or as Roy and HG might say, where too much nerd is
barely enough!
We've
pictures
and
video
of some of the cosplayers and a look at some of the
dodgier advertising efforts
this year, as well as the
more awesome
ones. That giant Smurf is the stuff of nightmares, while the TARDIS burritos were genius! Meanwhile the much talked about DC Comics reboot protest
fizzled out
while there was issue at their panel, with a young woman asking why there
wasn't more female writers
.
We've video of numerous panels: you can watch
Game of Thrones
,
Ghost Rider 2
,
Total Recall
,
The Amazing Spider-Man
(Andrew Garfield's
love letter
was adorable),
Tintin
and
Fright Night
, while Jeffster! rocked out at the
Chuck panel
. There's also a rundown on
upcoming rundown
that includes details on
Pacific Rim
and the
Mass Effect
movie.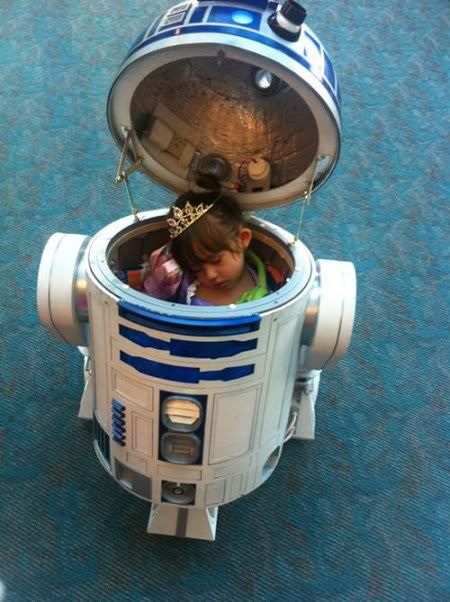 If your heart doesn't melt when you see that, you have NO SOUL.
We've the first trailer for
Knights of Badassdom
(Hooray!) and Steven Spielberg announced
Jurassic Park 4
. While Marvel didn't have much presence (Their booth was used by as an autograph table by the stars of
Castle
at one point and Molly Quinn, who play's Castles daughter in the show, showed up dressed as Captain Mal.) they did have some new
Avengers
posters:
Thor and Nick Fury
,
the other Avengers
and
the Hulk
. Speaking elsewhere at the con,
Avenger's
director Joss Whedon talked how he wants to write a
strong openly gay male
character.
There's clips of the
deleted scenes
from the
Star Wars
Blu-Ray box, more footage from
Rise of the Apes
and a trailer for
Avatar: The Legend of Korra
, along with good news for
Doctor Who
fans, with Karen Gillan confirming she'll be
back next season
. Hooray!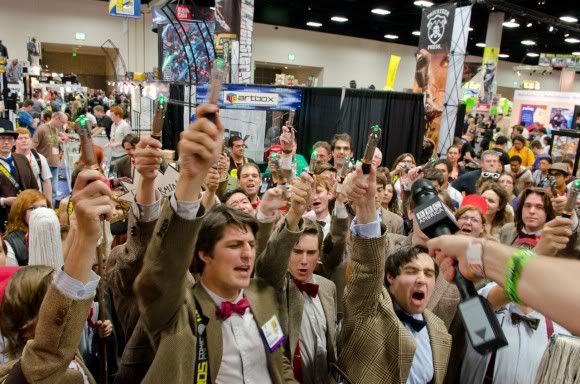 With our powers combined, we are CAPTAIN GALLIFREY!
There's the a teaser for the movie
H
, the first pictures of the cast of
Snow White and the Huntsman
and some more
Fright Night clips
. I know some people are still grumbling about it, but
Chris Sarandon approves
, so why not you? We've some
Thundercats clips
, a description of both the
Immortals footage
that was screened and the
Poe trailer
, a poster for
The Walking Dead season 2
while
Eureka's
Christmas episode
will be animated
.
Project Runway
has analyzed
superhero's outfits
, there's the
True Blood sizzle reel
that played and the first clips from the
new Doctor Who episodes
episodes. There's a
deleted scene
from
Lost
(That proves they weren't making it up as they go) and Wil Wheaton has said that
Eureka
has better technobabble
than
Star Trek: the Next Generation
. Dave Filoni talked about
Clone Wars season 4
and the
Locke and Key pilot
was screened.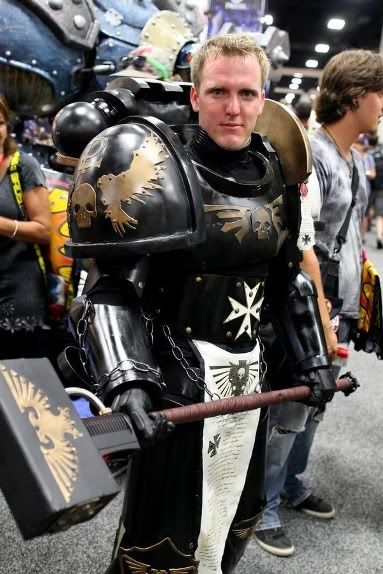 "Stop! Thunder Hammer time."
There's concept paintings for Robert Rodriguez's remake of
Fire and Ice
(He's also finally working on
Sin City 2
), a trailer for
Zelda: Skyward Sword
, DC announced there's to be an
animated Dark Knight Returns
and a
Voltron movie
is on the way!
And last and certainly not least is word that a
MacGyver comic
was announced… Swiss army knife?
*check*
Roll of duct tape?
*check*
Mullet?
*check.*
Let's rock…
Quote of the Week:
The Joker:
"See, there were these two guys in a lunatic asylum...and one night, one night they decide they don't like living in an asylum any more. They decide they're going to escape! So, like, they get up onto the roof and there, just across this narrow gap, they see the rooftops of the town, stretching away in the moonlight...stretching away to freedom. Now, the first guy, he jumps right across with no problem. But his friend, his friend daredn't make the leap. Y'see...y'see, he's afraid of falling. So then, the first guy has an idea...He says 'Hey! I have my flashlight with me! I'll shine it across the gap between the buildings. You can walk along the beam and join me!' B-but the second guy just shakes his head. He suh-says... he says 'What do you think I am? Crazy? You'd turn it off when I was half way across!'"
Batman: The Killing Joke
Remember, the Shadow knows...