Welcome again dear readers!
It's been a busy week, with a fair whack of stuff to talk about, so for once let's get to it with no waffling on from me…
First off, a reminder that
Supanova's
on this weekend! With all manner of events, vendors, special guests and geekery, there's barely an excuse to not be there! Well, not being in Sydney is one, but that's about the only one.
There's been
more talk
about the live action
Star Wars
show and one of the writers has
been revealed
. A fan has created some very cute
plush lightsabers
and bad news has emerged that
The Phantom Menace
may be the
only 3D re-release
we get. In short – if this one doesn't do well we won't see the rest. Nice strategy Lucas – make us watch the rubbish ones first to get to the good ones.
*shakes fist*
He's also given
more details
on the
Star Wars
comedy show that Seth Green is working on.
Shia LaBeouf
won't return
for a fourth
Transformers
film (and he thinks Michael Bay won't either) and there's more pictures from
Dark of the Moon
– anyone else find it odd that virtually none of the promotion has featured Rosie Huntingon-Whitely? I don't recall anything seeing anything where she's said a word…
In an age of overly pampered celebrities who will get driven from door to door, it's refreshing to find someone famous who's down to earth. In this case, it's
Game of Thrones
star Sean Bean, who has proven his
level of awesome
beyond any doubt. Following an argument over a woman in a London pub Bean was stabbed in the arm with a piece of glass while outside having a smoke. You or I would have gone to the hospital, followed by the police. Bean simply went back inside, patched himself up with the bar's first aid kit and bought another drink. Top stuff sir, top stuff!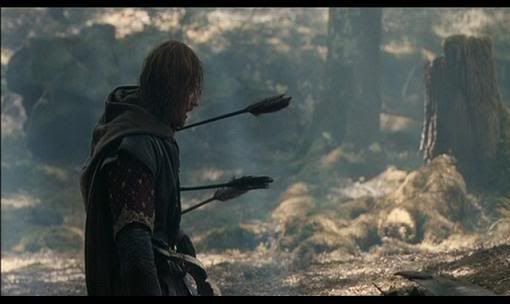 "You call that a mortal wound. Sean Bean say's it's getting in the way of his next drink."
We thought
this
was the final
Deathly Hallows
poster, but there was soon
another
one. There's also the first promo poster for
The Avengers
and a beautiful
vintage style
Captain America
poster for the cast and crew, with Cap punching Hitler. Master Yoda has been voted the
Best Screen Puppet
in a UK poll, ahead of Kermit the Frog and Sooty, there's the UK trailer for vampire picture
Stake Land
and here's something for the
Game of Thrones
fans –
Tyrion slapping Joffery
651 times to the sound of Led Zeppelin. I shudder to think of the effort that went into that, but I applaud it!
James Cameron and Sam Worthington are
set to reunite
on a new sci fi film, both Neil Gaiman and Salman Rushdie are
working on TV series
(Separately mind you – Gaiman's adapting his novel
American Gods
and Rushdie's is called
The Next People
.) and Sir Terry Pratchett has
begun the paperwork
to end his own life. For those who came in late, Pratchett was diagnosed with early onset Alzheimer's in December 2007 and has been raising funds to help with research into the disease since then.
There's been confusing news coming from the
Doctor Who
office – 14 new episodes with Matt Smith playing the Doctor
have been announced
but when they'll air is still up in the air. There's talk of
budget crisis
and chaos caused by new producers, but that's rumor at the moment. We live in hope, and not just because the 50th anniversary is coming up soon. Producer Steven Moffat has kept out of it, tweeting:
"Dr Who: misquotes and misunderstandings. But I'm not being bounced into announcing the cool stuff before we're ready. Hush, and patience."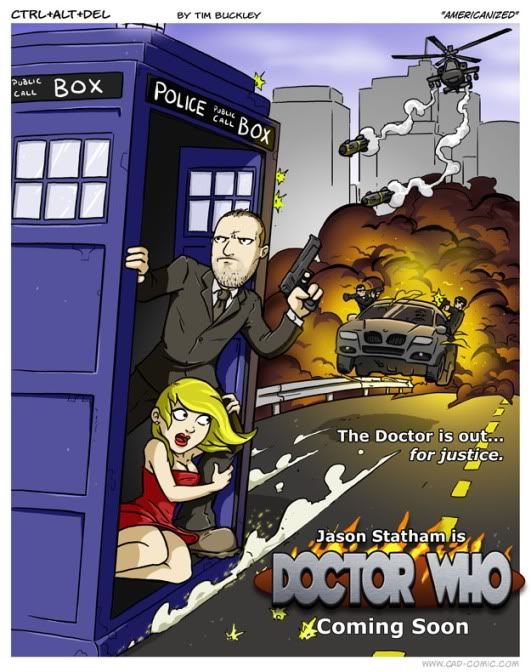 As much as I'd hate it, I'd still watch it. Is that a bad thing?
Engagement ring ads are now being
geek themed
, there's an
extended trailer
for
The Clone Wars
season 4 and another
Muppets parody trailer
, which is
not
in Swedish – we promise. We also have word that the Scissor Sisters are working on music for a
Fraggle Rock movie
– could this be a Jim Henson renaissance? We here certainly hope so!
Several
major film companies
and even
Marvel Studios
won't be attending San Diego Comic-Con this year, citing possible negative buzz. Here's hoping they work something out for the future, otherwise we won't have as much to report from there!
There's already plans for villains on possible
Green Lantern sequels
, Mark Hamill has said he'll continue to
voice the Joker
, unlike previous announcements that
Batman: Arkham City
would be the final time and it sure sounds like George Lucas admitted to Simon Pegg that the
Star Wars
prequels
weren't that crash hot
. I wonder what made him say that?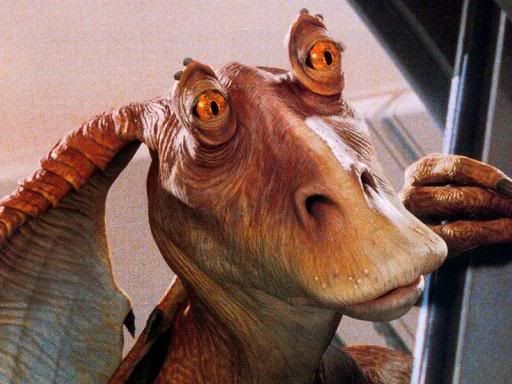 Scratch that, I just answered my own question.
In
Hobbit
news, both
Bard the Bowman
and
Smaug the Magnificent
have been cast, a Spanish town has
painted itself blue
to promote the
Smurfs
movie, there's a red-band trailer for
Attack the Block
and what looks like the final
Stargate Prop sale
is happening this weekend. I'm sad it's in Canada, but that's good for my bank balance!
A young child has
channeled the Eleventh Doctor
by reciting his speech from
The Pandorica Opens
, there's a new
Cowboys and Aliens
trailer and it's director Jon Favreau is busy
working on Iron Man 3
while Marvel rejected opening
Iron Man 2
with Tony Stark and Pepper Potts
waking up next to each other
.
The Wolverine
has a
new director
, Steven Spielberg is thinking about
more Jurassic Park
and there's a whole bunch of
new pictures
from
Torchwood: Miracle Day
. There's two new TV spots for
Conan the Barbarian
– one's
30 seconds
, the next's
a minute
. I'm cautious, but based on star Jason Momoa's performance in
Game of Thrones
, I'm feeling more optimistic by the minute.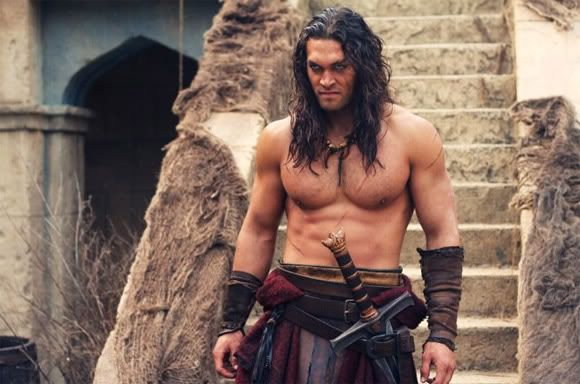 "Say I'm wearing a skirt one more time. I dare you, I double dare you…"
JK Rowling has finally put something on the
mysterious website
she registered a couple of years ago and you know you've truly made a mark in popular culture when
Sesame Street
makes fun of you, in this case it's
Spider Man: Turn off the Dark's
turn. I will forever think of Bono as a large orange monster now…
There will be a
post credits scene
in
Green Lantern
and in an act of evil as yet unparalleled, some scum stole a
little girl's TARDIS
from her front yard. May the guilty be found and exterminated
with all speed
.
Word has it a third
Ghostbusters
film is
scheduled for 2013
while
someone unexpected
has been seen on the set of
The Dark Knight Rises
… Spoilers! The lawsuit over the proposed reboot of
The Crow
has been settled
while geek icons Wil Wheaton, Felecia Day and Stan Lee will all
return to Eureka
.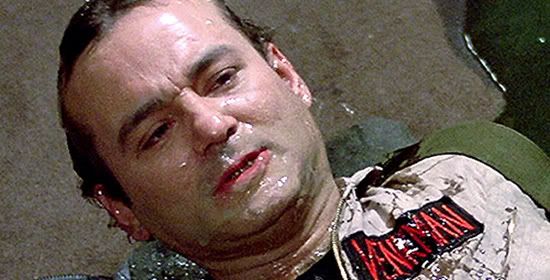 For Dr Venkman, this was just an average day at the office.
Sean Astin will
voice Raphael
in the new
TMNT
film, there's the
first poster
and some
John Carter
for
John Carter
(
Of Mars
has been dropped from the title) and it tells us nothing about the film, a clip from
Futurama's season opener
and some low res pictures of Captain America's
USO costume
.
A Chinese man has somewhat freaked out his office by turning up
dressed as Iron Man
and Russell Crowe
is in talks
to play Jor-El (Superman's Kryptonian father) in
Man of Steel
. With Kevin Costner playing Pa Kent, that'd mean both his parents were Robin Hoods and yes, neither can speak with an English accent…
Quote of the Week:
Vala Mal Doran:
So…no IOA? No Reynolds' men? No television program about dancing with supposed celebrities?
Daniel Jackson:
Actually, that part was real.
Vala:
(quietly) How very disturbing.
Stargate SG-1: Dominion
Remember, the Shadow knows…