Welcome dear readers!
It's an auspicious week this week, as we rack up 52 issues! That's right, we've been doing this for a whole year (Actually, longer than that but I'm counting installments, not holidays) and tonight we shall celebrate like you would not believe… And so long as no photos get out, it'll remain that way! I'd like to thank every single one of you for reading and I look forward to keeping you informed, entertained and occasionally confused for a long time to come.
It's quiz time now readers! Let's see if you can answer these simple questions, yes or no.
1: Do you like horror movies?
2: Do you live in or can you get to Sydney?
3: Are you free between the 31st of March and 8th of April?
4: Will you give me a large pile of money?
If you answered yes to at least 3 of the 4 questions, then the
A Night of Horror
Film Festival is for you! Featuring a mix of local and international films, with both shorts and features screening the festival is now in it's fifth year. Their sister festival,
Fantastic Planet
is now accepting submissions so if you've a sci fi film you've made get it to them!
Big (Or is that short) news this week, with word that
The Hobbit
has
started filming
!
*wild applause*
The first
on set pictures
have come in – it's kinda odd to see Peter Jackson so thin. Meanwhile, a merry group have hacked an Xbox Kinect so their office can have their own
Eye of Sauron
, just what every office needs!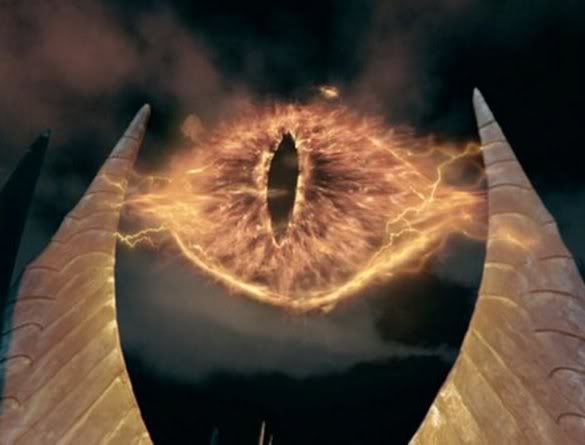 I'm going to need those TPS reports.......ASAP..... Yeah, that'd be great….
The following section contains SyFy US programming.
You have been warned.
SyFy have announced a
raft of new shows
, with many of them having been
previously announced
in July last year. We'll give you the highlights:
July will see the launch of 4 scripted series in the same month (Their words, not mine) with the premiere of
Alphas
and new seasons of
Warehouse 13
,
Eureka
and
Haven
. We don't have an air date for
Battlestar: Blood and Chrome
, but we'll let you know as soon as we know!
Hollywood Treasure
will return in June and be paired with
Haunted Collector
(Working title), while July will see
Legend Quest
, which follows symbologist (The hell? Is that real?) Ashley Cowie as he travels the world seeking objects believed to hold significance for ancient cultures and
Paranormal Witness
, about people who say they've lived through paranormal experiences will kick off in September.
Of course, there's more monster movies, with
Red Faction: Origins
(Based on the video game),
Jersey Shore Shark Attack
(Wonder what that's based off?), a Brady and Partridge teaming up to hunt down Bigfoot and
Roswell
, the winner in the B-Movie Mogul competition the channel ran last year.
More reality shows are in development as well, with some interesting concepts. There's Motley Crue's drummer Tommy Lee trying to uncover the mysteries of secret societies, what 3 people Deepak Chopra would invite to dinner, a family of monster makers and a group of stunt people. I'm thinking if you combined the lot you might have an interesting show…
They're also working on an
as yet unnamed project
that would combine an MMORPG and TV show. Interesting idea, though putting into place could be tricky.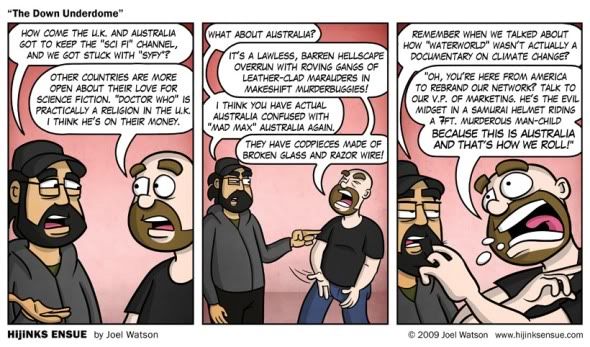 And as far as any American knows, that's how Australia really is. Right?
There's the first trailer for
Captain America
, which looks pretty damn snazzy (He throws the shield!) and we'd like to stress that though the film has
reshoots scheduled
that doesn't mean it'll be a stinking pile of well, you know what. There's also a Director's Cut of the
1990 movie
(That starred JD Salinger's son) coming soon.
Give me a second while I put on my best Professor Farnsworth,
*Ahem*
Good news everyone!
Maurice LaMarch has announced he's
signed a deal
for a 7th season of
Futurama
! There's another more than slightly NSFW trailer for
Your Highness
,
Torchwood: Miracle Day
has a
premiere date
(And new poster) while a remake of
Plan 9 from Outer Space
started filming this week and despite starring Brad Pitt the planned
World War Z
movie need's cash fast or it's sunk.
Did you Know?
John Barrowman (
Torchwood's
Cpt Jack Harkness) auditioned for the part of Will in
Will and Grace
, but the producers of the show felt he was 'too straight' for the role.
The Venture Brothers
has been renewed
for two more seasons, there's video of Sir Terry Pratchett
discussing The Watch
(The working title for the
Discworld
TV series) and
Cloverfield 2
isn't dead
but don't hold your breath.
From the 'Isn't it a bit late?' department, a
Doctor Who
fan is suing the BBC, claiming
he created Davros
for a competition run by TV Action Magazine in 1973. Steven Clark has claimed he created him at the age of 13 for the competition and was shocked when he saw his creation on screen two years later. He says he considered legal action at the time but had lost his entry forms, discovering them 20 years later in a family encyclopedia. The character was always thought to have been created by Terry Nation but this could
EXTERMINATE
that theory. We'll keep you posted.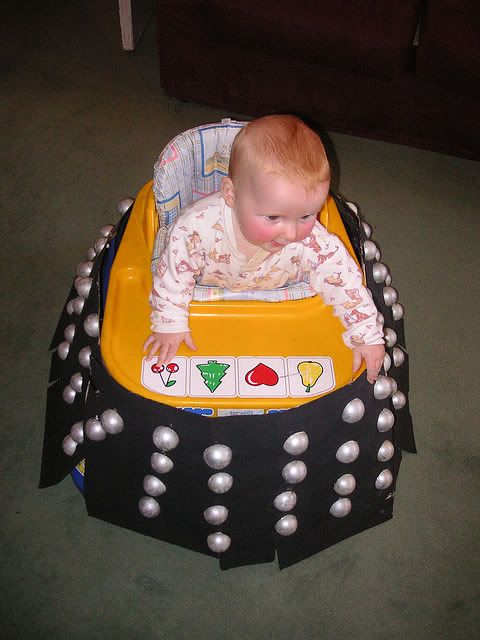 Hey, even insane mutant megalomanics were young once…
We've new trailers for
Falling Skies
,
The Dungeon Master
and
Pirates IV
, Stephen King might be writing a
Walking Dead episode
and MGM are replacing
China with North Korea
in the
Red Dawn
remake. Yes, they're going through the film and replacing Chinese symbols with North Korean, in order not to offend the Chinese government. Seeing as how they still don't have enough money to release the film, I'm not sure how that will help. Besides, did they really think they'd get it released in China in the first place?
There's teasers for
Doctor Who season 6
and
True Blood season 4
, a new clip of Ellen Page from
Super
and speaking of super heroines, there's the first picture of
Wonder Woman
in costume from the upcoming series and well… it looks cheaply photoshopped to me. It's got a lot of heat on the internet, but I'm willing to wait till I can see it on screen. Besides, Lynda Carter likes it and who could object to her?
We've a new promo for
Terra Nova
, the identity of the
Spider Man
villain was
accidentally leaked
and the Comic Relief
Doctor Who
special
is online
. Our verdict?
Champagne comedy!
(Points to anyone who knows that reference.) Arnold Schwarzenegger has said he'll announce details of
his new TV series
in Cannes next month,
Smallville
has
wrapped up
and the long hoped for
Dune
movie
is dead
.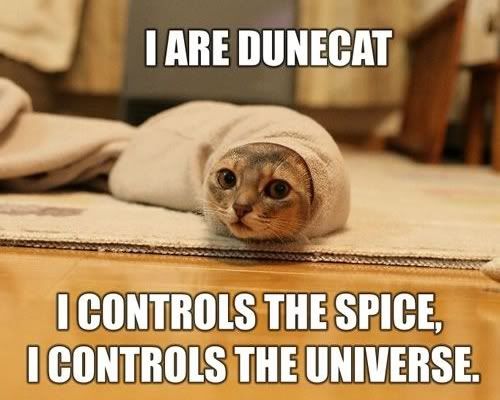 Stilgar, do we have kittysign?
There was word that Joseph Gordon Levitt's character in
The Dark Knight Rises
had been revealed
, but that was
later withdrawn
. We've also got some footage from
Deathly Hallows 2
, there's more clips from
Attack the Block
and word that it might be
subtitled in the US
. I know British slang can be odd, but surely American audiences can't be that stupid? I'd like to believe otherwise, but it'd explain why Rob Schneider still has a career…
The unfinished (Thanks to a BBC strike)
Doctor Who
story
Shada
will
be novelized
by new series writer Gareth Roberts, we've two new
Thor posters
and word
The Walking Dead
might be
screening in Australia
soon. Bit late isn't it? After all, the DVD's will soon be out here and that's if you want to watch the show by legal means…
Duke Nukem Forever
has been
delayed again
,
Fringe
has
been renewed
for a 22 episode 4th season, we've the first 3 episodes of
Troopers
and protests have begun over the
all white casting list
for the
Akira
remake.
Lastly,
Stargate Universe
may be gone, but many of the crew have
rallied to write
a new post apocalyptic show, where the Earth is accidentally caught up in a war between two alien races. A pilot's been written and a presentation reel is being worked on.
Quote of the Week:
The Doctor:
Davros, if you had created a virus in your laboratory, something contagious and infectious that killed on contact, a virus that would destroy all other forms of life; would you allow its use?
Davros:
It is an interesting conjecture.
The Doctor:
Would you
do
it?
Davros:
The only living thing... The microscopic organism... reigning supreme... A fascinating idea.
The Doctor:
But would you do it?
Davros:
Yes; yes. To hold in my hand, a capsule that contained such power. To know that life and death on such a scale was my choice. To know that the tiny pressure on my thumb, enough to break the glass, would end everything. Yes! I
would
do it! That power would set me up above the gods!
And through the Daleks, I shall have that power!
Genesis of the Daleks
Remember, the Shadow knows…