Greetings dear readers!
Despite how much we grumble this time of year, never let it be said we don't have some Christmas spirit! After all, Wil Wheaton has shown us an
awesome Christmas ornament
, we've heard of a production of
A Christmas Carol
that's
entirely in Klingon
and there's a useful guide on how to survive a
Holiday Zombie Apocalypse
. Remember, organize before they rise!
There's even Christmas based songs I quite enjoy, like
Fabian
by Tripod,
Merry Christmas Blues
by the Celibate Rifles and Weird Al Yankovic's
Christmas at Ground Zero
. And we can't not mention the legendary rendition of
Jingle Bells, Batman Smells
from
Batman: The Animated Series
… It still spins me out that's Luke Skywalker (AKA Mark Hamill) voicing the Joker.
Right, that's enough of that – let's get on with what I'm meant to be doing!
Footage has surfaced from the thought lost
Tron Holiday special
,
Gateworld
has speculated as to why
SGU was cancelled
and we've the first concept art from
Battlestar: Blood and Chrome
.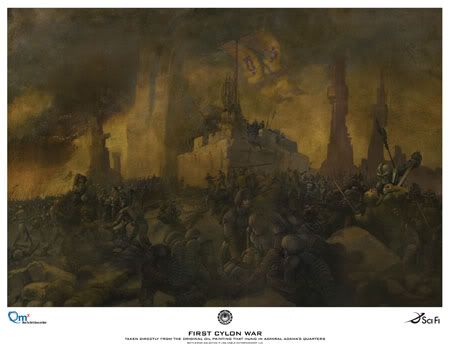 The bugle sounds, the charge begins, but on this battlefield no-one wins…
Harrison Ford wants
wants Indiana Jones to die
and pass the hat on in the next movie. Disturbingly, Steven Spielberg is apparently considering it, but there's heavy resistance from George Lucas. Ford's reps have since denied this, but he's on record as saying Han Solo should have died in
Return of the Jedi
, so it's plausible.
Sam Worthington has admitted that
Clash of the Titans
'let down some people'
(That's pretty damn polite, though I'll admit I enjoyed it) and word has it HR Giger is working on the
Alien prequel
. We've a new
Battle: Los Angeles poster
and there's speculation Gale Ann Hurd could
return to the Terminator franchise
. This strikes me as a good thing, given all I remember from
Salvation
was the very sneaky 50ft tall robot harvester thing and my wife exploding with laughter at John Conner's
"I'll be back."
The rest of the cinema didn't find it nearly as amusing…
There's a new
Paul trailer
, the '
Glee
star as
Buffy
' rumour
has some truth to it
and we've a rundown on SyFy's
new show, Alphas
. Starz will air
Camelot in April
, Ron Howard is still
talking about The Dark Tower
and comics fans with more money than sense can purchase official
DC Comics bling
The tradition of straight to video knock off's of successful films continues with
The Almighty Thor
while what appears to be a Rebel Alliance fighter has
crashed at a Texas airfield
. Here's hoping no Bothans died in the crash. There's also an early look a look at the cover of the
2012 Song of Ice and Fire calendar
. Early, it's not often I can say that about George RR Martin… Sorry George, love your work!
We've an extended trailer for
I Am Number Four
, Jeff Bridges wants to make
Starman 2
and a
60's style Thor poster
(originally for cast and crew) has leaked. That's pretty awesome, but the leather strap looks oddly like a noose.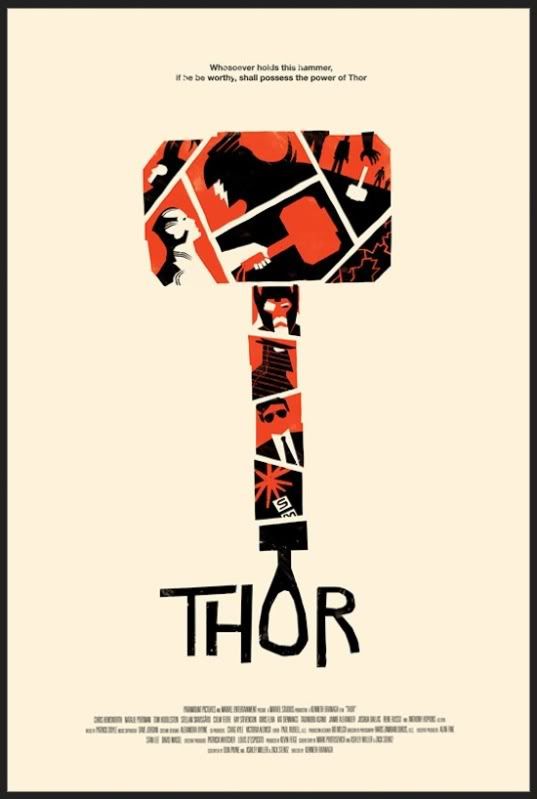 Across the rainbow bridge of Asgard, where the booming heavens roar…
There's a trailer for the
Supernatural anime series
, a gallery of unreleased
Batman: Arkham Asylum concept art
and there's details of the
lost 2001 footage
. This week also saw
another big accident
on the set of
Spider-Man: Turn off the Dark
, which has me thinking that it's not Julie Taymor producing this, but
Bialystock and Bloom…
Megatron's new form
in
Transformers 3
is oddly close to an evil Optimus Prime while zombie's will infest the
Star Wars
universe again in
Red Harvest
. The New Zealand Air Force has released
forty years worth of UFO documents
, Vin Diesel has dropped hints on the
next Riddick film
and John Barrowman has said there's
seven seasons of Torchwood planned
. Mighty optimistic that, but best of luck to him!
There's a
new picture from The Smurfs
that caught my attention, just not in a good way. It's been a long time since I've seen any of the cartoon, but I'm pretty sure I'd remember William Wallace Smurf…
You can check out the US
Being Human press kit
and a new
Green Hornet clip
while Tron Guy was
banned from wearing his costume
in a Minnesota theatre on the grounds it 'would be distracting'. Speaking of distracting, there's hints that we'll have to wait for another
Spider-Man
film or two before we see
Gwen Stacey's most iconic moment
.
In news that will shock anyone involved in comics fandom, Marvel will
kill one of the Fantastic Four
in January, saying this time it will
really
be the end. I give it 6 months before they return – this is comics after all.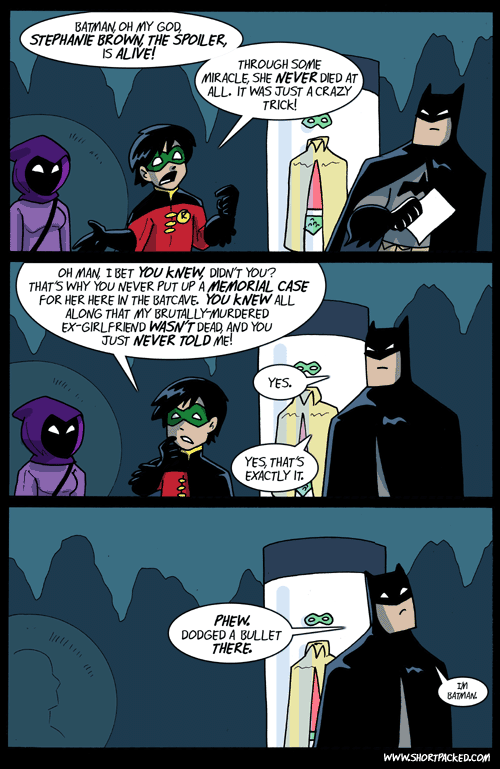 You'd be surprised at how often this sort of things happens to Batman…
We've a trailer for the space horror indie flick
Unearthed
, an enterprising soul has scanned the entire
Marvel Comics adaption of Dune
and more details have emerged about the
Tron:Uprising
animated series.
Lastly, I'm very sorry to say it, but just because Steven Moffat's running both
Sherlock
and
Doctor Who
, we still wont' get
a crossover episode
. After all, Sherlock Holmes is a fictional character... I'm sorry to burst the bubble, but better you hear it from me now than later.
Quote of the Week:
Narrator:
It is said that in the final days of planet Earth, everyone had bad dreams. To the west of the north of that world, the human race did gather, in celebration of a pagan rite to banish the dark and the cold. Each and everyone of those people had dreamt of the terrible things to come, but they forgot... because they must. They forgot their nightmares of fire and war and insanity. They forgot, except for one...
Doctor Who: The End of Time
And that's us for the year! I'd like to thank you all for reading. To be serious for a moment, it means a lot to me knowing that people are reading this. If by my meager efforts I can entertain, inform and shine a light in the dark so to speak, then I'm a very happy guy.
Have a Merry Christmas all – we'll see you again next year. Don't do anything naughty, or if you do then don't get caught!
And remember, the Shadow knows…