Greetings dear readers!
So where the hell were you last week I hear you ask? Well, thanks to a nasty stomach bug he contracted the writer spent most of last week flat on his back. And not in the good way let me tell you… Anyhow, I'm back in business now!
Yes, the Christmas season is in full swing and the annual plague of buskers is reaching epic proportions – groups of carolers polluting the air, teenagers butchering pop songs and small children trying to be cute and
failing miserably
. Bah.
Humbug
. I must admit to giving a few bucks to a busker recently, so I could be said to be encouraging them. But he was playing
Master of Puppets
at the time, so I felt righteous in my donation.
*throws horns*
I'm sure you've caught up with all last week's news, but we promised it and we'll deliver – the full version of
Behind Game of Thrones
that aired last week on HBO. The making of website is also now posting installments of
How to speak Dothraki
for the language fans among you. Winter is coming…
We start this week off with bad news:
Stargate Universe has been cancelled
. There's been no word on a wrap up tele movie or if the show will just end – I suspect MGM's financial state won't help, given the
Atlantis
movie is still dead. To top that, the cast had to learn the show was gone
via Twitter
. According to
David Blue's Facebook page
Blue's rep read the news online and then told him. And he
wasn't the only one who learned that way
. Shame SyFy, shame!
It's a trailer fest this week, with trailers emerging for
Transformers: Dark of the Moon
,
Thor
,
Pirates IV: On Stranger Tides
,
Real Steel
and
Limitless
.
*whew*
I'm on the fence about
Transformers
after the debacle that was the second one (it can't get worse, can it?), but the
Thor
trailer has me giddy as schoolboy.
In news that's made me very happy, Prince Vultan himself,
BRIAN BLESSED!
has
recorded a TomTom voice
. I need that so badly mere words can't express it. Even if I end up going off a cliff cause I'm laughing so hard instead of paying attention to the road.
At the upcoming roundabout take the first exit left then DIIIIIIIIIIVE!
There's posters for
Transformers 3
,
Thor
, along with pictures from
Pirates IV
and
Green Hornet
while oxygen thieves white supremacists in the US have been screaming about
Heimdall being played by a black guy
, Idris Elba from
The Wire
to be precise. If it means I won't have racists stinking up the cinema when I go see it, well, I call that a win.
Glee's
Heather Morris has been
linked to the Buffy reboot
, Angelina Jolie has
denied she'll play Catwoman
and there's a
round up
of
Dark Knight Rises
rumours. The synopsis for
X:Men:First Class
has revealed the movie's villain (SPOILER ALERT) and there's an update on
Marvel Movies
.
Jon Favreau
won't be directing Iron Man 3
and Pepper Potts
won't appear in The Avengers
while you can check out concept art from a never made
1974 version of Dune
.
We've more concept art from
Tim Burton's Superman Lives
and it's… special, there's photos of
Judge Dredd's helmet
and a nostalgic look back at one of 70's comics great achievements:
when KISS fought Doctor Doom
.
The ABC has started shooting on
Outland
, best described as a gay Australian
Big Bang Theory
, there's a
Sucker Punch featurette
, clips from
Season of the Witch
(Make sure you haven't eaten – it ain't pretty) while cult internet figure Tron Guy (AKA programmer Jay Maynard)
has seen Tron Legacy
and 'had to fight off tears' at the end.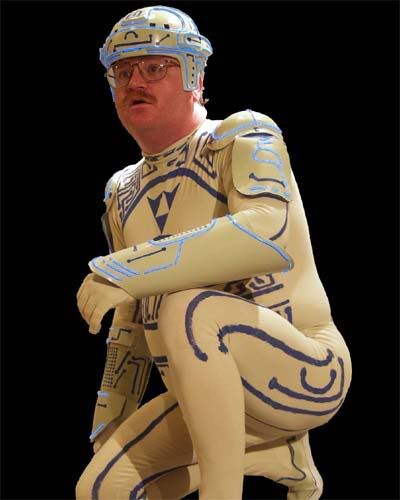 That's Tron. He fights for the Users.
Eric Bana might be taking the title role in
Abraham Lincoln: Vampire Hunter
, there's a teaser poster for Simon Pegg's
Paul
and there's somewhat disturbing video from
The Force Unleashed 2
showing the deaths of not only
Han and Chewie
but
Princess Leia
as well! A large part of my childhood shriveled up and died watching that.
We've a hint or two that the
UK Being Human
will be spawning next season, there's a trailer for
The Clone Wars S3 Part 2 trailer
that seems to promise less senators and more lightsabers while Universal is keen to
reboot Firestarter
as a franchise. Saying it'll have 'more edge' and 'possible franchise appeal' sounds as appealing to me as having bowel cancer surgery performed by the cast of
Jersey Shore
.
Green Hornet
director Michael Gondry has lashed out at fans, saying
'their values are facistic'
', which strikes me as a wonderful way to endear yourself to said fans. And he only makes it worse by saying 'The movie's been doing very well, I think, whenever we've screened it to normal people.' Normal people?
*shakes head*
Mekhi Phiffer
and
Bill Pullman
have joined the cast of
Torchwood: the New World
, there's Christian Bale singing the
Powerpuff Girls theme
,
Corpse Bride
director Mike Johnson wants to make
Oz Wars
while 17 minutes of
2001: A Space Odyssey
has been found.
Lastly, are you having a bad day?
Why not try the Necronomicon?
Quote of the Week:
Young:
"Eli, I want you to broadcast a message."
Eli:
"In Ancient?"
Young:
"Ancient, English, Bat-Signal, whatever else you got. Tell them we are not a threat."
Stargate Universe: Resurgence
Remember, the Shadow knows…