Welcome dear readers!
Sickness and sleeplessness have continued to plague the writer but it's going to take more than that to deter us from bringing you what you need to know and
even more
that you don't!
It's a trailer fest this week with some high profile names mixed in with lesser known works. We'll get the two big ones out of the way early, the first being
Green Lantern
. As good as it looks (the space stuff is gorgeous), I still hate the CG costume,
especially
the mask. I know it's most likely early work and thus not the final product but it looks cheap and unfinished. And that's without mentioning the 'big reveal to a friend' scene with a pose that looks like he's about to flash some schoolgirls…
Next we have
Cowboys and Aliens
which not only has a fantastic title, but features James Bond (aka Daniel Craig) and Han Solo himself, Harrison Ford. Shockingly, it's not a remake or franchise, which is increasingly rare for big budget films these days. Here's hoping it does well!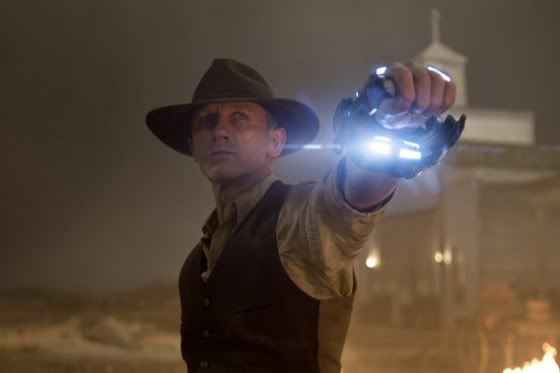 There's two kinds of people in the world my friend – those with alien blasters and those who run screaming from them.
Staying in cinemas there's trailers for
Red Riding Hood
, two for
Battle Los Angeles
and if you want to see the trailer for fantasy stoner road movie
Your Highness
you'll have to be 18! And if you're at work,
use headphones
. You have been warned.
Lastly, there's
Season of the Witch
, which has me horribly conflicted. One the one hand, there's a heavy metal soundtrack and Americans in medieval Europe. On the other, Nicholas Cage in crazy mode and Ron Perlman. You can see my dilemma can't you?
On the television front, there's trailers for
The Cape
,
Teen Wolf
and an extended preview for
Young Justice
. Of more note is one for the latest
Family Guy Star Wars
parody,
It's a Trap!
Doesn't have many jokes, but that's what happens when you remake
Return of the Jedi's
trailer shot for shot. Hopefully that means they're saving the jokes for the show!
11th Doctor Matt Smith appeared on
The Late, Late Show with Craig Ferguson
as part of a British telly themed night and not at all cause Ferguson's a massive Who fan. The previous night had Ferguson previewing it by
explaining the Daleks
to his audience, many of whom sounded as if they had no idea what he was raving about. I know just how he feels…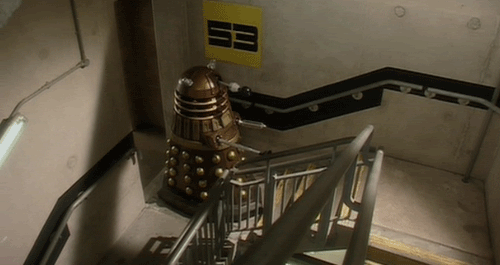 Real Daleks don't climb stairs, they level the building!
I've got a public service announcement! If you're going to show your love of something and get a quote from it tattooed on you, please,
make sure it's correct
Winter is coming with new pictures from
Game of Thrones
, while upon finding out his grandmother was depressed artist Sacha Goldwater put her in a picture series as her
super hero identity, Mamika
. The result?
Stone cold awesome
, more so given the woman in question not only survived the holocaust but fled Communist Hungary for France under threat of execution. Don't mess with old people – it's a rule.
Marvel Comics are working against over exposure of their characters, by asking readers which of two
Deadpool
titles
they'd prefer cancelled
Now if only they could do something about the plethora of
X:Men
and
Wolverine
titles… There's once again whispers of a
live action Batman TV series
, post
The Dark Knight Rises
. There was a plan for this several years back titled Wayne, basically as Bruce Wayne's teenage years travelling the world before he became Batman. Sadly
Batman Begins
came about and the TV idea was shelved.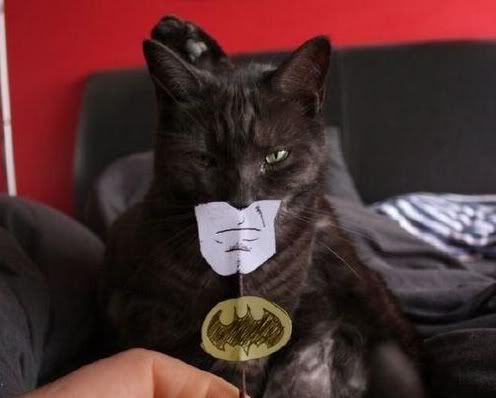 "Na na na na Na na na na BATCAT!"
You can get
geek themed wrapping paper
for all your Christmas shopping needs and on that note, there's ugly chatter that Disney is deliberately
keeping Tron out of print
to keep interest up before
Tron Legacy
hits cinemas while a group of cheerleaders has been cheering for something different…
FOR SCIENCE!
Patricia Arquette has said that
Medium is cancelled
, with
official word
soon coming through that she was correct. The series finale will air in January. In good news, Howard Shore is confirmed to
score The Hobbit
. In worse news,
Paranormal Activity 3
has
been confirmed
.
Guillermo Del Toro and BSG producer David Eick are working on the
Hulk TV show
, though how Del Toro will find the time to do so along with the other eleventybillion projects he's working on or wants to do is beyond me.
Casting has begun for both the new
Superman
film and the lesser known though no less interesting
Steampunk Samurai Biker Chick
. No, it's not by Troma Studios, or at least doesn't appear to be. If you've ever wanted to be frozen in carbonite (
If you know what I mean…
),
now you can!
By which I mean you send artist Paul Pape a picture of yourself and some money and he'll sculpt a small version of you.
There's
pictures
from the
Spider-Man
musical (Where's my jazz hands Doctor Octopus?) while the next
Wolverine
film has a title:
The Wolverine
. Curiously, it also won't be a direct sequel to the first film, which isn't so a bad a thing in my eyes.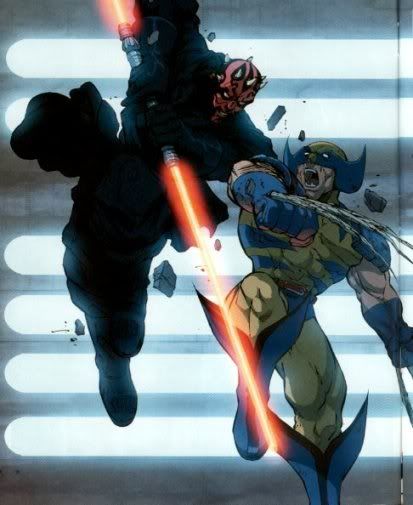 When fan-fiction attacks!
The remake of
The Thing
has been
dropped from the release schedule
with Universal claiming the film isn't ready. Taking more time to fix things strikes me as a good thing. The
Tangled soundtrack
has been released, there's another
Tron Legacy clip
(Is there any of the movie left?) and Gerard Butler has signed on to star in
Afterburn
, about treasure hunters who plunder an Earth ravaged by solar flares.
The first
Pirates IV teaser poster
doesn't say much, though a
Lego video game
adaption has been announced while Todd McFarlane has promised the
new Spawn Animated series
will be for mature audiences only. The
Doctor Who
Christmas special
has a title
, the chances of another
Torchwood
crossover
are still good
and JK Rowling has said there
won't be any more Harry Potter books
, to Daniel Radcliffe's relief.
Lastly, we leave you with scans from a 1979 issue of
Weird Wars
, from the story
March of the Mammoth!
, about a group of Nazis who manage to defrost a wooly mammoth. If that's not a SyFy original in the making, then I don't know what is!
Quote of the Week:
The Doctor:
"The very powerful and the very stupid have one thing in common. They don't alter their views to fit the facts. They alter the facts to fit their views. Which can be uncomfortable if you happen to be one of the facts that needs altering."
Doctor Who – The Face of Evil
Remember, the Shadow knows…